Amethyst Crystals...
Feel The Change In Yourself & Your Environment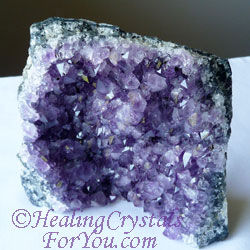 Standing Amethyst Cluster
You are here: Home > Quartz Crystals > Amethyst Crystals
Part One > Part Three > Part two
Amethyst Crystals are certainly one of the preeminent healing stones for all sorts of reasons.
The fact that they are easy to buy and are quite readily available in most places, is a very good reason to get one for yourself.
Once you have a piece and use it, you will feel the change in both yourself and your environment that these beautiful purple quartz crystals will create.

Its becoming easier to get clusters of these crystals, both big and small, and they are lovely stones to have nearby.
Because there are so many points in the clusters, their energy will resonate out into the area where they are located very easily. 

Use These Crystals Regularly...

If you have addictive habits such as smoking, drinking or drug addictions you may be assisted by using these crystals, along with other violet flame healing stones.
An easy way is help yourself if you have any of these problems, is to wear jewelry made from this stone or alternatively simply to put a tumblestone or other piece of this lovely stone in your pocket.

The amazing energy that is embodied within these purple stones will open the third eye, and this may aid the awakening of psychic visions and your clairvoyant abilities, that are related to the third eye. 

Learn some easy techniques for meditation so you can to slip more easily into the deep relaxed state needed for best results. It will be helpful to your overall health and healing to do this regularly, and will help the birth of new gifts as well as aiding your spiritual growth.

Quartz crystals may be cleaned easily, but if you are cleansing other varieties of crystals or large geodes use one of the other methods of cleansing your crystals.
Just make sure you regularly clean yours for best long term results, and please ensure that those crystals that are on you every day are regularly cleansed.
As you have read there is a long list of different reasons for using these crystals. You can combine them with any of the stones that will help you to beat addictions.
Wearing These Purple Crystals
Amethyst Crystals made into jewelry is easy to buy, as these lovely purple stones are on the zodiac birthstone list.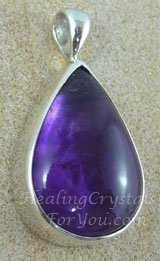 Beautiful Purple Amethyst Crystal Pendant
Earrings, rings or a lovely pendant, necklace or other jewellery made from this purple crystal is readily available and it is very beautiful.
They are an Aquarius birthstone as well as an Aries, Sagittarius and Pisces birthstone.
It is one of the more powerful stones for psychic protection, and it's action to aid you to develop your intuition is a real asset.
This is an excellent reason for keeping it within your aura. What better way to do that than wearing lovely jewelry made from it!

These stones are also on the birthstone by month list, as they are both a January birthstone and a February birthstone, so look for Amethyst birthstone jewelry.
Meditation With Amethyst Crystals
This stone's ability to work on helping you to discover ways to develop psychically is very powerful, so use it in a psychic development meditation and it will also aid you to enhance your psychic abilities.
For your meditation to be effective your brain waves need to slow, and their rhythm needs to change from the beta wave of your normal day to day activities, to the slower alpha wave.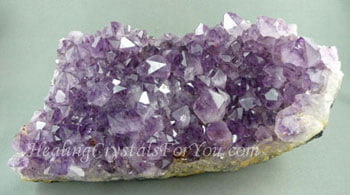 Light Purple Amethyst Crystal Cluster
There are two specific areas of the brain.... the Amygdala and the Anterior Cingulate Cortex... that are said to be connected with developing any type of psychic abilities including developing intuition.
Using isochronic tones is effective to assist you to develop your intuition, because it encourages these areas of the brain to entrain with the new rhythms that are introduced.
As you still your mind, and you go deeper into meditative state, you may find that these gifts develop more easily.
How Will These Crystals Help You?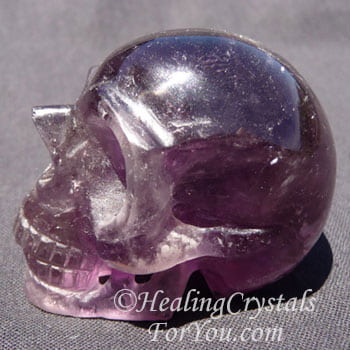 My Amethyst Crystal Skull
As this is one of the most popular crystals, this stone is commonly carved into Amethyst crystal skulls, and they are also powerful to use to do a crystal skull meditation.
Stones made into crystal skulls attract the presence of powerful spiritual energy, so this is another wonderful way of using its lovely energy.
These powerful stones vibrate within the third eye chakra, as well as the crown chakra, the soul star chakra and the etheric chakras right up to the fourteenth chakra.
Using this stone in meditation may also help you to develop your abilities when communicating psychically.
When you are meditating with crystals it is one of the premier stones to use, as it will aid your mind to relax. It supports you to strengthen and bring through increased spiritual gifts. 
These purple stones are crystals with a vibration that is highly useful to assist meditation, as it will calm the emotions.
More pictures of these lovely crystals...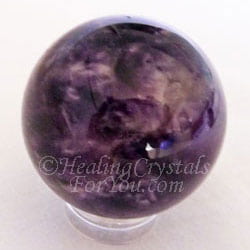 Amethyst Crystal Ball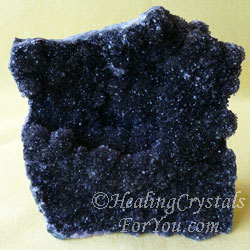 Black Amethyst Cluster
---
---
Purple Amethyst Crystals...
Amethyst Crystal Heart
Amethyst Pendant
When you buy a new stone or crystal, it is advantageous to use it on its own first. Once you are fully aware of its energy, you may choose to combine it with other stones.
Combine stones for short periods to begin with, as individuals may react differently. Knowing how you can combine various stones may be helpful, as this allows you to get the most from your crystals, and may help you to solve specific problems in your life.

Looking For Information About A Specific Crystal?
Did you know you can find out more about any crystal or topic that is written about on this site, simply by using the Google Search box below?