Amethyst Crystals...
History Of Amethyst... Amethyst Facts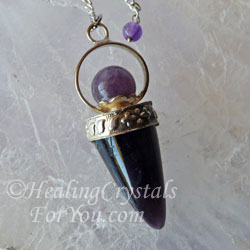 Amethyst Pendulum
You are here: Home > Quartz Crystals > Quartz Crystal Healing
Part One > Part Two > Part Three
Amethyst Crystals have been continuously used throughout history as its vibration is recognized to be so beneficial for many reasons.

The history of this beautiful purple crystal goes right back to ancient times. In Egypt it was used to make beads and amulets.
One of the reasons why these purple crystals have been prized throughout history, was of course for its beauty as well as its energy.
It is historically believed to have been the ninth stone on the Breastplate of the High Priest of Israel.

It is clear that these ancient people could feel the vibration of the lovely crystal energy that these purple stones were emitting. This energy is recognized even today, as the Bishop of the Roman Catholic Church wears a ring with this stone in it.
Facts About Amethyst ... Amethyst Meaning
This crystals name comes from the Greek word 'amethustos', meaning non-drunk. One of the interesting facts about Amethyst crystals is that the ancient Greeks made cups from the purple stone. These ancient people believed that drinking from it could prevent you from becoming inebriated.

For many centuries people have used these beautiful purple stones, as they believed, and perhaps intuitively recognized, that they had amazing healing powers.
This quartz crystal variety emits a strong field of vibrational healing energy, so they are marvelous tools for self healing.
This is one of the Amethyst facts that is immediately apparent when you stand in front of one of them. You can experience the feeling that resonates from them, as the field of light that they emit is so strong.
You Can Use It To Heal Yourself!

Amethyst crystals are easy to buy. One of the quartz formations that are a powerful asset to any room is a lovely cluster of this stone.

One of the beautiful geodes placed anywhere in your environment, is powerful to bring through a wonderful healing vibration. If there was only one stone that you were able to choose to have in your environment, this would be the one.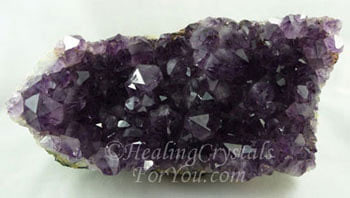 Dark Purple Amethyst Crystal Cluster
The ancient meaning of this stone has been found to be true, as healers use it today as it assists you to beat addictions.
If you have addictive habits such as smoking, drinking or drug addictions you may be assisted by wearing these purple crystals.
This lovely violet crystal is one of the stones of the violet flame, brought to renown by the Ascended master, St Germain. The violet flame energy has powerful healing attributes, and is embodied within both Amethyst Crystals, and other violet flame stones.

Where Is It From?
This stone has been found in a large number of locations, including Europe, Russia, India, Sri Lanka, East Africa, Brazil, Mexico, Uruguay, Bolivia the USA and Canada.
Chevron Amethyst Crystals
The lovely purple colored stone is the most common, and it is very popular.
Amethyst crystals come in a range of colors, including Prasiolite which is also called Green Amethyst.
As well you have the highly favored deep purple stone and the pink, violet and the quite lovely transparent lavender crystals which is the Vera Cruz variety.
As well there is Chevron Amethyst, seen in photo on the left.
Although the Purple and lavender crystals are the most talked about, as they embody the energy of the violet flame, all colors of this quartz crystal are powerful healing stones.
Other violet flame stones including Purpurite, Tanzanite and Sugilite are also powerful for healing, and combine well with purple amethyst stones.
Amethyst crystals do not need to be purple to heal, and you will find slightly different healing outcomes for different colored stones. Amegreen also carries this same heart based energy as does a recently discovered stone from Canada known as Auralite 23.
Both the pinkish stones in this family, and the green stones have all the aspects of the violet stones, and the lovely green crystals known as Prasiolite, also resonate within the heart chakra.
"Change is the essence of life. Be willing to surrender what you are, for what you could become."

Combining It With Other Stones
Combining Moldavite with Amethyst crystals will raise your body's frequency to such a high level that no negative entities can enter your auric field.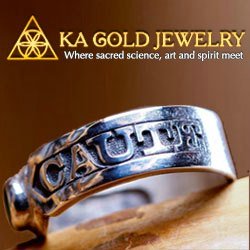 Checkout the gorgeous rings at Ka Gold Jewelry
This combination is known to bring both increased psychic abilities and other healing gifts to improve your overall spirituality and health. If you do any sort of psychic work, this level of psychic protection is very important. 
White Scolecite is a  high crystal energy stone, that has a beautiful calming energy. Combined with this crystal will assist your meditations to go to a purer and more spiritual level.
Stones with a high vibration are powerful allies for this stone, so this crystal combines well with many of the high vibration stones.
Specific high vibration stones that are recommended would be Moldavite, Tremolite, Yttrium Fluorite, Natrolite, Phenacite and Hollandite Quartz.

Combine the lovely Purple crystals with stones that also embody the violet flame energy, including Amegreen, Purpurite, Sugilite and Tanzanite Crystals.
When you are working on releasing addictions in particular, you may choose to combine it with a combination of Dravite aka Brown Tourmaline, Datolite, Pink Thulite, Hematite, Unakite, Staurolite or Smithsonite.
This is very powerful, because together they create a stronger healing outcome.

Along with this stone, many of these stones work on healing the third eye chakra, the crown chakra, the soul star chakra and the etheric chakras right up to the fourteenth chakra.
Gabbro, which is also known as Blizzard Stone, Tourmilated Quartz, Purple Stichtite, Shamanite Black Calcite, Rainbow Moonstone, Aqua Aura Quartz, Ascension Stones, Mookaite Jasper... also known as Mook Jasper or White Topaz are also good combined with Amethyst crystals.
Twin Vera Cruz Amethyst
---
---
When you buy a new stone or crystal, it is advantageous to use it on its own first. Once you are fully aware of its energy, you may choose to combine it with other stones.
Combine stones for short periods to begin with, as individuals may react differently. Knowing how you can combine various stones may be helpful, as this allows you to get the most from your crystals, and may help you to solve specific problems in your life.

Looking For Information About A Specific Crystal?
Did you know you can find out more about any crystal or topic that is written about on this site, simply by using the Google Search box below?