Cavansite... 
Use It's Vibration To Stimulate Psychic Gifts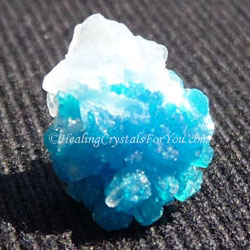 Blue Cavansite with White Stilbite
You are here: Home > Crystal Stones- C > Cavansite
Part One > Part Two
Cavansite is a stone with a lovely vibration of joy and optimism, that will allow you to develop your spiritual and psychic gifts in a blissful and peaceful way. 

These blue crystals often grows naturally combined with Stilbite.
The Stilbite is usually colored white when combined this way, and this is a lovely natural combination.
These natural crystals united bring the energies of both stones together, and this creates a beautiful vibration of love and joy.
Their energy brings through extraordinary joy and excitement, and at the same time may enhance your creativity and curiosity.
How To Use It
Using Cavansite alone, or in the Cavansite-Stilbite combination, is wonderful for aiding your daily meditation. The combination stones are wonderful crystals to assist you if you have trouble sleeping. They are a balm to the emotions and bring harmony and restful repose.

These lovely blue crystals can assist you to discover your personal method of communicating psychically. They are strong stones to aid you to learn to be psychic, and can be used alone or in combination with other specific crystals for this purpose.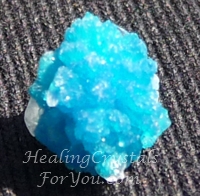 Cavansite with Stilbite
This stone may stimulate a number of psychic abilities, including gifts such as:
automatic writing
channeling 
mediumship 
psychometry 
clairsentience... which is clear sensing or feeling psychically or spiritually
psychokinesis 
psychic visions also known as clairvoyance 
psychic hearing, commonly known as clairaudience
These are some of the psychic gifts that this stone may stimulate. Be aware that it does depend and your natural inclination, and of course you are unlikely to develop all of them.
These stones can help you to make sense of previous experiences in your life, that you may have had problems dealing with.
There are various articles about individual psychic abilities mentioned above.
You may like to read about these if you are particularly interested in a specific gift mentioned.
If you wish to discover more about any subject or stone, you can see if it has been written about on another page by using the Google search box at the bottom of the page.

"Whatever one has, one ought to use, and whatever one does one should do with all one's might." Cicero.

Books For Developing Psychic Gifts
Sonia Choquette books are excellent aids to help you if you are working on developing psychic gifts. This includes your intuition, which is a closely related ability.
Sonia has been working in psychic employment as a reader, and as a teacher in the development area for many years. In her book 'Diary of a Psychic', you can read the story of how Sonia developed her gifts, and how to develop yours.
To read reviews of Sonia Choquette's books Click Here.

See Sonia Choquette Books At Amazon...
Combining It With Other Stones
You could also combine it with White or Silver Topaz or with Tinaksite, if you have a need to release any negativity you may have been holding onto.
To aid accord between the higher heart and the higher mind, you could combine this natural crystal with Pink Tourmaline, Morganite, Emeralds or Rose Quartz Crystal.

You may use it with other stones that help you to access the Akashic records, including White Heulandite, Black Andradite Garnet, Chiastolite, Blue Apatite, Goethite, Euclase, Petrified Wood, Shaman Stones and Calligraphy Stone aka Miriam Stone.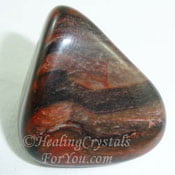 Petrified Wood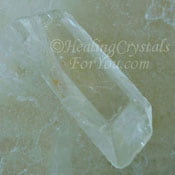 Euclase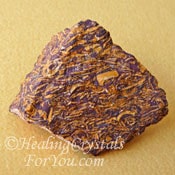 Calligraphy Stone aka Mariyam Jasper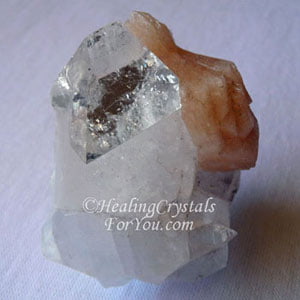 Clear Apophyllite with Stilbite
Apophyllite may be combined with Cavansite, for heightening your ability to use your psychic powers, including clairvoyance.
If you are working on developing your psychic gifts, or working professionally doing readings or in other psychic employment, take care to ground yourself regularly.
This is important as you may get strange symptoms if you remain ungrounded for long periods of time. As well ensure that you have stones for psychic protection on you as well.
To help you to cope with grief of any sort, you may like to use it with other crystals that aid grief, including Spurrite, Apache Tears, Lepidocrocite, Datolite, Aquamarine, Diopside and Tugtupite.

---
---
More Photos Of Cavansite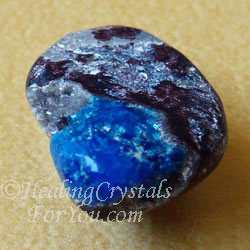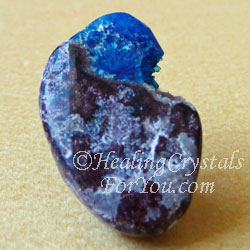 ---
---
When you buy a new stone or crystal, it is advantageous to use it on its own first. Once you are fully aware of its energy, you may choose to combine it with other stones.
Combine stones for short periods to begin with, as individuals may react differently. Knowing how you can combine various stones may be helpful, as this allows you to get the most from your crystals, and may help you to solve specific problems in your life.

Looking For Information About A Specific Crystal?
Did you know you can find out more about any crystal or topic that is written about on this site, simply by using the Google Search box below?