Cryolite High Vibration Crystal...
Creates Strong Mind-Heart Link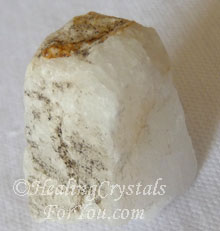 Cryolite
Back to Home Page > Crystal Energy > Cryolite
Part One > Part Two
Cryolite is an amazing high vibration crystal that stimulates the brain to bring about a strong mind-heart link. 
It has an exquisite heart based vibration that is quite intense, and its action may bring about deep spiritual growth.
You will probably feel its vibration flowing out into your entire auric field. You may feel the energy of this crystal within your root chakra at the base of your spine. 
It is not necessary to place it on a particular chakra as its energy easily flows to the right place where its energy may be needed by you.

How To Use It
At the base chakra, it's vibration may kindle the start of kundalini activation and the energy of Cryolite is known to stimulate the kundalini to awaken.
Even if you do not find that it creates a full kundalini experience you may feel its energy moving up your spine and up to the crown chakra. Allow yourself to flow with it and to follow where it goes and be aware of its movement within your body.
Cryolite brings Divine light through your body, introducing it via the crown chakra and the higher transpersonal chakras, to help the process of lightbody activation.
Through the creation of the brain-mind relationship, a profound spiritual connection with the Divine mind and the beings in spirit can be created if you allow it to happen.
How Will It Help You?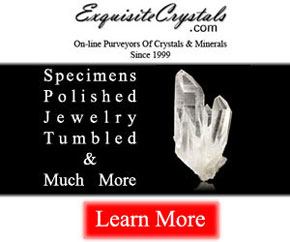 Learn easy meditation techniques to use with this stone, as this is a wonderful crystal to use in a meditation.
This high vibration crystal aids your mind to become congruent with your desires and your deepest feelings.
This may engender an acceptance to give of yourself what you require to live your live in greater service to the Divine.
The specific heart based energy created by the awakening of the heart chakra can bring through profound feelings of joy, peace, deeper understanding and faith.
Who Should Use It?
This white crystal may also stimulate the seat of the will, as it resonates strongly within your solar plexus chakra also known as the power chakra.
This chakra aids personal power and the energy of this stone used in this region  may empower you to do what needs to be done.
While it works at all chakras, this high vibration stone strongly resonates within the soul star chakra.
Not by using willpower, but by the heart based energy that comes through, and from surrendering to the will of the Divine.
This may aid you to make a deeper spiritual connection with the Divine mind. You may find that you may connect with beings in the higher realms including making contact with the angelic kingdom. 

You will find that the heart based energy that flows through you will create feelings of deep inner peace and acceptance throughout your entire being. 
As you continue using Cryolite crystals, the flow of energy from the mind to the heart, and the desires of the heart returning to the mind center may create within you feelings of deep surrender to Spirit.
"We cannot solve our problems with the same thinking we used when we created them." Albert Einstein.

Combining It With Other Stones
Combine it with some of the high crystal energy stones. Stones such as Phenacite, Herderite, Nirvana Quartz, Datolite, Natrolite, Stellar Beam Calcite, Star Hollandite Quartz, Scolecite or with Moldavite the green tektite, may be beneficial.
Stones that also aid you with connecting with angels such as Elestial Quartz, Danburite, Prehnite, Celestite, Angel Phantom Quartz and Seraphinite may benefit by being combined with this stone.

You may also like to use it in combination with Nuummite (to aid emotional healing), Shamanite Black Calcite or Shaman Stones.
Strong heart based stones such as the gorgeous energy of Pink Tugtupite or Pink Petalite accentuate the loving heart based vibration of this stone.
Other stones that also activate the brain may benefit from being used with Cryolite, including the other high vibration stones, Brookite, Phenacite, Natrolite, Tremolite, White Heulandite or Herderite.

It can also be beneficial to use these white crystals with Prophecy Stones, Aurora Quartz, Astrophyllite, Apophyllite, Selenite Crystals or Sacred Light Stone.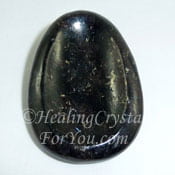 Astrophyllite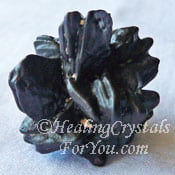 Prophecy Stone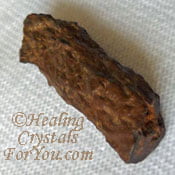 Sacred Light Stone
Using this stone with the soul star chakra stones shown above is beneficial if you are working on your spiritual growth, to help with bringing more spiritual light into the body.
Cryolite stone
---
---
When you buy a new stone or crystal, it is advantageous to use it on its own first. Once you are fully aware of its energy, you may choose to combine it with other stones.
Combine stones for short periods to begin with, as individuals may react differently. Knowing how you can combine various stones may be helpful, as this allows you to get the most from your crystals, and may help you to solve specific problems in your life.

Looking For Information About A Specific Crystal?
Did you know you can find out more about any crystal or topic that is written about on this site, simply by using the Google Search box below?