Fuchsite Crystals...
Making Contact With Elemental Beings...
Fuchsite
You are here: Home > Crystals Healing Properties D to F > Fuchsite
Part One > Part Two
Fuchsite is a variety of Green Muscovite, a stone that will generally help you by stimulating your mind.
This may intensify inspiration and aid with problem solving, and help to develop your intuition.

This stone is also useful if you are a person who likes to be of service to others, and who gets involved in groups or organizations.

Meditation with any variety of crystal is the best and highest use for it and it is also true for these green stones. Hold a small piece of this stone in your hand during meditation to assist you to receive divine guidance about issues that are of concern to you.
As you go deeper into the meditative state, this is the time when you begin to access information that will aid you in your life.
Contacting Nature Spirits and Elemental Beings
Fuchsite is said to aid those who are herbalists to gain information about how to use certain natural remedies. Although this is not my field, I have heard from others that using this stone is very effective for bringing through the information required.
Making contact with elemental beings may also potentially gain such information. Avoid the use of harmful chemicals, and you will find that the number of these beings will multiply in the healthy garden surroundings.

If you want to invite the elemental creatures to live in your garden, use this crystal to get in touch with them during your meditations.
Gardens with lush growth of healthy plants growing, may attract the Devic kingdom. As you find you make contact, ask them to live in your garden or to be present near your home.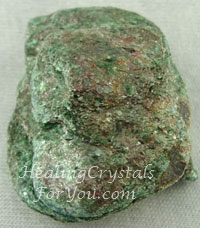 Mixture of Red and Green Fuchsite
These members of the Devic kingdom have much they can share with you, if you are open to receiving it.
They are very helpful when you feel overwhelmed by life's situations, so encourage them to aid you, by asking for their help.
Children do this naturally, so listen when they tell you they are talking to fairies or nature divas. If we become as a little child, we have the potential to gain a lot.
Another reason for keeping this lovely green crystal close to you, is to assist you to make contact with nature spirits and elemental beings. Not everyone is aware of the presence of these beings. 
These beings that live in and around the green areas of your home can be attracted by the Fuchsite vibration. This is especially true if you ensure that you keep the garden healthy, and well cared for. 
How Will It Help You?
Looking into the depths of a sparkling piece of this stone, may quite quickly help those who are stressed to become more calm, so using this stone is one of the methods to relieve stress.
If you have a small piece in your pocket during the day, this is an excellent way to keep it within your auric field. 
Anyone with back problems or muscle pain, can benefit from its vibration, as it may promote deeper and faster healing.
Keep a piece under the pillow at night, not only for allergies but to encourage restful sleep. The use of Fuchsite, the green Muscovite, infuses heart chakra energy into the process. This energy from the heart will help you to approach things in a wholly heart based way.
All types of Muscovite are both crown chakra and third eye chakra stones. To aid anyone who has had ongoing allergy problems, this green stone can be a great companion to have close by.
How To Use It
By this change you avoid potential problems, especially if you are someone who likes to rescue others. Many people start out in an organization, and find they become involved in situations that are not in either their interests, or the interests of the group.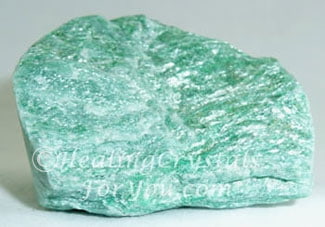 Fuchsite, the green Muscovite
Whether you are a healer or someone who wants to have a better life, the radiant energy of Fuchsite will be of benefit to you.
It is easy to buy these stones, and by having a piece of this stone close by, even a small piece in your pocket, it encourages you to take different actions.
Whatever size piece of this sparkling stone that you choose to use, look into it, and ask to receive the wisdom that it may access, from the Divine Mind.
The wise person is always willing to see with the eyes of a child.

Fuchsite Green Muscovite
Combining It With Other Stones
This is a heart chakra stone, so use it combined with the other heart chakra crystals such as Emeralds, Green Aventurine, Iron Pyrite, Moss Agate or Green Tourmaline.

You may combine this green stone with Phenacite and Herkimer Diamonds, to aid the development of inspiration and to help you to let your imagination loose.
Combined with Lilac Lepidolite this stone may help you to relieve stress, aid allergies and assist you to be open to spiritual elevation.  You may also choose to use it with Cookeite, another good stone to use to treat allergies.

Another powerful combination for allergies is to add in the 'wonder stone' Shungite, a stone that is said to help allergies and skin conditions, as it contains powerful anti-oxidants called Fullerenes.
As Green Aventurine contains Fuchsite, these crystals may also be helpful used together. To enhance your contact with elemental beings, you may like to combine them with other stones that help you attract these amazing creatures.
Use them with crystals such as Prasiolite or Green Amethyst, Rainforest Jasper, Seriphos Green Quartz, Green Apophyllite, Seraphinite, Staurolite or Merlinite.

Green Apophyllite
If you wish to stimulate greater problem solving abilities, you may like to combine this stone with other crystals that aid you to solve problems. This includes stones such as Datolite, Muscovite, Hackmanite, Afghanite, Cookeite, Variscite, Cassiterite, Thulite and Chiastolite.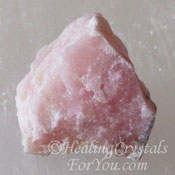 Cookeite
Afghanite
Hackmanite
When you buy a new stone or crystal, it is advantageous to use it on its own first. Once you are fully aware of its energy, you may choose to combine it with other stones.
Combine stones for short periods to begin with, as individuals may react differently. Knowing how you can combine various stones may be helpful, as this allows you to get the most from your crystals, and may help you to solve specific problems in your life.

Looking For Information About A Specific Crystal?
Did you know you can find out more about any crystal or topic that is written about on this site, simply by using the Google Search box below?