Malachite...
Stimulates Willpower and Change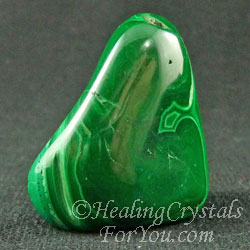 You are here: Home > Crystal Meanings - M to N > Malachite
Part One > Part Two
Malachite helps you to have the willpower to avoid being tempted by those things that aren't good for you, and we all know what they are!
The vibration of this green stone within the power chakra helps to enhance your willpower and assists you to take action to create change in your life. 
Malachite is a copper based stone, and resonates strongly with the fire element, which is quite uncommon for green stones.
It is a strong stone for the healing your heart, both physically and emotionally, and also has an excellent healing action in many other areas.
Break Thru... Discover What's Holding You Back
This green crystal will help you to have the confidence to break through perceived limitations that have been holding you back from achieving the things you wish to have happen in your life, and to transform your life to create the life you desire.
This is a popular stone to be used for many purposes, but its power to specifically protect you from negativity is one of its most powerful attributes. It has a great number of strong metaphysical properties, and is an excellent stone to use for scrying.
Placed on the third eye it will help to stimulate your clairvoyant abilities, bringing an increase in psychic visions and aiding spiritual guidance.
Because it enhances creativity, this also helps to stimulate the development of your intuition and psychic vision.
This stone has an affinity with the energy of the earth element and will aid you to make a connection with the devic realm. Its action to protect you from negative entities is one of its most powerful attributes.
It creates a strong barrier around your auric field, protecting you energetically. This is a stone of insight, that will aid you to develop your intuitive abilities. It will also stimulate instinctive deduction and analysis of situations in your life.

 Wearing Malachite
Malachite Pendant
Malachite birthstone jewelry should be easy to get. These crystals are on the zodiac birthstone list as it relates to two different zodiac signs.
Lovely Malachite bead necklaces or pendants are quite easy to obtain, and this is an easy way to keep it's energy close to this chakra.
It is both a Capricorn birthstone and a Scorpio birthstone, and it resonates within a number of different chakras.
Wearing Malachite jewelry is highly beneficial, and it can be worn in a number of different ways depending on what you wish to achieve with it.
If you wish to aid it action at the throat chakra or third eye chakra, wearing Malachite earrings will be most advantageous.
To stimulate your heart chakra you could wear a pendant that hangs close to that area. Alternatively you could simply tuck a piece in a crystal bag and put in a pocket close to the heart, so that it resonates within that area more strongly.
How Will It Help You? Who Should Use It?



This is an excellent stone to open up your imagination, and help you to create the life of your dreams.
This crystal also stimulates the solar plexus or power chakra, and this can be a strong energy to aid transformation.
The solar plexus chakra is the seat of the will and it may also be called the power chakra.
It is helpful to enhance your creativity and its vibration may aid you to find solutions creatively to issues that stand in your way.

It may be beneficial to wear it close to this area either as a pendant or just keeping a stone on you.
It is available as both crystal jewelry and as tumblestones that you can place in your pocket and you will find it in a variety of different forms.
The raw natural stone must be handled with care and should not be used on the body. Any type of sealed stone is powerful used on a day to day basis, and it is helpful to keep a piece on your body.
If you are unsure of why you wish to use this stone, and have simply been drawn to it, possibly the best place to wear it is at the heart chakra.

This stone stimulates your imagination and aids synchronicity and coincidence to help you to achieve the right outcome.
Crystal Books
Azurite in Malachite
The books below are all by authors who have been in the crystal industry for some years, and any one of these books are advantageous to have on hand to refer to.
Go into any book shop and you will see crystal books selling, and some are better than others.
After buying many books over the years, I have found that some books are much better than others, especially if you are looking for in-depth crystal reference books.
For more information on specific books, read my reviews as there are also a number of other books that are excellent reference books and I also have special section outlining books for those who are new to crystals.
If you wish to read reviews of my favorite Crystal Books Click Here.
Note: Never place a broken Malachite stone, raw natural stone, or one that is not completely sealed directly on the skin. In some people this mineral may cause slight heart palpitations. If you find it has this effect on you remove immediately.
To make elixirs using this stone it must not be used directly, rather use the indirect method that picks up only the vibration of the stone. This means you need to have glass between the stone and the water.
Combining It With Other Stones
This stones energy blends well with Tiger Eye as it will enhance the energy of this stone. Combine it with other heart chakra stones to accentuate its specific heart based energy including Pink Tourmaline, Green Tourmaline and Morganite.

To help to strengthen the effect of both stones, you may combine Malachite with any of the other copper based stones, including Dioptase, Cuprite, Turquoise, Chrysocolla, Ajoite, Covellite, Gem Silica, Azurite, Eilat Stone and Shattuckite.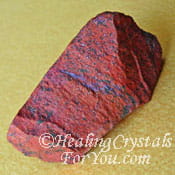 Cuprite
Combining this crystal with specific solar plexus stones can be advantageous, especially if you would like to increase your willpower. It may be particularly helpful to use it with Preseli Bluestone also known as Stonehenge Bluestone, Pietersite, Iron Pyrite, Carnelian, Hematite, Heliodor, Golden Healer Crystals, Kauri Gum,  or Sardonyx.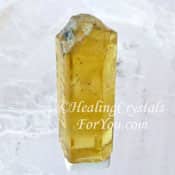 Heliodor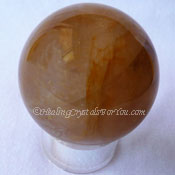 Golden Healer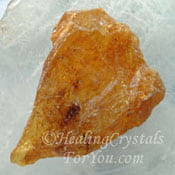 Kauri Gum
---
---
More Pictures Of This Green Stone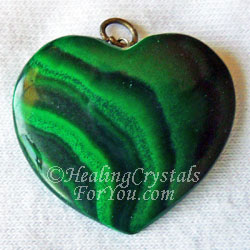 When you buy a new stone or crystal, it is advantageous to use it on its own first. Once you are fully aware of its energy, you may choose to combine it with other stones.
Combine stones for short periods to begin with, as individuals may react differently. Knowing how you can combine various stones may be helpful, as this allows you to get the most from your crystals, and may help you to solve specific problems in your life.

Looking For Information About A Specific Crystal?
Did you know you can find out more about any crystal or topic that is written about on this site, simply by using the Google Search box below?