Psychic Powers...
Which Stones to Use To Boost Psychic Powers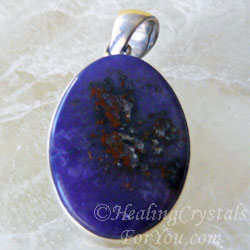 Dumortierite Pendant
You are here: Home > Psychic Powers
Part Two > Part One
To develop psychic powers there are a range of crystals that you might choose to use, and it is advantageous to read about individual stones before you get started with any particular stone.
There are crystals that will stimulate the development of specific gifts, so think about what you wish to achieve, as there are a range of psychic crystals you might choose to use.
Some stones will help the development of a number of abilities, while others are specific to developing just one gift.
So it may help you to read pages about the individual talents you can work on, and which stones will help to stimulate the faculty you would like to be more dominant.
Also note that third eye crystals also may help to encourage hidden potential, and many of these are found on the pages about specific psychic gifts.
Psychic Protection Is Very Important
If possible it is strongly recommended to always have one or two of the protective stones on your body, in addition to any stones that you have chosen to help the work you wish to do.

Psychic protection is very important, so for your own protection whenever you begin development work, ensure that you keep one of the protection crystals on you or close by.
Black Tourmaline is a crystal that provides both protection and grounding, and is a strong earth star chakra stone, but there are also other excellent protective stones that you can choose.
There are quite a few strong crystals used for psychic protection that you may want to use, including a few of my favorites. If you wish to prevent psychic attack, useful if you are already feeling that you are under attack, use stones such as Fire Agate, Cookeite, Pyrolusite or Kimberlite to create a barrier around you.
Using protection stones such as Sugilite, Amber, Malachite, Shattuckite, Black Obsidian, Chiastolite aka the Cross Stone,  Smokey Quartz and the lovely Purple Amethyst Crystals may be beneficial.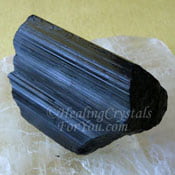 Black Tourmaline
It is easy to get ungrounded when doing spiritual or psychic development work, so it is also important to ensure you do regular spiritual grounding.
Do you know what it means to be ungrounded and how it might affect you?
Check out the symptoms here, to discover if you are ungrounded.
This article on grounding gives you ideas to mitigate any related issues you be experiencing. It is valuable to learn about it now, so you know what is happening in case it does.
Regular Meditation Will Help Your Progress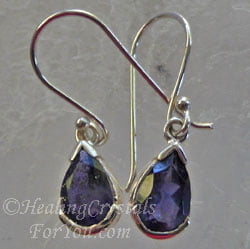 Iolite Earrings
Frequent meditation will develop many of these gifts, and may help you to connect with your spirit guide.
Using natural crystals during meditation will aid your development, if you choose this path.
The choice of crystals to use will depend to a large degree on exactly which gifts you wish to develop.
Any of the third eye chakra crystals will benefit you, as well as the crown chakra and soul star chakra crystals. Stones that stimulate any of these chakras will be advantageous for your psychic and spiritual growth.
The area that encompasses your throat chakra and the chakras above it, is where many gifts or psychic abilities originate. Many of the throat chakra stones may create a deeper level of psychic communication, so this can also be beneficial.
Why Would You Do This?
The sixth, seventh and eighth chakra crystals may aid you to increase your vibration. As the vibration of your body increases this will be a positive outcome for your spirituality and health.
The increase in improved vibrations will improve your life in many ways, as they are able to help you overall to become more happy and healthy.
Daily meditation using the Seven Laws of Attraction has a strong ability to bring you what you desire, and may also help you with working with your spirit guide.
It is up to you to make the choice about exactly what it is that you want to happen, in advance, to assist in its manifestation.
Finding your spirit guide will help the process to move along more quickly. The most well known of the psychic powers are clairvoyance which includes psychic visions or second sight and clairaudience or psychic hearing.
Purple Amethyst Crystal Cluster
Gifts such as automatic writing also known as written channeling, clairsentience or psychometry, intuition and psychic knowing are also becoming more common.
As well mediumship, mental telepathy, premonitions, extra sensory perception and telling the future are well known.
If you combine your meditation with the use of specific crystals to aid you, you can develop the gift of mental telepathy. Being able to communicate telepathically with those you are close to can be very beneficial in your day to day life.
If you wish to know more about anything mentioned on this page, you can use the Google search box... located at the bottom of the page, to find out more.

"All truths are easy to understand once they are discovered. The point is to discover them." Galilio Galilei.

Books That Aid Development of Psychic Powers
Magnesite... a strong stone to aid your development.
Sonia Choquette has been working as a psychic reader, and as a teacher in the development area for many years, so she brings this wealth of experience to her writing.
Sonia's books provide lots of excellent information on how to work with your guides, and information on daily journal writing and recording your experiences of the contact with spirit.
Although her books cover a range of different aspects, they all take you through the processes that aid you to develop your psychic gifts.
They are all excellent books to help you to place your feet on the path that leads you to develop genuine psychic abilities.
Read reviews of the Sonia Choquette books here.
See Sonia Choquette Books At Amazon...
How Will Developing These Gifts Help You?
Psychic Powers will impact your spiritual life for the better. Once they begin to develop how you use them is entirely up to you. These are quite a few paths those with psychic abilities choose to go in.
Take a look at the beautiful creations at Ka Gold Jewelry...
You may find that you sense what action to take in all sorts of areas of your life. Even as far as simply deciding to go a different way to avoid a traffic problem.

Those whose gifts become extremely strong may decide to work with the public. Those with genuine gifts, including psychic clairvoyants are in demand.
There are many avenues for psychic employment for those of you who are able to use these gifts.
If you work in a natural or alchemical healing modality, these gifts will assist you to decide what action to take during a healing.
Cookeite
Or you may find that your psychic abilities lead you towards having a calling to do readings for the public. Follow your instincts and intuition in this regard.
If you find that you hear voices in your head on a regular and continuous basis this may be a symptom of a medical condition.
So if you have any concerns please make sure that you take advice from your medical advisor.
If you choose to develop your psychic powers be aware that it may change your life dramatically. But it is possible that your gifts may simply allow you to have an elevated awareness of the world around you.
Make the choice to have a better life, and it may happen. How your life unfolds will be decided by you, in combination with Spirit and your higher self.
Crystals That May Boost Your Psychic Powers...
Gem Silica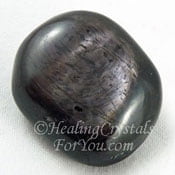 Hypersthene
Dream Quartz
Purple Fluorite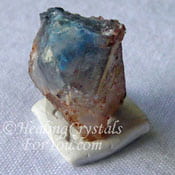 Papagoite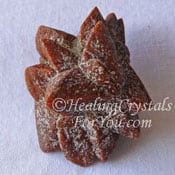 Glendonite
---
---
When you buy a new stone or crystal, it is advantageous to use it on its own first. Once you are fully aware of its energy, you may choose to combine it with other stones.
Combine stones for short periods to begin with, as individuals may react differently. Knowing how you can combine various stones may be helpful, as this allows you to get the most from your crystals, and may help you to solve specific problems in your life.

Looking For Information About A Specific Crystal?
Did you know you can find out more about any crystal or topic that is written about on this site, simply by using the Google Search box below?