Quartz Crystals... 
Quartz Can Be Used For Healing Yourself & Others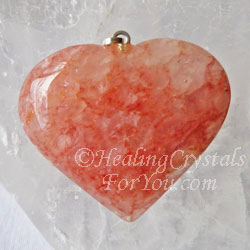 Harlequin Quartz aka Agnitite or Fire Quartz
You are here: Home > Quartz Crystals
Part One > Part Three > Part Two
Quartz crystals are used for healing in body layouts, by either placing the stones on the body or around the body.
As their energy resonates so strongly, they do not have to be touching your body to create a good healing outcome.
Healers will commonly place pieces of quartz at the chakras to aid healing.
They may be placed on the table near the person being healed or even under the table and do not have to be in contact with the body to work. 
This is why many natural therapists have a piece of some type of quartz located under their healing tables, as their energy will work very well at this location.
Why Would You Use It?
Just having a quartz cluster in the room is powerful, due to their strong amplification properties. Their energy will resonate outwards into both the room where they are located and into nearby rooms.

Beautiful crystal bowls are made from different types of quartz crystals, although commonly white quartz is used. These may be used to hold healing stones in a treatment room or in the home. 
Utilizing a pendulum is now a quite common healing practice, as it gives the user instant feed-back on the problem. Pendulums are excellent tools to help you to obtain answers from spirit.
Although pendulums are made from a variety of different stones, quartz pendulums are quite powerful due to their amplification properties.
Clear quartz may be fashioned into crystal wands. These are made from clear quartz which may be precision cut into the powerful Vogel wands. Vogels are potent metaphysical healing tools which bring through a higher level of healing energy.

High Vibration Quartz Crystals

There are many varieties of quartz that will aid you to make a connection to angels.
This includes stones such as Elestial Quartz, Angel Phantom Quartz also known as Amphibole Quartz, Ajoite in quartz, Angel Aura Quartz, Lemurian Seed Crystals and Herkimer Diamonds.
Some quartz crystals have a high level of crystal energy, and these are listed on a page dedicated to the high vibration crystals.
Because they embody the quartz attribute to amplify their energy and are of a high vibration, this makes these potent stones to use to aid your personal journey.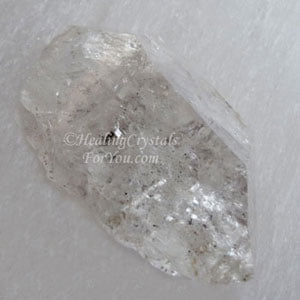 Herkimer Diamond
Herkimer Diamonds have a beautiful energy that is powerful to combine with rare or lower vibration stones.
This combination can be helpful when you are using smaller stones in your daily crystal meditation.
You may also choose to them with the other high vibration quartz crystals such as Star Hollandite Quartz, Nirvana Quartz, Dream Quartz, Aurora Quartz aka Rainbow Quartz,  Golden Healers, Satyaloka Quartz or Fire Quartz aka Agnitite.
Quartz Clusters Are Highly Beneficial!

Many types of quartz have excellent healing properties, and this is one reason why quartz crystal healing is so popular. 
Clusters of these stones are popular, and lovely Clear Quartz Crystal clusters are wonderful pieces to own. If you have a cluster of any variety of quartz in the vicinity, it will amplify its healing attributes out into the room where it is located.
The violet flame healing energy is embodied within Purple Amethyst Crystals, and these beautiful crystals are impressive healing aids.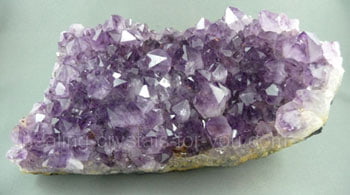 Purple Amethyst Crystal Cluster
This can be an excellent healing tool that requires no effort on your behalf. Beautiful lavender and purple Amethyst clusters have a wonderful energy and are powerful to have in any room.
All varieties of quartz have the potential to amplify the thoughts of the person who uses them. Their energy may be utilized if you are a healer to create a stronger healing outcome.
Keeping a piece of quartz on your body is helpful, as wearing them may aid you to think more clearly and to use your thoughts in a positive way.

Crystal Books... Educate Yourself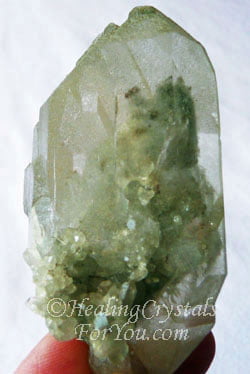 Himalyan Chlorite Phantom Quartz
There are a number of crystal books on the market now, and so it is easy to buy one that will help you to learn more about crystals rocks and stones, and of course the many varieties of quartz crystals.
I have written reviews on some of my favorites, just to give you an idea whether a certain book will suit your way of thinking.
Some books are not covered at all, and this also applies to certain authors. If I don't like how an author covers the subject, I just give the book away. I prefer not to say negative things about anyone.

One of the best books about crystals that is currently available is big, in fact very big. Melody's Encyclopedia is in my thinking one of the best books on the market. It has a lot in it, but its not one to take with you as its very big and very heavy. 
There are many others that are a good size to go in your bag, so you can take them with you shopping. If you are unsure, take a read of my reviews before you go shopping for a crystal book. Read my reviews and get yourself a crystal book!
Or check out some quartz articles that may interest you...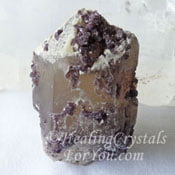 Lepidolite In & On Quartz
Green Ridge Quartz
---
---
When you buy a new stone or crystal, it is advantageous to use it on its own first. Once you are fully aware of its energy, you may choose to combine it with other stones.
Combine stones for short periods to begin with, as individuals may react differently. Knowing how you can combine various stones may be helpful, as this allows you to get the most from your crystals, and may help you to solve specific problems in your life.

Looking For Information About A Specific Crystal?
Did you know you can find out more about any crystal or topic that is written about on this site, simply by using the Google Search box below?