Sphene or Titanite...
Boosts Mental Activity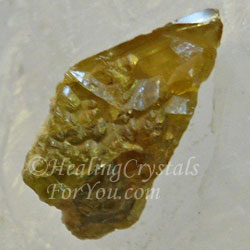 Sphene Crystal
You are here: Home > Healing Properties of Stones - Sn to Su > Sphene
Part One > Part Two
Sphene has a strong action at the third eye chakra, and will boost mental activity, and aid you to absorb new information.
It is within the crown chakra, that it resonates with the mystical golden ray of Christ consciousness, so this is helpful to use in meditation.

By resonating within this area it will also stimulate psychic vision and help you with developing intuition. It is an excellent crystal to aid you to think more clearly.
How To Use It
Titanite has a vibration that aids you to use the energy of the Golden ray embodied within Sphene crystals. This is associated with Christ consciousness, a vibration of peace, joy and unselfishness. This is mystical vibration that resonates within the third eye and the crown chakra.
These stones resonate within all of the higher chakras and help you to create a stronger connection to the higher realms. This includes connecting with ascended masters and other spiritual teachers in the higher realms.
Once you have made that connection, this energy will help you to take the journey to connect with many different beings in the higher realms. When you are working on making connections to these teachers in spirit, by its stimulation of your mental abilities it will help you to understand what you are learning.
This is a powerful crystal to use in meditation as it will help you in number of ways.  There are number of easy meditation methods you can use, and using them with this stone can be helpful to stimulate your intuitive abilities, clairvoyance or psychic visions.
Aids Spiritual Learning...
Your strengthened visionary abilities may also aid your spiritual learning and development. If you wish to discover more about your past lives, these visions may aid you to learn more about the issues that are causing you problems.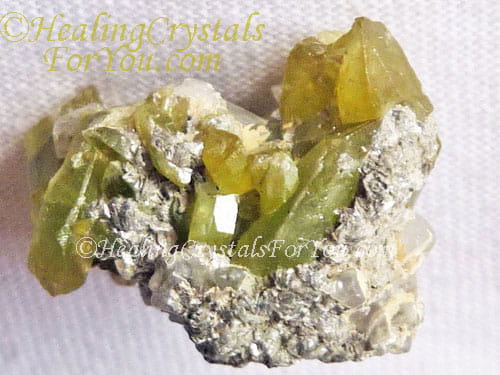 Titanite Cluster also known as Sphene
This stone vibrates within the crown chakra to assist you to achieve greater spiritual growth. Regardless of whether you wish to develop your psychic abilities or work with other aspects of its energy, this is an excellent stone to utilize.
The vibration of Sphene will stimulate you mentally and help your creativity and is very helpful to aid you to be more organized.
It has a good healing action, and like most yellow-green stones it stimulates the solar plexus and aids you to manifest an increase in money.
Who Should Use It?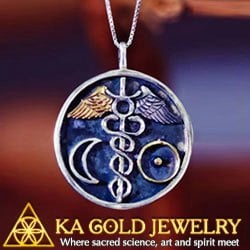 Checkout the lovely pieces at Ka Gold Jewelry
It will aid your body to heal a number of physical health difficulties, including helping your vision and hearing, via its strong stimulation of the third eye chakra.

It is known to stimulate the immune system, so having a piece on you during illness may be beneficial.
It is said to increase red blood cells and to balance the white and red blood cells in the body.
This stone is also known to aid recovery from bone issues. It may help you if you have trouble with your teeth and it may also stabilize gum disorders. 
The action of Sphene to stimulate the mind, may aid you to work out better ways to handle your health issues. In particular it is said to assist those with osteoporosis, and muscle problems, as well as helping broken bones to heal.
"I don't think much of a man who is not wiser today than he was yesterday." Abraham Lincoln.

Combining It With Other Stones
Using it with other third eye chakra stones will benefit your mental abilities. To stimulate your psychic gifts, combine it with other stones known to aid these powers including Sugilite, Sodalite, Lapis Lazuli, Iolite and Rainbow Moonstone.

Golden Yellow Topaz is also a manifestation stone as well as having a strong vibration to stimulate Christ consciousness, so this is a beneficial stone to combine with Titanite to aid your spiritual growth.
This stone combines well with any of the golden stones which stimulate the solar plexus chakra, and this will strengthen its action to manifest.
Particular stones that are highly beneficial in this area are Iron Pyrite, Yellow Labradorite, Brazilianite, Citrine Crystals, Chalcopyrite, Sunstones, Yellow Apatite and Green Peridot.
To help how Sphene operates to help you to solve problems, use it with other crystals that might help you to pin-point what is behind a specific problem you are experiencing.
Stones that may be combined with it for this purpose includes Muscovite, Scapolite, Cassiterite, Datolite, Chiastolite, Zebra stone, Cookeite, Fuchsite, Zebra Stone, Thulite, Spurrite aka Strombolite, Tourmilated Quartz and Ulexite.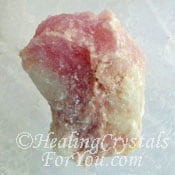 Cookeite
Zebra Stone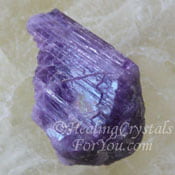 Purple Scapolite
---
---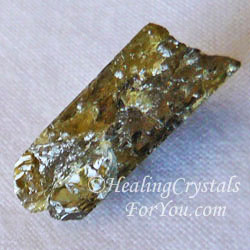 Natural Sphene Stone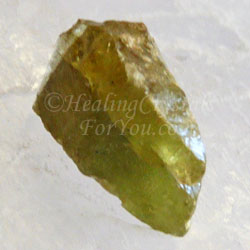 Titanite Crystal
When you buy a new stone or crystal, it is advantageous to use it on its own first. Once you are fully aware of its energy, you may choose to combine it with other stones.
Combine stones for short periods to begin with, as individuals may react differently. Knowing how you can combine various stones may be helpful, as this allows you to get the most from your crystals, and may help you to solve specific problems in your life.

Looking For Information About A Specific Crystal?
Did you know you can find out more about any crystal or topic that is written about on this site, simply by using the Google Search box below?