Turquoise Stones...
Highly Protective and Very Powerful
Genuine Natural Australian Turquoise Stone
You are here: Home > Properties Of Stones - T > Turquoise Stones
Part One > Part two
Turquoise stones are some of the oldest crystals to be made into jewelry, as people have been aware of the natural energy of these stones for thousands of years.

In ancient times medicine men made protective amulets out of the stone, as it was known to have powerful protective qualities.
This may be because they were recognized to have impressive metaphysical properties, and because they are also powerful healing stones.
They have been used by Shamans throughout the ages as their distinct vibration was known to be highly protective and very powerful. Part of the reason is that the energy of these stones helps to filter the fifth element ether, into the etheric body. 

Develop Clairaudience and Clairvoyance
This crystal is known to aid the development of psychic gifts, so using this stone may stimulate your specific gift to surface. The clear vibration of these stones strongly resonate within the throat and third eye chakras.
Its resonance within the third eye chakra may enhance the birth of a range of gifts, including both intuition and clairaudience. The energy of Turquoise stones may also enable you to begin to develop your intuition at a much stronger level.
Like those that went before us, many people both use and wear these lovely stones so they can benefit from their unique vibration.

They are very effective to aid communication, and are powerful stones for communicating psychically. They will help you to communicate with truth, and they may aid you to manifest clairaudient and clairvoyant abilities.
Clairaudience is also known as the gift of psychic hearing, and may be stimulated by using a piece at either the third eye or the throat chakra.
This may allow you to access past life knowledge. Along with this you may find that you also have a stronger ability to communicate in many ways.
Turquoise Stones are easy to buy. You may choose to place your stone on the third eye during meditation, as this may aid the birth of psychic visions also known as clairvoyant abilities.
Who Should Use Turquoise Stones?
Turquoise stones are excellent healing crystals that has been in use for this purpose since ancient times. They have been known to enable the body to heal a range of different ailments.

Turquoise Stone Earrings December Birthstone
In ancient times it was said to have been used to heal eye problems, including cataracts.
Wearing Turquoise jewelry on your body will help you to harmonize and revitalize your body.
This is because these stones embody an energy that will help you if you have been feeling depleted or overly exhausted.
It has an effective energy within the sacral or navel chakra to aid you to enhance your creativity and to aid creative problem solving.
This stone may assist you to better absorb the nutrients that you eat, and they are said to help to protect against atmospheric pollutants, so it may be of benefit during periods when the air is not so clear.
They are powerful healing stones, and will filter the fifth element ether into the etheric body. From there it then weaves this element into the physical body, to create a deeper level of healing.
This healing occurs on the physical level, and also flows through the entire auric field creating healing on all levels. Its action spiritually may enable the body to ascend and to reach a higher frequency.
"The difference between a smart man and a wise man, is that a smart man knows what to say, a wise man knows whether or not to say it." Frank M Garafola.

Books That Aid Psychic Development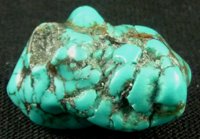 Sonia Choquette books are excellent aids to help you if you are working on developing your psychic abilities, including developing your intuition, a closely related gift.
Sonia has been working in psychic employment as a reader, and as a teacher in the development area for many years. 
In her book 'Diary of a Psychic', you can read the story of how Sonia developed her gifts, and how to develop yours.
To read reviews of Sonia Choquette's books Click Here.
See Sonia Choquette Books At Amazon...
Combining It With Other Stones
If you feel you have a need to balance your male-female energies you may like to combine it with other crystals that harmonize your energy.
This includes Sphalerite, Amesite, Iolite, Aventurine, Marcasite, Ascension Stones, Golden Yellow Labradorite, Lapis Lazuli, Shaman Stones, Nephrite Jade, Magnetite, Rhodochrosite, Amazonite and Hematite.

If you are working on your psychic gifts, and intend to work in any type of psychic employment combine this stone with other strong communication stones that also aid psychic abilities.
In particular you can use Star Hollandite Quartz, Blue Hemimorphite, Blue Sapphire, Blue Aragonite, Blue Shattuckite, Blue Topaz, Sodalite, Lapis Lazuli and Blue Tourmaline to help you.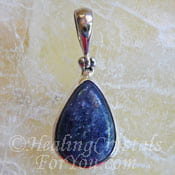 Blue Sapphire Pendant
Turquoise stones may be used with other copper based stones, including with Malachite, Azurite, Gem Silica, Ajoite, Eilat Stone and/or Chrysocolla.
To enable your truth vibration to be enhanced, you may choose to use it with Shattuckite, Lapis Lazuli, Sodalite, White Topaz, Amazonite, Preseli Bluestone, Blue Ajoite In Quartz, Sunstones or Chrysoprase.

This lovely stone will also combine well with any of the other blue throat chakra or third eye chakra stones.
Dioptase and Larimar may be used with Turquoise to calm the emotions and bring healing. Septaria, Smithsonite, Shaman Stones and Calcite Crystals of any color will combine well with this stone.
More pictures of this stone...
---
---
When you buy a new stone or crystal, it is advantageous to use it on its own first. Once you are fully aware of its energy, you may choose to combine it with other stones.
Combine stones for short periods to begin with, as individuals may react differently. Knowing how you can combine various stones may be helpful, as this allows you to get the most from your crystals, and may help you to solve specific problems in your life.

Looking For Information About A Specific Crystal?
Did you know you can find out more about any crystal or topic that is written about on this site, simply by using the Google Search box below?