Healing Crystals For You Newsletter
 March 2022

#103

Written By Liz Oakes

Greetings crystal friends! Welcome to my ezine newsletter for March 2022.

My aim is to I assist you to learn about new articles added recently. You may also find many crystal pages on my site that you haven't previously discovered.

My newsletters are aimed at aiding you to explore parts of my site you haven't examined yet, and to help you to find articles about new crystals you can use.

Each month I will be sharing some new articles as well as in-depth pages about some of the crystals that you may not have discovered.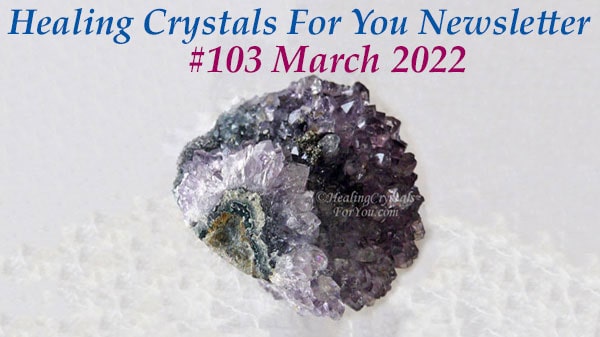 In each newsletter I intend to share new pages that have been added or changed since my last newsletter as well as some that might also be helpful.

You might already have visited the A to Z of Crystals, Minerals and Stones, where all of the crystal group pages are listed in Alphabetic order.
This makes it easy to find out if the stone you want to know about has been covered in its own page. If you haven't been there check it out Here.
Healing-Crystals-For-You.com is reader-supported. When you buy through links on my site, I may earn an affiliate commission. Click to learn more.

What's In March 2022 Issue #103
Crystal Colors: did you know that individual colors have different properties? Learn more.
Jet Stone: Discover more about this stunning black stone that has quite a few interesting ways to help you.
Chakra Meanings Explained:

 Learn more about chakras, their meaning and how each chakra acts within your total energy field.

How can you create new pathways in the brain?

Did you know that there are crystals that are known to be effective to stimulate the brain?
Learn about The Crystal Colors:
Learn about The Crystal Colors: Discover the meanings of each of the ten major crystal colors.
Also learn about which of the chakras each color most strongly effects. There is also a short list of stones within each of the crystal colors.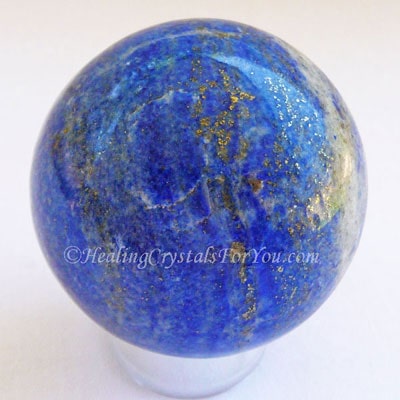 Discover the meaning of each of the crystal colors
Most of these are well known, so you may already know them. Go to the A to Z of crystals where you can learn more if you don't know them, as all of them have their own in-depth page.

Magical Jet Stone:
Jet is deep black stone that has a large number of excellent healing and metaphysical properties.
It is most well known for its action to assist grief and loss, and was used for this purpose by the English Queen Victoria in the past.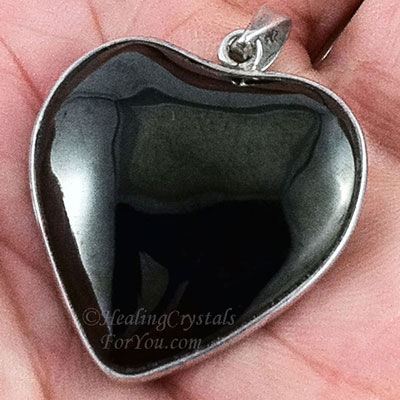 Jet Stone Pendant
It is an emotionally supportive stone and is one the crystals for pain relief. Jet is known for its magical energy and it is highly protective so makes a great stone to wear on your body.

Chakra Meanings Explained
The Chakra Meanings Explained: Each of the crystal colors work within a specific chakra, so read this page to have it explained simply.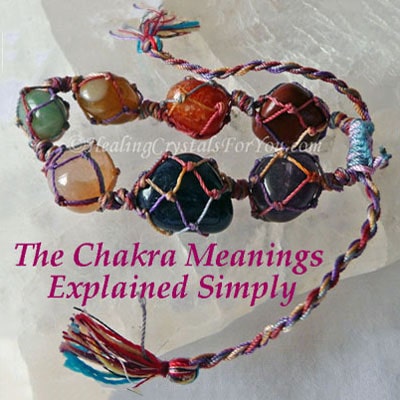 The Chakra Meanings Explained
If you are not sure what the word "chakras" means, checkout this page which gives you general information on the chakras, in plain language.

It has links to each of the chakra pages so you can learn more about any chakra that has got your attention.
Stones That Stimulate The Brain
Want to create new pathways in the brain?
Did you know that there are a few crystals that are highly stimulating within the brain, and can easily be felt working there.
My favorites for this purpose are both high vibration stones that work well together and create amazing change in a number of ways.
Herderite has a quite stunning action to develop pathways in the brain, and while there are a few different colors of Herderite, the golden brown one is the most powerful. It is also called Hydroxylherderite.

Use Herderite of any color in meditation, either on its own or with Phenacite. There are also a few other stones that you can read about on the Herderite page for this purpose.
All colors of Herderite are known to be potent stones to construct new pathways in the brain, and this is known to help you to quickly change your thinking.
While holding Herderite, I noticed a quite obvious sensation in my head and I was aware of the feeling of it stimulating my brain.
I felt the energy run from my hands up my arms and up into my head. A stunning effect!

Phenacite is another powerful stone that you can use to change your brain and change your thinking. I used Phenacite alone before combining it with other high vibration stones including Herderite.
It has some other powerful properties, and Phenacite certainly works well with Herderite for this purpose. I held one in each hand and felt the vibration moving up my arms and into my head. 
Click on either picture above to read about individual stones pictured to learn more about these two quite stunning high crystal energy stones.
There are also a few other stones that can stimulate the brain and they are mentioned on these two pages and work well when combined with them.
Phenacite is often found naturally occuring with Green Seraphinite but you can also get clear Phenacite as well.

Have You Tried The Grow.Me Widget?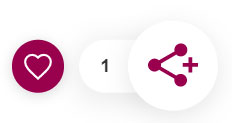 Mediavine Widget
Have you tried the little Grow.Me widget yet? You can see it on the right hand side of every page of my site.
If you click on the heart it will save the page in your Grow.me area, and you can also use it to share any page on social media sites.
Thanks for reading my newsletter! I trust you enjoyed it.
I am currently going through my site updating pages as well as adding new content.
So expect more ideas coming to your inbox in the future. See you again soon!
Love and light


---
Crystals Ezine March 2022
Looking for information on something, maybe a specific crystal?

Go To Healing Crystals For You Site Map to see list of site pages.
To See The A-Z of Crystals Minerals and Stones Click Here
---
Note: When you use the vibration of crystals to help and support your healing remember that crystals are part of an holistic approach to your health.
Metaphysical healing uses universal energy so does not stand alone and can be used with any other type of healing. 
Using the energy of crystals for healing yourself is about finding a way to enhance conventional medicine not replace it. So always seek out medical treatment for any worrying health issue.
---
Thank You! I Appreciate Your Visiting My Site!
In my articles I may recommend various items that I use and love or that I feel are of value to my readers, and I earn a commission for purchases made through links on this page. 
FTC Disclosure:  If you make a purchase via a link on this site, I may receive a small commission on the transaction: at no added cost to you. Thank you!
Read My Affiliate Disclosure Here

---
Don't Know Which Book About Crystals To Buy?
Please Read Copyright And Disclaimer Notice
For: https://www.healing-crystals-for-you.com/
Any information that may be found anywhere on this site is not presented as a substitute, nor intended to be a substitute for medical advice, treatment or diagnosis.
Never disregard advice from your medical professional or delay seeking medical advice because of anything you may have read on Healing-Crystals-For-You.com.