Healing Crystals For You Newsletter
April 2022 #104
Written By Liz Oakes
Hello! Welcome to my ezine-newsletter for April 2022. 
I love connecting with other passionate crystal lovers! My aim is to ensure that my newsletter is filled with information to help you to use your crystals better.
Whether you are new to crystals or have been using them for years there's lots here for you.
I trust you will enjoy reading more about some of the many beautiful minerals and rocks I have written about.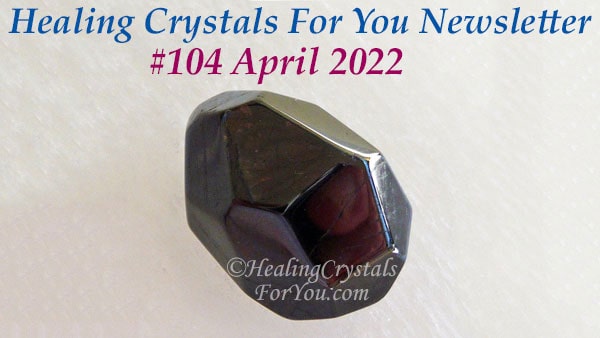 Of course in addition to the newsletter there is stacks of content on my site for you to look at if you want to learn more about crystals quickly. It's always there for you to read.

So let's take a looks at the new articles on offer in this newsletter, to help you to learn more about the properties of crystals, minerals and stones.
Healing-Crystals-For-You.com is reader-supported. When you buy through links on my site, I may earn an affiliate commission. Click to learn more.

April 2022 Issue #104
Almandine is one of the most popular red stones. Learn more about this gorgeous Red Garnet variety.
Green Crystals: Learn about the many beautiful Green Crystals that embody the energy of spring and growth.
Heard of Kinoite? This is a fairly uncommon blue crystal that charges both the throat and the higher heart chakras with its powerful energy. 
Discover Almandine Garnet
Almandine Garnet is a gorgeous deep red member of this popular crystal family. Jewelry made from red garnet is very popular, so many you may already own a piece. 
Almandine is a strong base chakra stone with an energy that helps to boost clarity and certainty.
Almandine Garnet
It is known as a stone of tangible truth as it helps you to understand your personal reality.

It assists you to recognize the tangible truth of your reality and to be more realistic, than than looking at the world in an airy fairy way.
Taking into consideration the article below about crystals to boost your imagination, its beneficial to know when what you imagine can come into reality, and for you to be balanced about the two sides of this energy.
Learn About The Green Crystals
Green Crystals embody the energy of spring and growth, but also have many more excellent properties.
Following on from last months general page on crystal colors, this time you can read about the beautiful heart based green stones.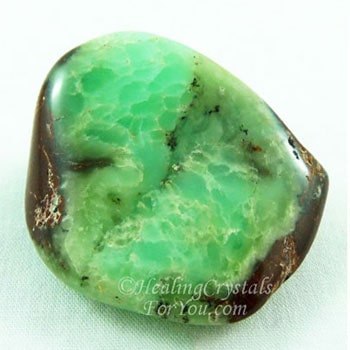 Chrysoprase are beautiful Green Crystals
There are many beautiful Green Crystals in this article for you to discover. There are a lot more crystals and stones in this color group then some others.

With the advent of spring in much of the world, it makes sense to learn about green stones and crystals at this time of the year.
Heard Of Kinoite?
Kinoite is a beautiful blue mineral that mostly occurs as a coating on a matrix stone. It has a good energy for healing, including assisting stress and helping you to sleep better.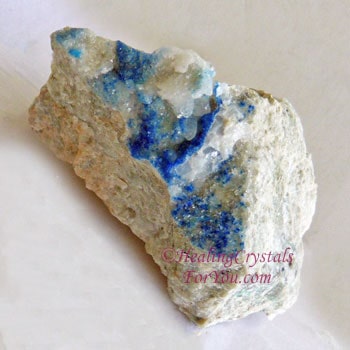 Kinoite
Kinoite is unusual as it resonates strongly at both the throat and higher heart chakras to aid truthful communication.

Its energy also assists compassionate communication, as the higher heart vibration charges your words with an ability to speak to others from the heart.
Crystals For Imagination
Learn about crystals for imagination, innovation and visionary thinking.

Using the imagination to assist you to find new innovative approaches to life can be powerful.
There are a number of well known crystals that can be used to assist you to utilize the power of your imagination.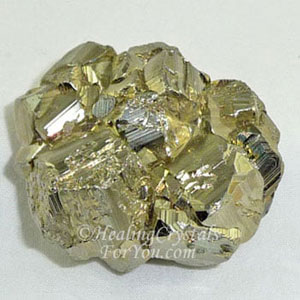 Beautiful Golden Pyrite - One Of The Crystals For Imagination
In case you are eager to learn about some uncommon stones that can also boost this energy to stimulate imaginative or visionary thinking, there are a few uncommon stones listed too that have excellent properties.

Here are four of the less common stones that are quite beneficial crystals for imagination, just in case you miss seeing them in the article: Poppy Jasper, Yttrium Fluorite, Goethite and Tangerine Quartz.
Grow.Me Widget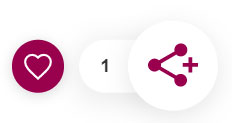 Mediavine Widget
Did you see the heart on the right of my articles, like the one in the image?
If you are wondering what it is for, it's to like the page and to bookmark it so you can easily go back and find it!
The other part of the widget has a search function, and you can also use it to share any article on social media.

Well that's it for now. I hope you enjoyed reading my April ezine newsletter.
That's it for now, see you next time.

Love and light

Crystals Ezine April 2022
Looking for information on something, maybe a specific crystal?

Go To Healing Crystals For You Site Map to see list of site pages.
To See The A-Z of Crystals Minerals and Stones Click Here
---
Note: When you use the vibration of crystals to help and support your healing remember that crystals are part of an holistic approach to your health.
Metaphysical healing uses universal energy so does not stand alone and can be used with any other type of healing. 
Using the energy of crystals for healing yourself is about finding a way to enhance conventional medicine not replace it. So always seek out medical treatment for any worrying health issue.
---
Thank You! I Appreciate Your Visiting My Site!
In my articles I may recommend various items that I use and love or that I feel are of value to my readers, and I earn a commission for purchases made through links on this page. 
FTC Disclosure:  If you make a purchase via a link on this site, I may receive a small commission on the transaction: at no added cost to you. Thank you!
Read My Affiliate Disclosure Here

---
Don't Know Which Book About Crystals To Buy?
Please Read Copyright And Disclaimer Notice
For: https://www.healing-crystals-for-you.com/
Any information that may be found anywhere on this site is not presented as a substitute, nor intended to be a substitute for medical advice, treatment or diagnosis.
Never disregard advice from your medical professional or delay seeking medical advice because of anything you may have read on Healing-Crystals-For-You.com.