Healing Crystals For You Newsletter

May 2022 #105
Written By Liz Oakes
Hi there crystal friends. Welcome to my email newsletter for May 2022.
What a beautiful time of year it is, makes you feel good to be alive!
Mother's Day is in May in both the United States and Australia, so for all the mothers reading this I hope you have a wonderful day! 
Mother's Day is about love for your mother and in turn motherly love for your children too of course.
So this month concentrates on the beautiful pink crystals that embody the energy of love. But that's not all!
Checkout what else is covered in the may newsletter below.
Healing-Crystals-For-You.com is reader-supported. When you buy through links on my site, I may earn an affiliate commission. Click to learn more.

May 2022 Issue #105
What's In Issue #105
Pink Crystals: Discover many beautiful pink crystals that enhance loving feelings, joy and compassion.
Green Rosasite is a fairly uncommon stone that has a number of excellent properties. 
See Crystals For Patience. Did you know that there are crystals that can help you to have greater patience while you wait for what you want to happen?

Do you know How To Use Your Crystals? Check out the article with many tips on good ways to use your crystals.
Learn About Pink Crystals 
Pink Crystals embody the energy of love in all its forms. Most you will have at least one pink crystal in your collection.
The pink crystals and stones were briefly covered in my article on Crystal Colors.
But did you know there are many other ways that pink stones can benefit you? I chose Pink this month as May is about love for your Mother.
Pink Rhodochrosite is one of the many beautiful Pink Crystals that are talked about.
Of course for those of you who are mothers yourself, this loving vibration also relates to the love you have for your children and they for you, as well as love for your family and friends.

Of course for those of you who are not mothers these lovely stones have many benefits you might not know about and that makes them beneficial to use.
My article also covers many other ways these gorgeous stones can help you, and there are some less common pink stones mentioned.
About The Pink Stones
Although the pink crystals page has links to many beautiful pink stones, I thought I 'd share other articles about pink crystals that may benefit you.

The beautiful pink egg above is Pink Rhodochrosite and this is a stone that many people love.
In addition there are some images below, which are a quick way of finding the pages that are about some of the popular crystals in this article.
One of my favorites is the beautiful Rose Quartz Crystal which beginners should definitely obtain a piece of.
In addition there are some less well known pink stones pictured below but all of these are fairly easy to obtain.
For those who have a large crystal collection or if you have been following my site, some of these may be familiar to you. 
Pictured with links are some lovely pink crystals including Rose Quartz, Mangano Calcite, high vibration Danburite and Peruvian Pink Opal.
My site logo is a gorgeous magenta pink Lithium Quartz Crystal, but note that Lithium Quartz is not always pink but can be lavender as well.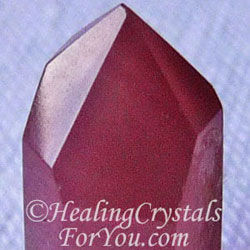 Lithium Quartz
Green Rosasite Crystals

Rosasite is a fairly uncommon crystal but it called out to me to share it with you all. It has some unusual properties that may interest you. You can use these crystals in meditation to help you to find your personal mantra.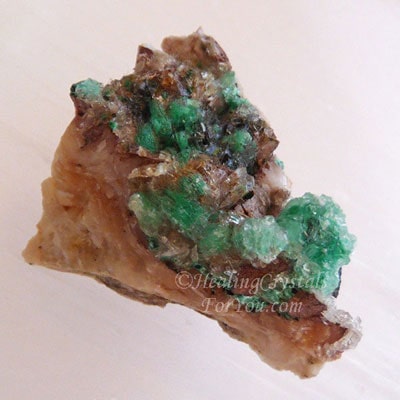 Rosasite
They have a lovely energy for healing and are especially good to use for emotional healing, and they help you be aware of the energy of truth, in both yourself and others.
They can also boost your memory, and while they are commonly colored green they can be a bluish green color.
Top 14 Crystals For Patience
The Top Fourteen Crystals For Patience are all fairly well known. In every area of life there can be difficulties that arise, that mean that your patience can be challenged.
This article tell you more about the best crystals to use to boost your ability to peacefully wait, until whatever you're waiting for comes into realization.
Petrified Wood is one of the Crystals For Patience
This article talks about the best crystals to help you to be patient and also talks about other ways that these stones may benefit you as well.

Patience can sometimes be hard to come by and for parents this can definitely be difficult at times, and there are tips for dealing with this.
Petrified Wood pictured above is one of the crystals for patience, but there are lots more stones you can also use. Learn about them in this article.
Best Ways To Use Crystals
Many people who have a lot of crystals wonder how to use them. Learn the Best Ways To Use Crystals in this article.
This page gives you a number of tips to assist you to find new ways to use your crystals.
Best Ways To Use Crystals
The information shown here aims to help you to learn more ways you can use your crystals and stones. This applies regardless of whether you have a few stones or a lot.
Checkout this article and start using your crystals stones or minerals in different ways in order to help your life.
Have You Clicked On The Heart Yet?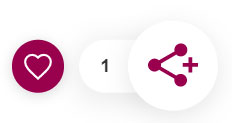 Mediavine Widget
Are you wondering what the little heart on the right hand side of every page on my site is for?
If you click on the heart it will bookmark the page you are on.
You can also use the widget next to it to share any page that you think others would be interested in.

Of course in addition to the newsletter there is a lot more information on my site for you to look at, if you want to learn more about crystals quickly. It's always there for you to read.

That's it for the moment. I hope you enjoyed reading the May newsletter, and I trust I'll see you next time.
I hope you all have a great Mothers Day!
Love, light and respect

Looking for information on something, maybe a specific crystal?

Go To Healing Crystals For You Site Map to see list of site pages.
To See The A-Z of Crystals Minerals and Stones Click Here
---
Note: When you use the vibration of crystals to help and support your healing remember that crystals are part of an holistic approach to your health.
Metaphysical healing uses universal energy so does not stand alone and can be used with any other type of healing. 
Using the energy of crystals for healing yourself is about finding a way to enhance conventional medicine not replace it. So always seek out medical treatment for any worrying health issue.
---
Thank You! I Appreciate Your Visiting My Site!
In my articles I may recommend various items that I use and love or that I feel are of value to my readers, and I earn a commission for purchases made through links on this page. 
FTC Disclosure:  If you make a purchase via a link on this site, I may receive a small commission on the transaction: at no added cost to you. Thank you!
Read My Affiliate Disclosure Here

---
Don't Know Which Book About Crystals To Buy?
Please Read Copyright And Disclaimer Notice
For: https://www.healing-crystals-for-you.com/
Any information that may be found anywhere on this site is not presented as a substitute, nor intended to be a substitute for medical advice, treatment or diagnosis.
Never disregard advice from your medical professional or delay seeking medical advice because of anything you may have read on Healing-Crystals-For-You.com.