Healing Crystals For You Newsletter
June 2022 #106-2
Written By Liz Oakes
Hi there crystal friends. Welcome to my second June newsletter for 2022. 
The main subject of this week's newsletter are the gorgeous bright Polychrome Jasper crystals. They are just beautiful!
These bright and colorful crystals are known as "The Supreme Nurturer" as they are beneficial healing crystals to nurture and heal the physical body.
Also called Desert Jasper or Royal Savannah Jasper have quite a few excellent metaphysical properties.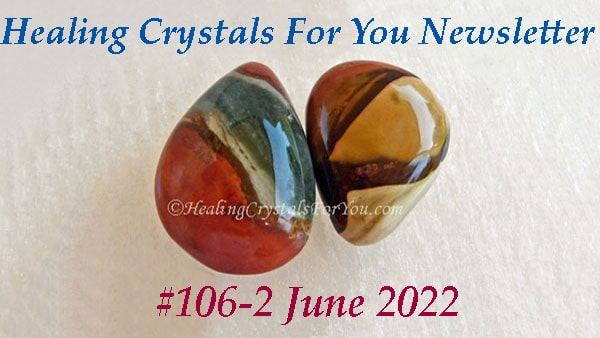 In addition to information about Polychrome jasper you can also discover more about the best ways to use a pendulum.
You can learn how to use it to aid you to make decisions in your day to day life, including when you are choosing crystals.

I recently updated the article to more clearly assist you to understand the best way to use your pendulum and to learn the benefits.
Healing-Crystals-For-You.com is reader-supported. When you buy through links on my site, I may earn an affiliate commission. Click to learn more.

June 2022 Issue #106-2
What's In Issue #106-2
Learn about Polychrome Jasper, a gorgeous brightly colored stone also known as Desert Jasper.
Their energy is known to bring good fortune and it may increase joy and happiness with its vibrant nurturing energy.

Do you know How To Use A Pendulum? If you are not sure how its done you can discover more.
Check out the article, see link below as it explains in detail how using a pendulum works.
Learn About Polychrome Jasper Crystals 
Polychrome Jasper was only discovered fairly recently, in 2006, by miners looking for deposits of Ocean Orbicular Jasper.
Ocean Jasper is becoming harder to find, so the miners looked further afield hoping to find more. Instead they found this beautiful bright jasper nearby.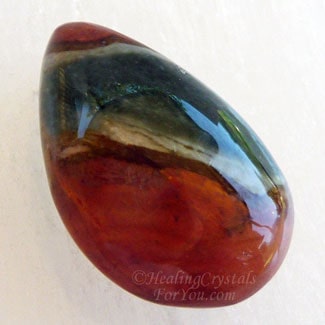 Polychrome Jasper
Polychrome Jasper crystals occur in a range of gorgeous bright colors, including red, green, cream and brown and they are mostly a mix of bright and earthy shades.

Their energy is positive and is quite stimulating. They encourage good fortune and happiness and also help to relieve stress and tension.
They have some excellent healing properties, including their most known action to nurture your body, to aid allergy and to help the immune system.
They are also said to be beneficial crystals for pregnant women to use, as they are purported to ensure that the baby is strong and healthy.
Read about Polychrome Jasper here.
Learn About Using A Pendulum
Do you know how to use a pendulum? If you don't know, it's easy to learn.
Here are a couple of important points to remember when using a pendulum.
The first thing is that its vital that you do not to try to control it! It must always hang freely. 
Do not hold it with your fingers as you may start to control it without meaning to.

The second thing is to always ask questions that have a YES or NO answer.
Only use it when you are feeling calm. If needed do a short meditation, holding one of the crystals for stress to soothe and calm you emotionally.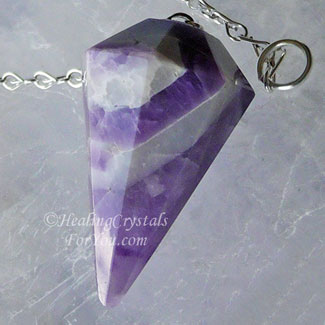 Chevron Amethyst Pendulum
Imagine you are looking for a lost object? Start by asking the pendulum, can it tell you where the object is located? That's important as you are setting the ground rules. 

If the answer is no, you may not be in the right frame of mind to connect properly.
In this case spend a few minutes relaxing and allowing yourself to let go of any stress related to what you are doing.
You might then ask your question, such as: "Is it located......" You should get a yes or no answer when you do this.
Read more about How To Use A Pendulum here.
Do you know what this widget is for?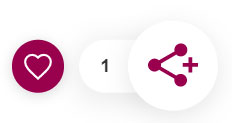 Have you discovered how to use the little Grow widget yet?
If you click on the heart it will bookmark the page you are on.
You may have noticed these hearts popping up on other sites that are using the Grow system and this can be helpful to assist you to come back to a page that interested you.
You can also use it to share any page on social media that you think others would be interested in.
That's it for the now. I hope you enjoyed reading my latest newsletter, and I trust I'll see you next week.
I hope the weather is lovely where you are and that you are taking advantage of fine days. Until next time! 
Love and light

Crystals Ezine June 2022 #106-2
Looking for information on something, maybe a specific crystal?

Go To Healing Crystals For You Site Map to see list of site pages.
To See The A-Z of Crystals Minerals and Stones Click Here
---
Note: When you use the vibration of crystals to help and support your healing remember that crystals are part of an holistic approach to your health.
Metaphysical healing uses universal energy so does not stand alone and can be used with any other type of healing. 
Using the energy of crystals for healing yourself is about finding a way to enhance conventional medicine not replace it. So always seek out medical treatment for any worrying health issue.
---
Thank You! I Appreciate Your Visiting My Site!
In my articles I may recommend various items that I use and love or that I feel are of value to my readers, and I earn a commission for purchases made through links on this page. 
FTC Disclosure:  If you make a purchase via a link on this site, I may receive a small commission on the transaction: at no added cost to you. Thank you!
Read My Affiliate Disclosure Here

---
Don't Know Which Book About Crystals To Buy?
Please Read Copyright And Disclaimer Notice
For: https://www.healing-crystals-for-you.com/
Any information that may be found anywhere on this site is not presented as a substitute, nor intended to be a substitute for medical advice, treatment or diagnosis.
Never disregard advice from your medical professional or delay seeking medical advice because of anything you may have read on Healing-Crystals-For-You.com.