Healing Crystals For You Newsletter
June 2022 #106-4
Written By Liz Oakes
Hi there crystal friends. 
Welcome to the fourth newsletter for June 2022. This time you can learn about a beautiful orangey pink crystal variety called Pecos Diamond.
Of course it is not really a diamond but is a type of quartz, with quite a few interesting properties.
It has a good energy to use in meditation at the third eye to stimulate precognition, and is an excellent stone to use boost creativity.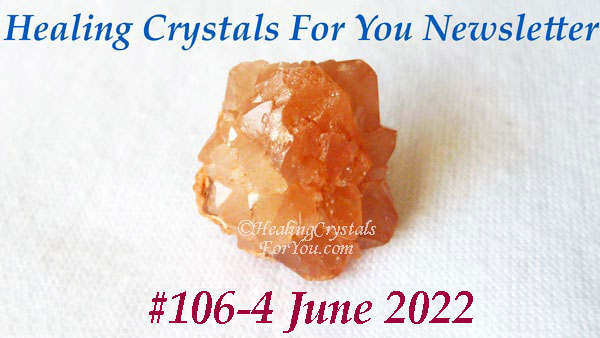 Pecos Diamond has a lovely heart based energy that boosts happiness and helps you to embrace fun in your life!

Healing-Crystals-For-You.com is reader-supported. When you buy through links on my site, I may earn an affiliate commission. Click to learn more.

June 2022 Issue #106-4
What's In Issue #106-4
Have you heard of Pecos Diamonds, which are orangey pink quartz crystals?

Pecos Diamond has an energy that boosts happiness and helps you to be aware that fun in life is important.
It has other strong benefits including enhancing the 

gift of

 precognition or prophecy.

They are excellent crystals for meditation too and are helpful crystals for creativity.
Have You Heard Of Pecos Diamond
Pecos Diamond occurs in clusters as well as double terminated quartz like this one pictured here.
These crystals have a strong heart based vibration which means they are excellent crystals for emotional healing.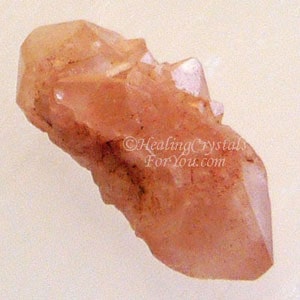 Pecos Diamond
Use them in meditation either on their own or combined with other crystals. They have good healing properties and will aid healing within the area governed by the sacral or navel chakra.
Pecos Diamond has a good action to boost psychic gifts including intuition and the gift of prophecy.

Discover Crystals For Precognition & Prophecy
Pecos Diamond is an excellent stone to stimulate the gift of prophecy.
The Crystals For Precognition article will give you more information about this subject. Learn the difference between precognition and prophecy.
The article has pictures of other stones that are known to boost prophecy or precognition.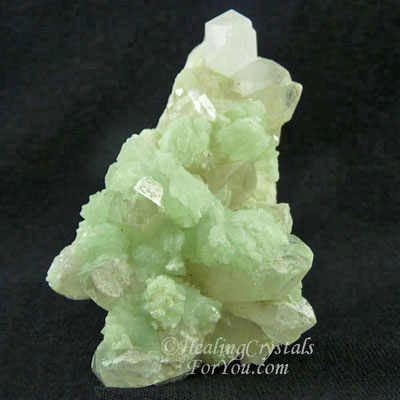 Green Prehnite Cluster: a Crystal For Precognition
Many of these crystals or stones have an in-depth page written about them where you can learn more about other ways they may benefit you.

Pictured below are some of the crystals that boost precognition or prophecy, including Prophecy Stone that was covered in a recent newsletter.
Read the Crystals For Precognition and Prophecy article to learn more.
Pictured below are Black Obsidian, Dream Quartz, Ethiopian Opal and Prophecy Stone, which you can see in the article. 
Black Obsidian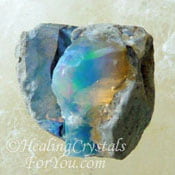 Ethiopian Opal
Prophecy Stone
Have You Clicked On This Yet?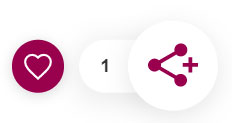 Mediavine Widget
Are you wondering what the little heart widget on the right hand side of every page of my site is for?
If you click on the heart it will bookmark the page you are on.
It has changed shape last week so it looks a little different and it is a bit smaller too.
You can also use it to share any page that you think others would be interested in.
That's it for now. I hope you enjoyed reading the final June newsletter, and I trust I'll see you next week.
Love and light

Crystals Ezine June 2022 #106-4
Looking for information on something, maybe a specific crystal?

Go To Healing Crystals For You Site Map to see list of site pages.
To See The A-Z of Crystals Minerals and Stones Click Here
---
Note: When you use the vibration of crystals to help and support your healing remember that crystals are part of an holistic approach to your health.
Metaphysical healing uses universal energy so does not stand alone and can be used with any other type of healing. 
Using the energy of crystals for healing yourself is about finding a way to enhance conventional medicine not replace it. So always seek out medical treatment for any worrying health issue.
---
Thank You! I Appreciate Your Visiting My Site!
In my articles I may recommend various items that I use and love or that I feel are of value to my readers, and I earn a commission for purchases made through links on this page. 
FTC Disclosure:  If you make a purchase via a link on this site, I may receive a small commission on the transaction: at no added cost to you. Thank you!
Read My Affiliate Disclosure Here

---
Don't Know Which Book About Crystals To Buy?
Please Read Copyright And Disclaimer Notice
For: https://www.healing-crystals-for-you.com/
Any information that may be found anywhere on this site is not presented as a substitute, nor intended to be a substitute for medical advice, treatment or diagnosis.
Never disregard advice from your medical professional or delay seeking medical advice because of anything you may have read on Healing-Crystals-For-You.com.