Healing Crystals For You Ezine 

July 2022 #107-1
Written By Liz Oakes
Hi there crystal friends. 
Welcome to the newsletter for the first week of July 2022! This newsletter is about the beautiful vibrant bright yellow crystals that epitomize bright sunny summer days!
These crystals have an amazingly powerful action to be beneficial to enhance your life, and you may be surprised how many bright yellow crystals there are.
Yellow stones embody a potent sun vibration that attracts positive light into your life. This makes them wonderful stones to utilize in your day to day life.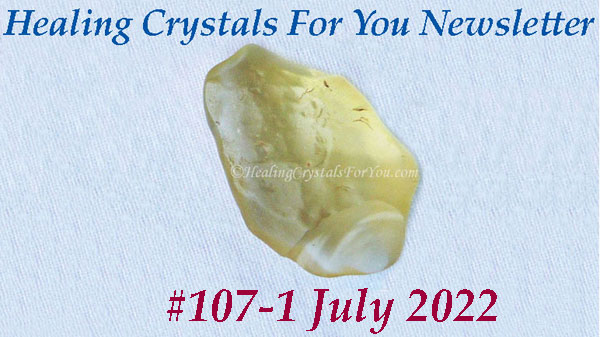 Perhaps you might even discover some golden yellow stones that you may not know about. And you can learn more about how the yellow crystals you are already aware of can benefit you.
Healing-Crystals-For-You.com is reader-supported. When you buy through links on my site, I may earn an affiliate commission. Click to learn more.

July 2022 Issue #107-1
Learn about the brilliant bright yellow crystals. See pictures of a large number of beautiful yellow crystals and stones and learn how they help you.
The vibration of Golden Yellow Crystals is advantageous because the solar plexus chakra resonates with the color yellow. By stimulating this area they help you in the following ways:
The solar plexus is well known for its role to aid abundance, manifestation, good fortune and prosperity.
By stimulating this area they boost optimism, increase self confidence, willpower and self worth.
Discover why the properties of Golden Yellow Crystals are so advantageous to aid your life. 
Learn About Bright Yellow Crystals 
The vibration of yellow crystals helps you in a number of ways including:
These bright beautiful stones symbolize the energy of bright sunny summer days, excitement and exhilaration and resonate with positive energy.
These delightful crystals have a strong energy to boost good fortune and prosperity, and help to manifest money.
Learn About The Yellow Crystals: like Gemmy Yellow Apatite
Many resonate within the third eye and crown chakras, which enhances psychic gifts, spirituality, clear thinking and encourages a positive attitude.

The energy of the yellow color stimulates personal growth and enhanced feelings of happiness, laughter and serene, comfortable days.
More About Yellow Stones & Crystals
If you are interested in learning more about the yellow crystals check out this extra information.
Most people who have a Citrine crystals know its action to assist manifestation, but are you aware that it also resonates within the higher chakras?
Learn About The Yellow Crystals: like Citrine
There are a number of golden or yellow stones that have a good energy to boost Spiritual healing and enhance clarity of thought.
There are quite a third eye chakra crystals that can boost psychic gifts.

Did you know that there are even high vibration crystals? This includes the four crystals pictured below which have a powerful energy to assist your life.
Pictured with links are four of the high crystal energy stones: Stellar Beam Calcite, Yellow Datolite, Rhodizite and Libyan Desert Glass also called Libyan Gold Tektite, a powerful manifestation crystal.

There are 54 yellow crystals in this article and many of these have in-depth pages where you can learn about them. Simply click on any link below any picture in the article to discover more.

The Heart Has Changed Size But Its Still There!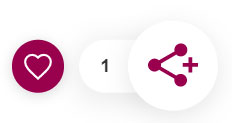 Mediavine Widget
I hope you have taken advantage of the heart to save pages that interest you.
It's easy to use. Simply click on the heart to bookmark the page you are on.
You can also use the other part of the widget to share pages that you think your friends would be interested in.
That's it for this week. I hope you enjoyed reading about the yellow crystals, and I trust I'll see you next time.
Love and light

Crystals Ezine July 2022 #107-1
Want to join my regular newsletter? It's easy.
Click on the banner that comes across the screen!
---
Looking for information on a specific crystal?

Click Here To See The A-Z of Crystals Minerals and Stones

---
Note: When you use the vibration of crystals to help and support your healing remember that crystals are part of an holistic approach to your health.
Metaphysical healing uses universal energy so does not stand alone and can be used with any other type of healing. 
Conventional medicine may say that crystal healing is just the placebo effect, but those who use it do find it is beneficial.
Using the energy of crystals for healing yourself is about finding a way to enhance conventional medicine not replace it. So always seek out medical treatment for any worrying health issue.
---
Thank You! I Appreciate Your Visiting My Site!
In my articles I may recommend various items that I use and love or that I feel are of value to my readers, and I earn a commission for purchases made through links on this page. 
FTC Disclosure:  If you make a purchase via a link on this site, I may receive a small commission on the transaction: at no added cost to you. Thank you!  Read My Affiliate Disclosure Here
Please Read Copyright And Disclaimer Notice
For: https://www.healing-crystals-for-you.com/
Any information that may be found anywhere on this site is not presented as a substitute, nor intended to be a substitute for medical advice, treatment or diagnosis.
Never disregard advice from your medical professional or delay seeking medical advice because of anything you may have read on Healing-Crystals-For-You.com.