Healing Crystals For You Ezine 

July 2022 #107-4
Written By Liz Oakes
Hi there crystal friends. 
Welcome to the fourth newsletter for July 2022. The subject of this newsletter is the red stone Cuprite, which embodies a number of excellent metaphysical properties.
Cuprite crystals are powerful to help you, in particular when you are suffering from an illness that has made you feel afraid of the outcome.
It has a number of powerful healing properties including helping to enhance your life force energy when you feel depleted of physical energy.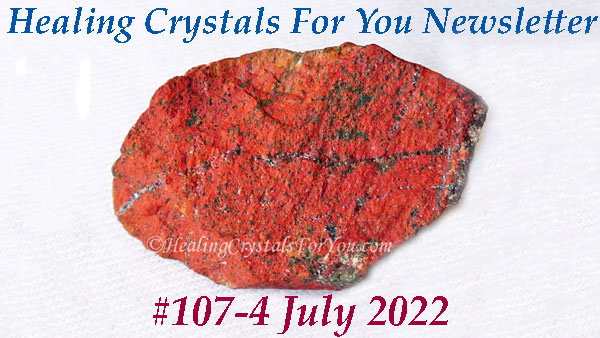 They are excellent stones to pair with high vibration crystals to prevent side effects that many people commonly feel after using the strong crystal energy stones.

Healing-Crystals-For-You.com is reader-supported. When you buy through links on my site, I may earn an affiliate commission. Click to learn more.

July 2022 Issue #107-4
If you haven't heard of red Cuprite, this is a bright red stone that may also have black spots in it.
It may also be a dark silvery red, which is a quite unusual coloration and you can see pictures of both types in the article about it.
Learn about this bright red base chakra stone that has an excellent energy for healing.
This is a copper based mineral that often occurs in combination with Chrysocolla.
The Chrysocolla-Cuprite mix is known as Sonara Sunrise.
Cuprite has a good grounding energy, is quite protective, and aids kundalini activation. 
Learn About Red Cuprite
How could Cuprite benefit you? This red stone has a large number of healing properties.
It may aid the release of fear which may be helpful if you have a serious health problem that has made you afraid of the outcome.
It particularly aids healing within the lower chakras and is helpful for both men and women.
There is a large section on its many healing properties in the Cuprite article. It's energy can assist you if you have been using high vibration crystals and have side effects, such as becoming spacey, and need to return to normal quickly.
Cuprite
This red stone has a protective energy and is quite grounding as well. Use it in meditation to assist you to make a strong connection with the Earth Mother.
While this stone has a number of metaphysical properties its action as one of the stones for kundalini activation should be noted. If this interests you check out the in-depth page on the subject, see more below.
Chrysocolla-Cuprite

Chrysocolla Cuprite is also sold as Sonara Sunrise especially when its made into jewelry as sellers like the unusual name.
This mixed stone is featured on the Cuprite page but you may also find it beneficial to read about Chrysocolla in its own in-depth article.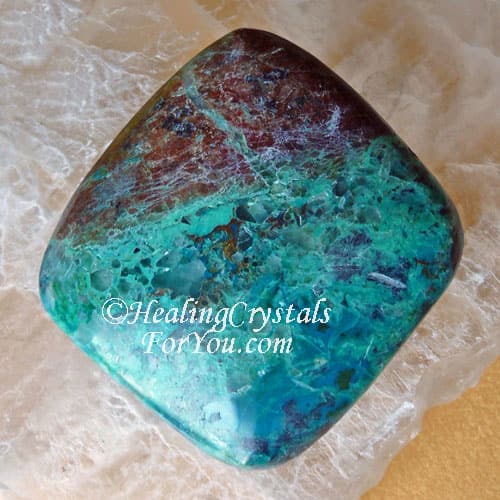 Chrysocolla With Red Cuprite
Both of these stones are copper based and have quite a few excellent healing properties related to their mineral make-up.
So if you are interested in knowing more about Chrysocolla use the above link to visit the page.
What Is Kundalini Awakening?
So what is Kundalini Awakening? The rise of the kundalini energy has been known about in ancient cultures and its role to aid enlightenment is said to be extremely valuable.
Be aware that Kundalini activation does effect some people badly, so do not do this deliberately unless you have first read about it and know what to expect.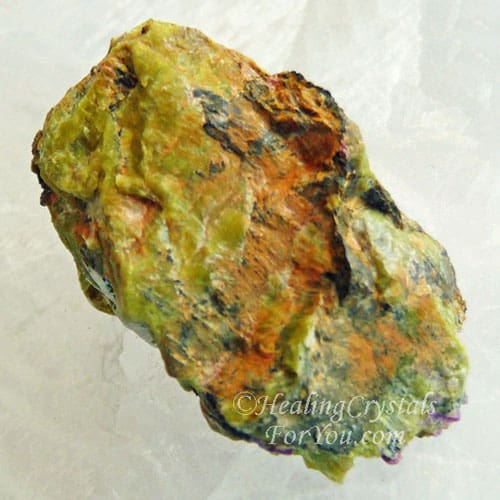 Learn about Kundalini Awakening and Serpentine Stone
There are quite a few crystals that stimulate the rise of the kundalini, and this is a strong spiritual concept that is known to enhance spiritual growth and healing in some people.
Green Serpentine shown above is one the many stones listed in the article, and of course Cuprite is also featured there as well.
Other Crystals For Kundalini Awakening
There are a large number of powerful crystals for kundalini awakening and activation, and while some are uncommon, there are a few well known stones in this group.
This includes Shiva Lingam, Seraphinite, Fulgurite and Red Jasper shown below.
In addition some of the stones which were featured in recent newsletters are in this group, including Almandine Garnet, Jet and Eudialyte.
There are quite a few other crystals mentioned in the above article and most of these have in-depth pages where you can discover their other benefits.
As always simply click on the link under any of the photos to learn more about an individual crystal that is pictured.
Have You Clicked On This Yet?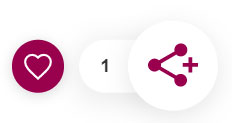 Mediavine Widget
Have you noticed the little red heart widget on the right hand side of every page of my site? Do you know what it is for?
If you click on the heart it will bookmark the page you are on.
You can also use it to share any page that you think others would be interested in.
That's it for the moment. I hope you enjoyed reading the final July newsletter, and I trust I'll see you next time.
Love and light

Crystals Ezine Issue 107-4
Want to join my regular newsletter? It's easy.
Click on the banner that comes across the screen!
---
Looking for information on a specific crystal?

Click Here To See The A-Z of Crystals Minerals and Stones

---
Note: When you use the vibration of crystals to help and support your healing remember that crystals are part of an holistic approach to your health.
Metaphysical healing uses universal energy so does not stand alone and can be used with any other type of healing. 
Conventional medicine may say that crystal healing is just the placebo effect, but those who use it do find it is beneficial.
Using the energy of crystals for healing yourself is about finding a way to enhance conventional medicine not replace it. So always seek out medical treatment for any worrying health issue.
---
Thank You! I Appreciate Your Visiting My Site!
In my articles I may recommend various items that I use and love or that I feel are of value to my readers, and I earn a commission for purchases made through links on this page. 
FTC Disclosure:  If you make a purchase via a link on this site, I may receive a small commission on the transaction: at no added cost to you. Thank you!  Read My Affiliate Disclosure Here
Please Read Copyright And Disclaimer Notice
For: https://www.healing-crystals-for-you.com/
Any information that may be found anywhere on this site is not presented as a substitute, nor intended to be a substitute for medical advice, treatment or diagnosis.
Never disregard advice from your medical professional or delay seeking medical advice because of anything you may have read on Healing-Crystals-For-You.com.