Using A Pendulum...
To Communicate With Spirit and Your Higher Self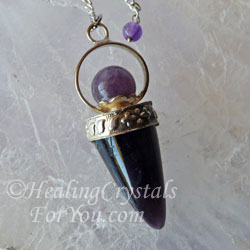 Amethyst Pendulum
You are here: Home > Using A Pendulum
Part Two > Part One
Using a pendulum is a simple way to access Divine guidance, and they are very accurate, if used correctly.
The pendulum is a tool that is used to communicate with spirit via your higher self or your guides, and this tool can be used to aid you to make decisions about healing.
It is a fast and easy way to get answers to problems, and one way that you can confidently make decisions based on a precise method.
An interesting use of your pendulum is to find lost objects, and it can also be used to help you decide if a crystal is the right one for you to use.
If you are a person who has been working on your spiritual growth or psychic gifts, this will be an aid to you. The use of a pendulum is easy, and is just is a matter of making the time to become competent. There are quite a few different types available, if you want to buy one.
Pendulum Use ... A Simple Pendulum
So why would you want to use a pendulum?
A simple pendulum is a very ordinary little device. What you are doing is communicating with your higher self, and accessing Divine Guidance when you do it. You do not need to have any sort of spiritual experience to do this, as it will work for you regardless.
One of the reasons that you might choose to regularly use a pendulum, is that every time you develop another gift that you can use to communicate with spirit, your overall vibration gets higher.
As this happens, the overall level of gifts that you have become higher and therefore they are easier to use. This is also a tool that you can utilize to aid you in making decisions about healing.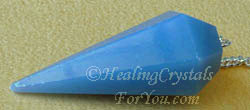 Angelite
You will see that they are available to buy in a choice of beautiful natural crystals, and different styles that are lovely to use.
You will see lots of examples of different stones used to make them, so there are lots of types to choose from. Use your intuition to help you to decide what is right for you.
Gem Stone Pendulum
My favorite type of pendulum is made of crystal, and in particular made from quartz crystal, and these are available at most crystal shops.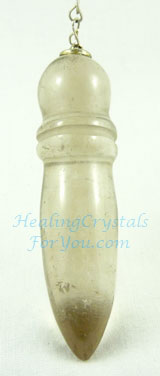 Natural Citrine Pendulum
Natural Citrine Pendulums, like the one on the right, and other gem stone pendulums similar to this, are very easy to buy.
They come in a range of shapes and sizes, and the specific shape is not very important, as most pendulums work regardless of whether they are smooth or have a number of sides.
You can get them in a variety of different stones, and I have successfully used ones made from an assortment of stone types.
Those that have a ring on the chain, or a ball on the end of the chain, are perfect, as it is beneficial to have something to hold onto. Alternatively just wrap the chain around your finger.

The main reason that I suggest that you use ones made from one of the quartz crystal varieties, is that using a pendulum made from quartz, is good for picking up the messages coming through, as quartz crystal is a strong amplifier of energy.
When using a pendulum to dowse for solutions to some health issues, and if you are using one to dowse for a specific remedy to take, such as any type of bushflower essence, a wooden pendulum may be more appropriate.

Pendulums are quite easy to make yourself, so I suggest you may want to make a simple pendulum first. As they can be made quite easily, this way you can start work immediately, and begin using a pendulum.
Any stone that is a shape that is equal on all sides will work. The main thing is to be able to attach it easily, to either a piece of chain or a length of light cord.
If you already have a crystal necklace or pendant, and especially one made from quartz crystal, that would be a good choice. They are that simple to make.
If your pendulum is made from any type of crystal, please remember that it is important to cleanse your crystals regularly.
Pendulum Divination
One of the first things to do is to discover how you, and your higher self like to communicate with your pendulum.
Once you get the answer to how you receive yes and no, the process of using a pendulum can begin.
The first thing you do, to reassure yourself how it works, ask it some easy questions that you already know the answers to.
Then work up to using it to divine the answers to things you do not know. Over time you will see how accurate the answers are.
You can use your pendulum to aid you in working out answers to all sorts of things. Using a pendulum is really quite simple. One of the things I use my pendulum, or any pendulum for is to choose crystals.
An example of this may be if your intuition prompts you that the stone in front of you may not be what it is labeled. Use your pendulum to get the answer.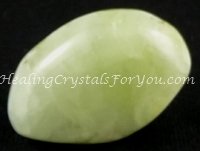 Prehnite Tumblestone
For stones that are similar, like Prehnite and Light Green Aventurine, you can use your pendulum to help you find out if they are really what they are labeled.
You can always borrow one of the shops pendulums, take it to a quiet corner of the shop, then ask the question. 
But be aware that you may end up buying it, as that is how I ended up owning the lovely Amethyst one at the top of the page. I made an instant connection with it, and just had to take it home, and it works beautifully, because of course it is made from quartz.
If there are a few stones to choose between, you can use the pendulum to help you to decide the one that will work best, for your highest good. Have fun learning how to use it!
More Pictures Of My Pendulums

Ametrine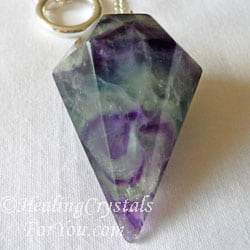 Rainbow Fluorite
---
---
Gorgeous Chevron Amethyst Pendulum...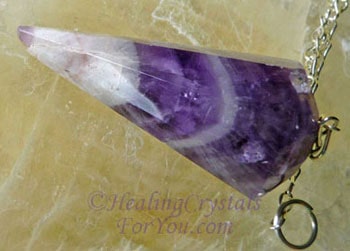 When you buy a new stone or crystal, it is advantageous to use it on its own first. Once you are fully aware of its energy, you may choose to combine it with other stones.
Combine stones for short periods to begin with, as individuals may react differently. Knowing how you can combine various stones may be helpful, as this allows you to get the most from your crystals, and may help you to solve specific problems in your life.

Looking For Information About A Specific Crystal?
Did you know you can find out more about any crystal or topic that is written about on this site, simply by using the Google Search box below?