Healing Crystals For You!
Learn about different types of healing crystals.
Hello! Welcome to my site! I'm Liz, the owner and the writer of articles on this website. I am passionate about crystals, rocks, minerals and all sorts of stones and particularly about those stones known as healing crystals!
I love crystals and stones so much that I have spent many hours, dedicated to finding out the best ways of aiding you to heal yourself with them.
I am excited about helping others to learn about using a variety of rocks and stones... in diverse ways, for healing yourself and others.
I look for unusual and beautiful crystals and often find stunning examples of formations that are wonderful example of what mother nature has to offer... like the stone on the right... a gorgeous pale lavender Vera Cruz Amethyst in a Dow formation, that is also a phantom quartz.
Crystals that are powerful teacher crystals... are wonderful aids to help you to find out the best ways to heal yourself in your own home, using the wide variety of different crystals or stones on this site.
I trust that you will find what you are looking for here at my site... which provides articles about using crystals... (and stones that are commonly known by the term "crystals") for healing. Use the information I present here to learn more about how you can do this.
Hey forgive me if I call a stone, rock or mineral a crystal, but "crystal" is now a word that is used to refer to the many gemstones, precious stones, rocks and minerals that can be used to aid the body to heal.
If you have asked yourself either of these questions, "What is Spirituality?" or maybe "What is Spiritual Health?"... you may discover the answer to these questions. Learn to use crystals for physical, mental and emotional healing as well as the most important attribute of spiritual healing.
It is a time of amazing global changes, and so many of you are looking for answers. I have been told that it is now the time for using the power of the violet flame, to transmute negative energy.
Have you heard about the power of the Violet Flame, and do you know how you can use it to cleanse yourself of negative vibrations and transmute negativity into the light? Did you know that the beautiful Amethyst Crystals are one of the stones that hold the vibration of the violet flame, and that these lovely purple crystals are powerful healing crystals?
Amethyst Crystals Are The Violet Flame Embodied!
On this site you can learn about many powerful healing stones...including Purpurite, Tanzanite, Sugilite and the lovely Purple Amethyst Crystals... seen in the picture above. These are all lavender or purple stones that have the vibration that allows you to use the healing energy of the Violet Flame.
Use Crystal Energy From High Vibration Crystals
Moldavite Pendant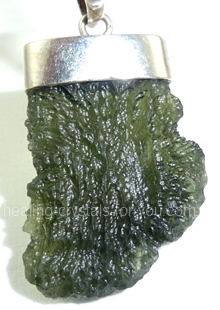 Read about some of the most popular high vibration crystals such as Natrolite, Tanzanite, Phenacite, Moldavite... see image on right... Danburite, Apophyllite, Brookite, Herderite, Selenite, Scolecite and lots of others.
There are many more of these high energy crystals, and you can use them to benefit your health.
Find out about these unusual and sometimes rare high vibration stones... with a level of crystal energy which is particularly strong.
Discover how you can use crystal energy for spirituality and healing. Learn more about high frequency stones that you can use, with impressive results in your life.
Find out how they can be used in your life to assist you... especially at this time of amazing global changes... and discover their impact on your spirituality and health.
After you have used high vibration stones, it is important to ground yourself... particularly after meditating with high frequency stones. If you are ungrounded you may feel your head spin, but you may not... and you may be blissfully unaware that you are not fully present on the earth plane.
Do you know what the symptoms of being ungrounded are? If you're not sure, read my article on spiritual grounding... Are YOU Ungrounded? This page helps you to learn if you are ungrounded, and includes a list of helpful stones... like Obsidian, Smoky Quartz, Black Tourmaline and many more, that you can use to aid you to ground quite quickly.
Develop Your Psychic Gifts
Learn how specific crystals may help you with developing psychic abilities. There are articles on this site about a range of psychic powers you can acquire, and lists of crystals that will help you to do this.
Subjects on individual pages include:
developing intuition
mental telepathy
finding your spirit guide
psychic knowing
automatic writing
psychic communication
clairaudience or psychic hearing
psychic visions or clairvoyance
clairsentience and psychometry.
Use The Healing Power of Quartz Crystals
Have you ever asked yourself... "How can I use healing crystals in my daily life?" Learn why just placing a Quartz Crystal cluster
in your vicinity can change your life for the better... in many ways.
Discover how using special healing crystals like Rose Quartz can aid you to have a more loving relationship... and learn about the different types of quartz crystals, and how they can be of benefit to your life.
You have energy vortices in your body known as chakras. Discover how you can create your own chakra kits yourself, and use these kits for self healing in the privacy of your home.
Learn about the chakras by having the chakras explained and discover how you can use individual chakra stones for improving the health of specific chakras. Learn about different types of healing crystals and learn how using them can benefit your life.
Learn More About Individual Healing Crystals
Over recent years there has been more and more interest in crystals. If you are looking for books about crystals or books about healing... or would like to share information about your favorite self help book... and would like to write a review about your favorite book or author, you are in the right place.
Discover crystals healing properties as I outline how crystals can be used. I invite you to look through the information I present to you. Allow yourself to be drawn to the specific healing crystals that you need at this time for your healing. Many new varieties of crystals are being discovered... so learn about how they may benefit you.
The simple presence of crystals in both your home and work environments create a change in the vibration of the surrounding area. If you have an interest in crystals and would like to learn more, the right healing crystals for you may be brought to your attention, so that it can do what it was meant to do.
Highly Recommended Spiritual Jewelry Designer
Some time ago I found this wonderful website - Ka Gold Jewelry which features the amazing jewelry artist David Weitzman. His jewelry creations have a strong spiritual quality, and in my opinion are simply irresistible.
What I liked most about David's work is that each jewel is created with individual intention and meaning, with many featuring sacred geometry. This jewelry may enhance your life, as they signify qualities such as love and abundance.
Browse by categories: Sacred Geometry Jewelry for Love Abundance Jewelry
They sell many beautiful pieces but below are three of my favorites:
Crystal Pictures
Throughout this site there are many crystal pictures... to help you to identify different stones.
In the A to Z pages... see links across the top, you will see pictures of many stones, and short explanations on how they may benefit you.
You will see a range of pictures of healing crystals and stones on this site... and many images are of stones that are featured in a specific in-depth page about them. So if a stone interests you, click on the picture... as many will be links that could take you to the in-depth page on that crystal.
Malachite Frog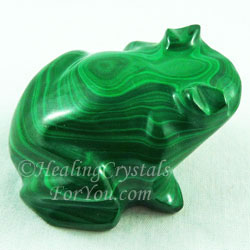 The information I present will help you understand different crystals, such as the crystal configurations and the various quartz formations and their healing properties.
You can learn to use their metaphysical properties... and the best way that specific stones and healing crystals can be used to improve your health and your spirituality.
Learn how can you use the power of crystals to create abundance and prosperity in your life. Discover how they can aid you to live a better life in so many ways. Would you like to learn to use 'golden yellow crystals' to assist you to manifest an increase in money?
As I help you to learn about many aspects of crystals, you may discover the wonderful benefits that they bring to your life. Most importantly discover how they will assist you to enrich the quality of your life.
Enjoy your search... read through the information, and let your intuition guide you. Use crystals to help you to do what you all would like to do... improve your life!
What Would You Like To Read Now?
Unsure of where to go now? If you are here looking for something in particular and can't find it, the best way to locate it is to use my handy search below. To find out information about a particular crystal or topic that you believe could be somewhere on this site, use the Google Search box below to assist you to find it...

"The best and most beautiful things in the world cannot be seen or even touched... they must be felt with the heart." Helen Keller.