About Liz... Welcome!
Hello and welcome to my about Liz page, where I endeavor to share a little about who I am and why I started this web-site. Its now been on the web for over nine years going on for ten!

So I will start by saying that I am the founder, writer, chief editor and all round solver of issues that come up on this site! I am passionate about crystals and also about natural healing.
My website Healing-Crystals-For-You.com is about my commitment to being of service to everyone who is looking for healing and who loves crystals.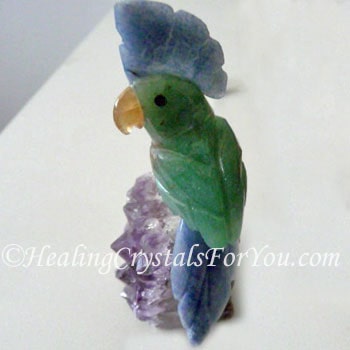 Crystal Parrot. A mix of Green Aventurine and Calcite on Amethyst
I am enthusiastic about using any natural methods to improve your health, including using both crystals and natural healing methods to make a difference in your life.
My passion is to discover all I can about how to use the amazing power of the mind, and I recognize the importance of reading personal development books.
I have a strong interest in books that aid you to take action to make a difference in your own life.
Along the way, I have been helped by many people, so to all those people who have helped me over the years, I wish to thank you for your advice, assistance and support during this time.
By the way in case you are wondering about the parrot above and why its there? It was a gift from my daughter Belle, who along with her sons is an important part of my life.
FTC Disclosure: I get commissions for purchases made through some of the links in this article.
My Healing Training... Crystals and Meditation
I really love books on personal development and particularly about the Law Of Attraction. I have bought and read many personal development books, and I have many favorites, including the Abraham books by Esther and Jerry Hicks.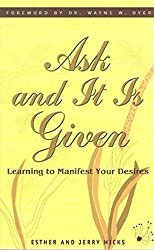 Click here to read more about this book
While I love many of their books 'Ask and It Is Given' is my favorite. I often refer to it and re-read it, and I love all of the other Abraham Hicks books and videos too.
By the way if you don't know about Abraham, google Abraham Hicks on YouTube and listen to the inspirational teachings of Abraham (channeled by Esther Hicks).

I read a lot of different types of books, including many wonderful and inspirational personal development books.
In addition I love reading books about healing, books about the law of attraction and of course books about crystals. 
One of the early books I read on meditation suggested using a crystal to meditate with, and this was the start of my love for them.
Although I have no idea of the name of the book, I owe the author my sincere thanks. So now on my about Liz page I wish to pay it forward.
I feel that it is incumbent upon me to share my knowledge, which I am most happy to do. Much of the information on healing crystals I have learned along the way as I used them for self healing.
My Amethyst Geode
Over the years I have attended training in quite a few different healing modalities, as learning about healing methods is one of my passions.
It has been and is still wonderful to be able to be the conduit to aid others to heal, and I am grateful for the healing that I also receive from Spirit while doing this. It's amazing!
I discovered Reiki about fourteen years ago, and over time I did three different levels. Reiki is a wonderful system for self transformation, and expansion of consciousness.
This is a gentle healing modality, that channels pure Universal Life Force Energy through the hands. At each level the amount of energy is expanded, and the vibration of the practitioner is increased.
Around the same time I began to meditate regularly, and found that it improved my life immensely, and my spiritual development moved forward from this daily practice.
I regularly made contact with Spirit and my guides, and around this time I started to use and buy crystals, and use them every day as part of my daily meditation with crystals.
It is my intention to mainly discuss crystals that I have a personal experience of using. Although I do have healing qualifications, I feel my passion for crystals is by far my most important credential.
The topics I cover on this website are, as far as possible, based on my own personal experiences, and all of the articles are written by me.
I have to add a caveat in here, as I have a section on this site where you can, if you want to, Share Your Crystal Story with everyone that comes to this site.
This is where you the reader can write your own page, and these pages are of course not written by me!
About Liz ... My Passion for Crystals
I have a large and diverse collection of crystals, because as soon as I read about one I have not seen before, I look around for it and see if I can acquire one.
My experience using crystals, both in my personal life and in my healing, has made me aware of their power and efficacy.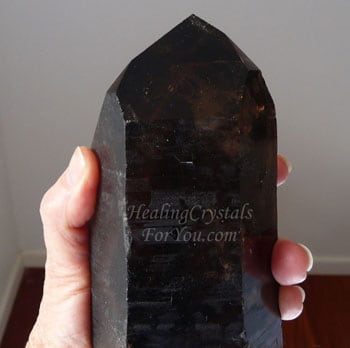 Temple Heart Dow
The beautiful Dow Smokey Quartz, shown above, was a crystal formation I had been looking for, and it actually called to me to come and get it.
I woke up one morning and its image was in my mind, and it made me aware that it was waiting for me, and told me where to go to get it. Very interesting experience!
There are so many ways you can receive information, including having your guides communicate information to you, or the strong power of intention, along with the Laws of Attraction in action.
The amazing power of coincidence, serendipity and synchronicity does actually work, but often other aspects come into play to boost its effectiveness.
I was happy that whatever the reason, I was made aware of where to go to get it. That day I was able to not only get this lovely Temple Heart Dow, but I also found quite a few other quartz configurations that I wanted to add to my collection.
I often find that the way that coincidence works in my life creates the circumstances and the knowledge of which crystals I need for my personal healing. Then by having a predominant mental attitude of confident expectation, they come to me.
About Liz.. Starting My Own Web-site
Have you ever wanted to start your own website but were not sure how or where to start?
If you had told me a few years ago that I would have a highly successful web-site and be building more, I wouldn't have believed you.
My working background in the corporate world was in accounts until I started to work for my husband who was a realtor, or real estate agent as it is known here in Australia.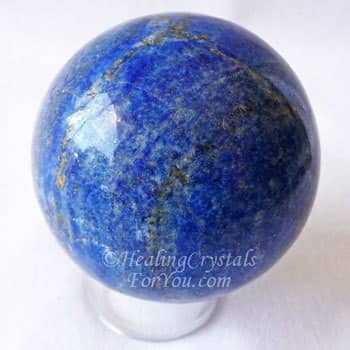 My gorgeous Lapis Lazuli Sphere
This allowed me more flexibility in my work, and I was able to make time to develop my healing. My work as his part-time assistant meant I spent time speaking with the public.
I began to see more and more that there are a lot of people in the world who need help, but who will not approach anyone for this help.
At that time I also noticed that a great many people who rang us found us on the internet, so I wondered about building a web-site. 
I didn't have any idea about how to begin building a web-site, until one day the Law of Attraction brought the answer.

Thats me!
I had a great desire to start a web-site, so that I could both share my passion for healing with crystals as well as make an income by doing something I really loved doing.
My husband was googling in 2009 and found the information about SBI which started me moving in the right direction. So I decided to start this web-site through SBI also known as Site Build It, about using healing crystals. 
I am happy to work every day doing something I love, while also being able to help people to get the information they need more easily by using my website.
I am grateful that I can work with crystals on a daily basis and I am still excited when I get a new crystal I have not seen before! Writing about crystals is a pleasure but having a website involves quite a bit more than writing.
Since I began this site in 2009 I have learned a lot about the web and I now know enough to fix most site issues that come up.
But it is reassuring that there are a number of excellent web experts at SBI, and a very helpful group of other webmasters on the SBI forums who are always happy to give advice when its needed.
About Liz ... In Summary
I am extremely happy that I am able to share my passion for crystals on this web-site. My website is a work in progress and I am adding information to my site regularly.
So check back to see what's new, or if its easier 'like' me at Facebook, to keep abreast of what is happening.
It is my desire that by sharing my knowledge of healing and information about healing crystals and how to use them, that I am able to assist you to make a difference in your life.
If you have found that you like what you have seen here, and that it has benefited you, please support my site in whatever way you are able.
My desire is that by using and wearing crystals, you may be blessed by the experience as much as I have been.
With much love... blessings

"All the resources we need are in our mind." Theodore Roosevelt.

Pages That May Interest You...
Thank You! I Appreciate Your Visiting My Site!
In my articles I recommend various items that I use and love and feel are of value to my readers.

FTC Disclosure:  If you make a purchase via a link on this site, I may receive a small commission on the transaction - at no added cost to you. Thank you!
Read My Affiliate Disclosure Here

---
---