Healing Stone Meanings
How Did They Use The Healing Stones?
The healing stone meanings have been gathered throughout the centuries, in many cases since ancient times.
While we do not know for certain exactly when their meanings were discovered, we do know that healing stones have been in use for a long time.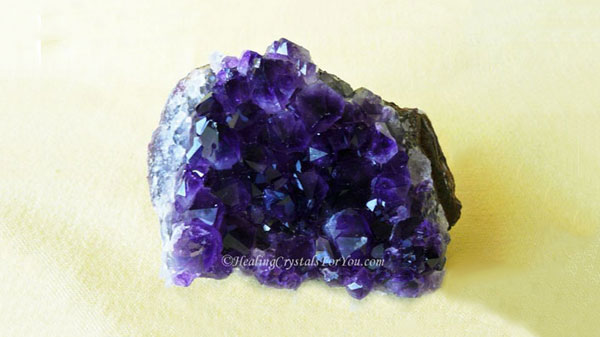 Amethyst Crystal
In ancient times these stones were used for quite a few different purposes. 

Many of them were used in the past as dyes. They were ground to a powder and were the one of the methods available to color clothing and textiles.

Some ancient textiles have been found to be colored using common crystals. Some stones were ground and painted on the skin for religious or shamanic ceremonies.
---
Healing-Crystals-For-You.com is reader-supported. When you buy through links on my site, I may earn an affiliate commission. Click Here to learn more.

---
How Did They Discover The Healing Stone Meanings?
We do not know for sure how they came to understand the meaning of crystals for healing purposes. 
Perhaps they found that their health improved after having some of these stones in their vicinity for long periods of time. 

The healing stone meanings did not just become apparent at one time, but over many hundreds of years. They had them in their homes they became aware of their healing qualities.
Green Prehnite
Once natural crystals came into everyday use in their lives, healing stones were then commonly grouped according to peoples month of birth.
Beautiful gold and silver crystal jewelry, including birthstone rings and pendants, like the lovely Pink Kunzite pendant in the photo above, were then created.
They used stones that were available in the area, and many of these quite lovely carved stones have been found by archaeologists.
Birthstone jewelry is made using birthstone gemstones, stones which have been grouped together and categorized according to your month of birth.
The crystals that are known as birthstones, generally refer to the month they relate to, so can be found on the list of birthstones by month.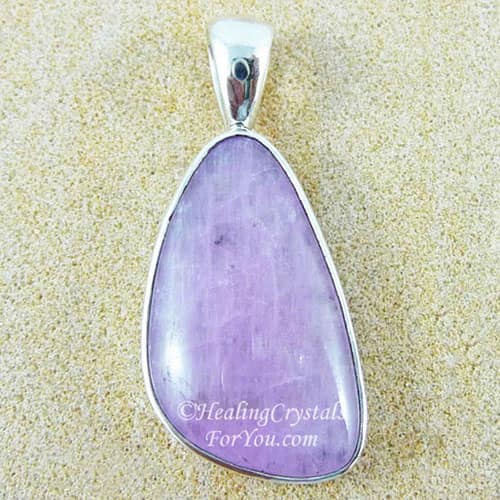 Kunzite Crystal Pendant
In the beginning it was the beauty of many of the stones that first drew peoples attention.
Once they began to use the stones they realized the healing stone meanings, as they saw there were many more benefits from using them.
These stones have been historically used in jewelry, given as gifts at special times such as birthdays and christening. 

These days they are also grouped according to the astrological sign that they benefit. If you want to know the stones that will help anyone born under your star-sign, take a look at the crystals shown on the zodiac birthstones list.
How Can You Use The Healing Stone Meanings?
By knowing the healing stone meanings, you are able to make better decisions about how you can put them to use in your life. 
Having crystals in your environment is beneficial, which  is why lovely pieces of crystals are carved into a variety of different shapes.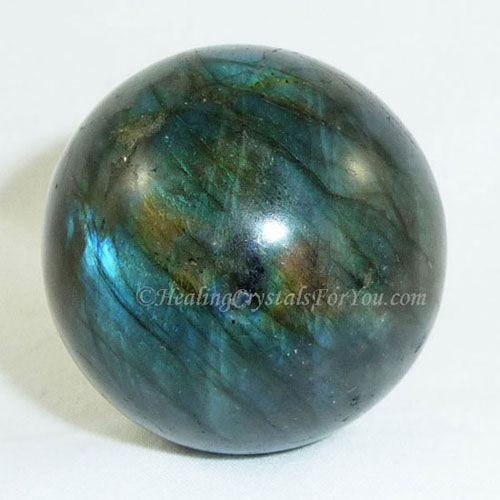 Labradorite Crystal Sphere
Just having them in the room, may contribute to creating a better healing outcome, and an improvement in your overall life.

This includes quartz crystal skulls and lovely statues of Buddha, like the one above, which is made from Prehnite.
You may become aware that having them in your vicinity or on your body. You may recognize their beauty and find their presence in your life is beneficial to you.
The vibration of some stones is very strong, including most of the quartz varieties, and can be incredibly useful to have close to you.
If you feel depressed, stressed or anxious, using one of the powerful lithium based stones is helpful to relieve stress.
History of Healing Stone Meanings
Many lovely crystals that we now know to be healing stones have been reputed to have been used in Ancient Mesopotamia and Egypt.
One in particular that was of consequence to the Egyptians was Lapis Lazuli stone. From ancient writing it has been discovered that this stone was very important to them.

They believed that Lapis had the qualities of evoking wisdom and feelings of inner peace, and it does.
Lapis Lazuli Bead Pendant
Beautiful pieces of jewelry made from Lapis Lazuli stones have been discovered in the tombs of the pharaohs in Egypt.
It is believed that they must have known the healing stone meanings, as many of them were saved with such items as food, for the person's use in the after life.
Maybe they discovered that using stones like Lapis helped to stimulate their psychic abilities.
In olden times many of these gifts were akin to magic, and were quite  desirable, as it put these people in a more powerful position in their community. Today we know its not magic as such.
We know that an acceleration of gifts commonly termed 'psychic abilities or powers' may be assisted by certain stones, including Lapis.
Archaeologists have found many other crystals of a healing nature in ancient tombs. 
It is clear from the way that the stones were stored, that they were deemed essential by the people. Perhaps they were aware of their benefits.
There are a large number of different psychic gifts that you can develop, and using specific crystals can help you to do this.  
If you are going to be using stones to visit the higher realms it is beneficial to learn about psychic protection and ways to prevent psychic attack.
Some healing crystals are known to intensify the birthing of specific gifts, such as those of psychic clairvoyants. 
You can read about stones that can stimulate the birth of various psychic or spiritual gifts.  
This also includes an in-depth page that gives you more information about how to make contact with your spirit guide. 
There are a lot of healing stone meanings on pages dedicated to helping you develop various abilities, so check out the stones listed on these pages, if this is what you wish to do.
How Can We Use Healing Stones?
There are a number of ways that you can use healing stones including:
Meditating with crystals is very helpful, and by knowing the healing stone meanings, you can make a better choice about which stones you think will benefit you. 
There are many uses for the healing stones, and in particular it is useful to have one in your hand while you are doing meditation.
Each chakra of the body has different areas that it may assist. Each chakra has its own detailed page, where you will learn the particular aspects that this chakra governs.
Any of the natural crystals that are third eye chakra stones, will stimulate the pineal gland, and will aid those whose desire is to seek psychic employment.
Specific crown chakra and soul star chakra stones will be of benefit in the spiritual area. 
To create a general improvement in your overall spirituality and in your health, any crystals may assist you.
The stones that have a higher vibration and a stronger level of crystal energy, will aid you if your goal is to be more spiritual or if you wish to develop your psychic gifts.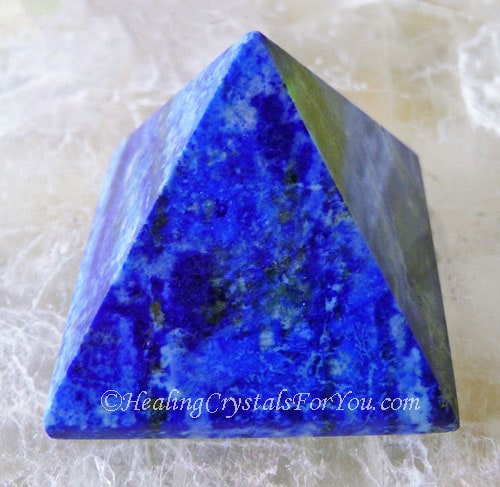 Lapis Lazuli Pyramid
On the in-depth pages on each of the major chakras, you will find lists of crystals and the healing stone meanings and details of the ones that might be used at that area. 
There are specific chakra crystals that will help you to make improvements in many individual areas of your life.
You may benefit by having a general overview so that you know how to understand which stones to use to aid an individual issue in your life. 
Knowing the healing stone meanings can be beneficial to help you to make a general improvement in your day to day living.
You can learn more about the meanings of the various chakras in a general way and then go on to read more about the specific chakra that you feel may help your life at this time. 
Just as the people in ancient times knew that the energy of stones could help them you too may also gain this understanding.
Which Stones to Use
If you have an interest in improving your financial situation there are two different pages you may like to look at.  
You can learn about ways to increase your overall level of prosperity and to manifest abundance, and for that solar plexus chakra stones may help you.
Successful manifestation might include using what I think of as the golden stones.
This is the subject of the article on stones to attract abundance, where you can see a list of many beautiful crystals to help you boost your finances. 
There are a number of golden yellow stones and some of my favorites that work well to aid manifestation are the beautiful Yellow Citrine, Yellow Apatite, Brazilianite and Golden Yellow Topaz... that are powerful crystals to manifest money. 
Its important to realize that high vibration crystals with strong crystal energy can alter you, make you feel ungrounded.
If you are not sure what the symptoms of being grounded are, check out my article on grounding.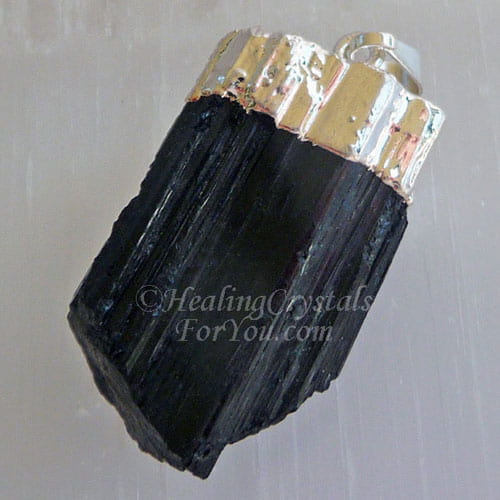 Schorl Pendant also called Black Tourmaline
Ways to help this includes walking on the earth or using stones like Black Tourmaline shown in the picture above, to help you to ground to Mother Gaia.
Black Tourmaline is both grounding as well as being a highly protective stone. It also has some other excellent properties, so its one stone that many people like to add to their collections.
There are a number of other specialist areas on this site. 
As mentioned above there are a number of different pages that teach you about developing psychic gifts and there are crystals listed that will aid this process.
On the A to Z pages, I have compiled a list of most of the stones from other parts of this site and a brief description of their meanings.
Check the navigation bar to discover the page you are looking for. On these pages some stones may be highlighted with a link indicating that they are covered in more detail. 
You can click on any of the links to go to the specific page to learn more of the healing stone meanings. They are listed in alphabetical order on a number of different pages.
There are in-depth articles about individual stones with a high level of crystal energy, which includes many crystals that are rare, as well as some more well known stones.
This includes some of the most sought after crystals of them all, as high vibration crystals can be highly beneficial to use to assist your life.
Specific stones that are popular for this reason includes: the powerful green tektite Moldavite, Herderite, the beautiful bright yellow Libyan Desert Glass and a crystal that helps to boost the energy of smaller stones and is useful to use with rare tiny specimens, Herkimer Diamond.
Another popular group of crystals that are covered in detail on this site, are the lovely quartz crystals. 
Did you know that quartz crystals have a powerful resonance, and they can be programmed to aid your life?  Discover the many quartz crystal varieties and the many ways that these stones can help you.  
This group of crystals is actually the one that represents the stones that are possibly the most popular and widely spread stones on our planet.
A representative from this group can be found in most countries in the world and they occur in a range of beautiful colors.
Examples of some of the most common varieties of quartz are shown below, such as Rose Quartz, Purple Amethyst Crystals, green Prasiolite quartz, the bright Yellow Citrine Crystals see above and the most common of all Clear Quartz, although there are many more varieties in this group.
You can learn about stones that will boost your creativity. The stones that work within the sacral or navel chakra can benefit you if this is your aim. 
Many of the above stones fit into a number of categories, so allow yourself to take a good look at the various areas and learn about the many ways that crystals rocks and stones can benefit you.
The healing stone meanings may have been originally discovered by accident but these days solid knowledge on them is widely available.
If you wish to improve your health make use of the information. Look at the meanings of different crystals and use your intuition to choose the right stone. You might make a difference to your life. Give it a try!
---
Want to join my regular newsletter? It's easy.
Click on the banner that comes across the screen!
---
Looking for information about a specific crystal?

To See The A-Z of Crystals Minerals and Stones Click Here
---
Note: When you use the vibration of crystals to help and support your healing remember that crystals are part of an holistic approach to your health.
Metaphysical healing uses universal energy so does not stand alone and can be used with any other type of healing. 
Using the energy of crystals for healing yourself is about finding a way to enhance conventional medicine not replace it. So always seek out medical treatment for any worrying health issue.
---
Thank You! I Appreciate Your Visiting My Site!
In my articles I may recommend various items that I use and love or that I feel are of value to my readers, and I earn a commission for purchases made through links on this page. 
FTC Disclosure:  If you make a purchase via a link on this site, I may receive a small commission on the transaction: at no added cost to you. Thank you!
Read My Affiliate Disclosure Here

---
Please Read Copyright And Disclaimer Notice
For: https://www.healing-crystals-for-you.com/
Any information that may be found anywhere on this site is not presented as a substitute, nor intended to be a substitute for medical advice, treatment or diagnosis.
Never disregard advice from your medical professional or delay seeking medical advice because of anything you may have read on Healing-Crystals-For-You.com.