Tigers Eye Stone...
Harmonious Balanced Action With Understanding & Discernment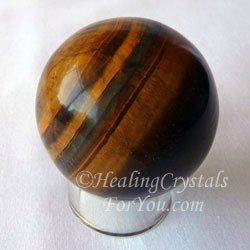 Tigers Eye Sphere
Home > Tigers Eye Stone
Part Two > Part One
Tigers Eye Stone is a crystal with lovely bands of yellow-golden color through it.
This is a powerful stone that aids harmony and balance, and helps you to release fear and anxiety.
It stimulates taking action, and helps you to make decisions with discernment and understanding, and unclouded by your emotions.
Traditionally it was carried as an amulet against curses or ill-wishing, and is known to give you courage, self confidence and strength of will.
It enhances creativity and is one of the stones that aid kundalini awakening. This natural crystal balances the brain, so it may be of benefit to help those who are suffering from mental disease or with personality disorders.
Where Is It From? Tigers Eye Meaning
The largest numbers of Tiger Eye Stones are found in South Africa, but it also comes from Brazil, India, Burma, Western Australia and USA.
The meaning of this stones name relates to its resemblance to the eye of a tiger or cats eye. Its color is yellow brown to golden brown and it is very attractive with lovely bands of color through it.

While it is not really classified as a quartz crystal, it could be said to be in the quartz family, as it is a variety of quartz with inclusions of fibers of gold asbestos which gives it the golden color.
These stones are profound amplifiers of energy, similar to most quartz crystals, and will boost the energy of any other crystals you use it with.

Tigers Eye stone will integrate both hemispheres of the brain, and aid those with scattered energy to resolve any mental conflicts.
It helps you to be clearer mentally, and will charge the intellect as it allows you to remain calm and grounded through the changes.

Stimulates Psychic Gifts...
If you are an earthy person, and vibrate to the energy of the solar plexus, also known as the power chakra, you may find that this stone aids you to bring through a variety of psychic gifts.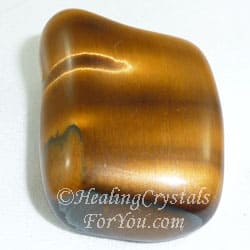 Tigers Eye Crystal
Tigers Eye Pencil Pendant
It is as simple as keeping the stone within your aura, so it will be of benefit to you. It is the balance within the stone that is its most practical attribute.
It may aid you if you are earthy to develop your psychic powers when used at the third eye chakra, but it is not generally a third eye chakra stone.

It is an effective stone to assist you to accomplish goals. If you are prone to criticizing your own actions, you may be experiencing a lack of self worth. This stone may help you, as it will infuse you with confidence, brightness and optimism that may relieve these feelings of lack.

Why Would You Use It?
It is a strong stone to aid you with all of the basic survival needs, and aids your ability to work through difficult times. It is known to aid the healing of broken bones, and it helps to enhance your strength when needed.
This is a stone that helps us to be more active, mentally as well as physically, and its major work is within the lower chakras. It will stimulate the base chakra, sacral chakra and the solar plexus chakra, where its energy has a very powerful effect.
The vibration of 'the will', which is the predominant energy of the solar plexus chakra, is strong within Tigers Eye Stone, and its energy here also aids the release of fear.
Wearing Tigers Eye
Tigers Eye Bracelet
You may find pieces made from Tigers Eye in many places that sell jewelry, as these stones are on the zodiac birthstone list.

This golden brown stone is a Capricorn birthstone as well as a Gemini birthstone, so you may find a wide range of different birthstone jewelry available.
By wearing a Tigers Eye ring or bracelet you will keep the energy closer to the lower chakras, where it is most effective. 
Tigers Eye jewelry is easy to find, and it works most effectively when it is worn within the lower chakras. 
If you are unable to get a ring or bracelet, other jewelry such as lovely pendants made from this interesting stone will be effective.
I bought this bracelet when I broke my wrist, as it is known for its energy to help the body to heal broken bones. The best way to utilize its energy, is to endeavor to keep the stone within your aura for as long as possible each day.
"Every day you must unlearn the ways that hold you back. You must rid yourself of negativity, so you can learn to fly." Leon Brown

Golden Tigers Eye Stone
When you buy a new stone or crystal, it is advantageous to use it on its own first. Once you are fully aware of its energy, you may choose to combine it with other stones.
Combine stones for short periods to begin with, as individuals may react differently. Knowing how you can combine various stones may be helpful, as this allows you to get the most from your crystals, and may help you to solve specific problems in your life.

Looking For Information About A Specific Crystal?
Did you know you can find out more about any crystal or topic that is written about on this site, simply by using the Google Search box below?