Tugtupite
Deep Heartfelt Love And Passion With Spiritual Growth
➤ Written By Liz Oakes
Tugtupite is a rare pink crystal that holds the harmony of deep love within it. This stone has the pureness of intense deep love. 
Its vibration has the intensity to reawaken lost love and unremembered passion.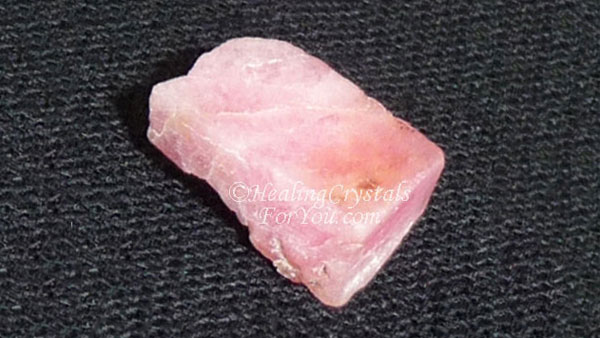 Tugtupite Stone
The resonance of this pink stone within you, may remove your sense of neutrality or apathy about love, if you acquiesce to its loving energy.  
It has a loving heart chakra and thymus or higher heart chakra energy that will transform anyone who chooses to embrace its intensity.

Interesting Fact: The Inuit of Greenland are said to use it to intensify libido, and stimulate passion, and that they get it to glow fiery red, from the heat of their passion!
This could be possible as it has an amazing vibration to open the heart and higher heart.

---
Healing-Crystals-For-You.com is reader-supported. When you buy through links on my site, I may earn an affiliate commission. Click Here to learn more.

---
Where Is It From? Tugtupite Meaning
The meaning of this stone is related to the location where it comes from, and where it was first discovered, in Tugtup in Greenland. 
Although this is the major place in the world where it is found, small deposits have also been found in Russia and Canada.
Tugtupite
It is a type of fluorescent beryllium silicate, and has a quite interesting quality, in that it changes color when it encounters heat.
This may be the heat of your body, or when it is under bright light or left out in the sun.
Its color may be white, pale pink and any shade of pink through to a deep crimson. You may find that although it may start out white, or quite pale pink in color.
But it turns to the deeper pink you see in the photos after you begin to use it on a regular basis. Tugtupite is related to Blue Sodalite, in that it has a very similar structure within the stone.
One of the readers of this site comes from Narsaq in Greenland, where she tells me Tugtupite is found. 
She explained that Tugtu means reindeer and that there is a local legend told by the old inuits in Narsaq regarding this stone.
The story is about a pregnant woman who went to live with the reindeer in the mountains.
The legend says that the blood that came out when she gave birth to her child is what colored the stone red.
Often this stone is mixed with other types of stone, and you may get veins of these other stones mixed through it, making for a beautiful specimen.
The pendant in the picture further down the page has tiny pieces of Black Aegirine in the stone.
Why Would You Use It?
This is a stone of unconditional love, so as you may imagine it is a strong chakra stone, for both the heart chakra and the thymus or higher heart chakra.
By choosing to use this natural crystal, you will open both of these chakras.
Tugtupite will heighten and intensify feelings of love, as it is specifically able to enhance passion, romance and fertility.
Shop for Tugtupite at Exquisite Crystals, my most trusted crystal seller.
Tugtupite Stone
This stones vibration will excite both the heart chakra and the higher heart or thymus chakra and aid you in feeling the totality and fullness of love, in all its magnificence!
This may sound wonderful, yet be aware that this stone is about love in all its many variations.
Many of you may find that using it is a little unpleasant, because it will include both the positive and negative feelings that are connected with the emotion of love.
Often strong sentiments of grief and sorrow from the past, of love lost, may accompany the opening of your heart. 
Although this may not be agreeable, these emotions can then be released, and you may find that you are able to make impressive spiritual growth.
How To Use It
Using this stone can be helpful to relieve your stress and they will also assist the release of tension and anxiety. If possible, keep your Tugtupite stone on your body.
If you are able to get a piece of it, put it in your pocket, or for the ladies in your bra. This will keep the energy as close as possible to both your heart chakra and the higher heart or thymus chakra area.
If you have a pendant of Tugtupite it will work best if it remains close to the area of the thymus or higher heart chakra.
Tugtupite
Both of these chakras resonate energy that correlates with the physical heart. This stone is said to boost the health of the heart, and may stabilize blood pressure.
An alternative is to wear this stone as a pendant.  Although Tugtupite jewelry is a wonderful aid to your growth and spiritual health, it is not as common as other crystal jewelry.
As your negative vibrations are cleared, this energy may be channeled into creative pursuits. So using this stone may be helpful to enhance your creativity.
Who Should Use It?
Learn easy techniques for meditation and use this pink crystal to aid your spirituality and your health.
It will connect to the energy of the higher heart chakra, and aid you to awaken spiritually to higher states of consciousness.
Tugtupite has strong loving energy
Through the movement of the energy of Divine love that this stone engenders, it allows for an intense growth in your spirituality.
The energy of Tugtupite will vibrate within all of the chakras from the heart chakra up, through the throat chakra, third eye, crown chakra and up into the transpersonal chakras.
As you open your heart fully to begin to feel the vibrations of Divine love within you, astounding differences are possible if you desire to go with the changes.

Develop Self-Love: My Final Thoughts
My Final Thoughts: These pink crystals may be said to be rare, but you can still get pieces from good crystal suppliers.
A powerful effect from their vibration is that it will aid you to develop self love. Many of you feel that you need to have someone in your life, a partner, to feel truly fulfilled.
Tugtupite is a beneficial crystal to boost self love by allowing you to release these needs and feel emotionally independent.

Tugtupite Pendant
Tugtupite aids you to open yourself fully to the energy of love within you. This is a stone that asks you to challenge your feelings about love.
Wearing this stone may be beneficial, as if you have been feeling anger at others, it will aid you to release this energy as it clears this via the liver.
Even if you do not experience passion for another person, by opening yourself fully to self love, you may feel deep joy and happiness.
By embracing your love for yourself and love for others, a stream of deep spiritual love may flow through your entire being, and you may find that you are able to make major advances forward in your life and your relationships.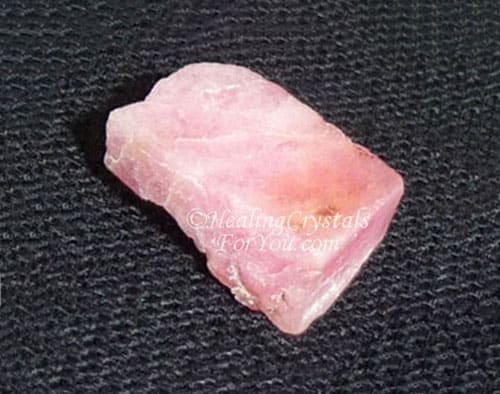 Tugtupite Stone
In summary: be aware that it is necessary to fully love yourself before you are able to give your love to others, and this will aid you in your intimate moments.
Through this process you may even feel a deep love for Mother Earth and be stimulated to take action to aid her.
These crystals have the potential to aid you to begin the process to anchor your Lightbody.
Best Crystals To Use With Tugtupite
What are the most beneficial crystals to combine with Tugtupite?

Use it in combination with Dioptase, Vesuvianite or Variscite. Another powerful stone to use in combination with this stone, for activation of the higher heart chakra is the lovely red and green Anyolite also known as Ruby Zoisite.
As you begin to experience old memories that you are releasing by using this stone, you may feel the need for self forgiveness. Tugtupite will help you to feel compassionate towards both yourself and others.
But you may be helped by combining it with other thymus chakra stones that stimulate compassion, such as the lovely Vivianite. Green Selenite also resonates in that area, and helps you to forgive yourself and others.
A strong and deeply powerful combination is with Cryolite and Nuummite to heal the emotions.
Used with Nuummite alone, this is effective to aid you to cut cords, binding you to past life experiences.
The combined energy of these three stones will allow you to let go of others who may need forgiveness, and to move forward in your life.
This is a stone that will aid spiritual growth, and if this is your main reason for using it try combining it with any of the high crystal energy stones.
Many of these stones are powerful for aiding your growth in this area, and in particular use it with Moldavite for transformation and also add in Diaspore to assist you to deal with the changes that using Moldavite may stimulate.
The energy of any of the higher heart chakra stones will aid you, in particular Rose Quartz, Rhodochrosite, Rhodonite and Cobaltian Calcite are all useful to aid you.
To help you to cope with grief of any sort, you may like to use it with other crystals that give relief from grief including Apache Tears, Jeremejevite, Aquamarine and  Jet.

More Pictures Of Tugtupite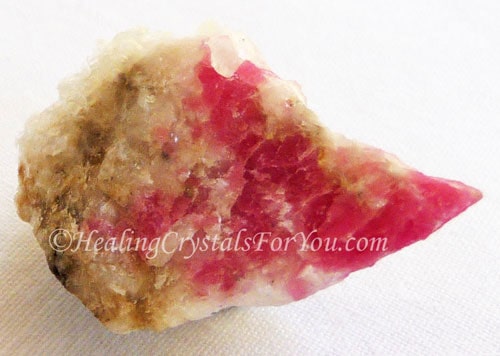 Tugtupite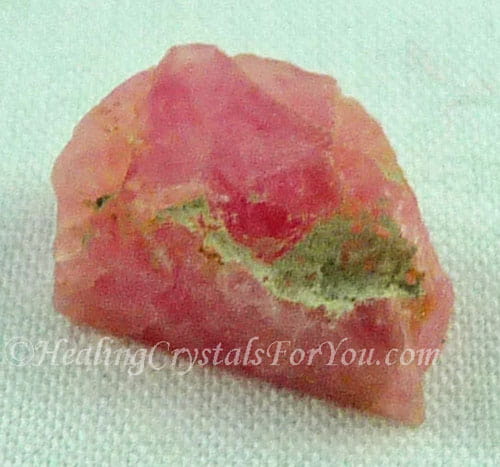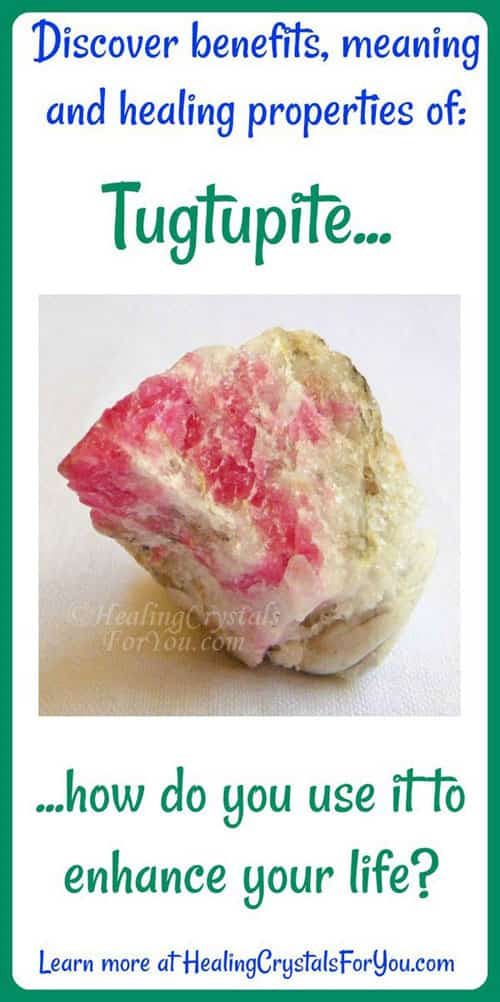 Tugtupite Meaning & Use
---
Looking for information about a specific crystal?

To See The A-Z of Crystals Minerals and Stones Click Here
If are looking for crystals for a specific purpose, there is an area you may like to check out here, Healing Crystal Uses. It lists individual articles about stones to use for a particular reason.
Discover more here about Psychic Gifts, Meditation and Spirituality
---
Note: When you use the vibration of crystals to help and support your healing remember that crystals are part of an holistic approach to your health.
Metaphysical healing uses universal energy so does not stand alone and can be used with any other type of healing. 
Using the energy of crystals for healing yourself is about finding a way to enhance conventional medicine not replace it. So always seek out medical treatment for any worrying health issue.
---
Thank You! I Appreciate Your Visiting My Site!
In my articles I may recommend various items that I use and love or that I feel are of value to my readers, and I earn a commission for purchases made through links on this page. 
FTC Disclosure:  If you make a purchase via a link on this site, I may receive a small commission on the transaction: at no added cost to you. Thank you!
Read My Affiliate Disclosure Here

---
Please Read Copyright And Disclaimer Notice
For: https://www.healing-crystals-for-you.com/
Any information that may be found anywhere on this site is not presented as a substitute, nor intended to be a substitute for medical advice, treatment or diagnosis.
Never disregard advice from your medical professional or delay seeking medical advice because of anything you may have read on Healing-Crystals-For-You.com.