Golden Rutilated Quartz... 
Amplifies Your Thoughts, Aids Manifestation & Creativity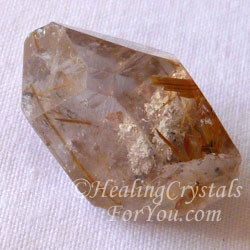 Golden Rutilated Quartz With Time Link
Home > Quartz Crystals > Golden Rutilated Quartz
Part Two > Part One
Golden Rutilated Quartz like all types of quartz crystal are strong amplifiers, and Rutile is also a strong amplifier.
The sizzling power of the threads of rutile will bring through intense energy, and combined with the quartz create an amazing vibration.
This process may stimulate your spiritual creativity, and your ability to manifest what you desire in your life, through the power of intention.
These stones are powerful amplifiers of your thoughts, allowing you to make contact with the Divine mind and receive Divine inspiration, and this has the potential to activate your creativity.
Where Is It From?
This type of quartz is found in a large number of locations throughout the world, although most of the Rutilated Quartz available comes from Madagascar or Brazil.
Rutilated Quartz is a variety of quartz, with inclusions of Rutile within its being. This article concentrates primarily on the stones that contain Golden inclusions, which is known as Golden Rutilated Quartz.

But the Rutile inclusions may also be more red-brown, copper color, silver or black. Most pieces of Rutile are small needle like threads within the stone, and these are very powerful.
Each color has different metaphysical properties, as each has a specific vibration, but all carry potent energy within the stones. So the overall picture is, that it can be different colors, of both the quartz and the Rutile.
The quartz may be Clear or Smokey Quartz crystal, and the different colors of the quartz will have a slightly different effect when used for healing.
Wearing Golden Rutilated Quartz
Golden Rutilated Quartz Pendant
The energy of the golden rutile within the stone, has an extraordinary energy to help you cope.
By wearing a Golden Rutilated Quartz Pendant, it just seems to make life easier.
Wear jewelry made from this lovely crystal while doing a meditation to develop psychic gifts.
If you wish, obtain Rutilated quartz jewelry, such as a lovely Rutilated quartz ring or a pendant.

This is an easy way to keep the energy within your auric field for the longest period of time.
Rutilated quartz energizes the higher mind, as it is very powerful within all of the chakras from the heart chakra up.
This may assist you to receive spiritual knowledge and guidance, to help you to gain concentration and mental clarity.
How Will It Help You?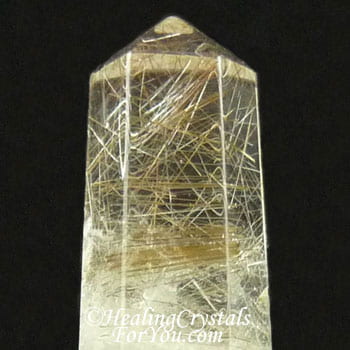 Golden Rutilated Quartz has powerful energy, and is easy to use, to aid you to manifest what you desire into your life.
If you do not want to wear this crystal as jewelry, alternatively you may decide you would like to have a lovely piece of Rutilated Quartz stone, and it comes in a number of different quartz formations.
If you need help with this, you may use the principles of the Seven Laws of Attraction to aid you.

Keep your thoughts positive, and enjoy the process, as you imagine the things you desire entering your life.
Golden Rutilated Quartz will support you as you let go of past issues of an extremely negative nature, and it will even aid you to access past life issues.
If you keep it within your aura as long as possible each day, you will get the most benefit from it. It has an ability within it to lift your mood, so is powerful for you if you are depressed. 
It aids you to relieve anxiety, fear, phobias and self loathing, and to forgive yourself on all levels. It is said to stimulate and balance the thyroid, and to repel parasites. It will stimulate growth in the cells and aid with healing torn tissues.
"Stop acting as if life is a rehearsal. Live this day as if it were your last. The past is over and gone. The future is not guaranteed." Wayne Dyer.

Who Should Use It?
As it is a strong stone to enhance psychic abilities such as telepathic gifts, it may be beneficial to wear it on your body to aid you to develop these gifts.
Wearing this stone can be very powerful, and may move your life in a new direction very quickly.
While it is easier to wear jewelry made from this stone, you can simply keep a piece of the stone on your body as this will also work.

It will enhance your creativity and bring a joyful vibration through. Golden Rutilated quartz cleanses the aura as it draws off negative energy. Once you are able to let go of this negative energy, you may move forward in your personal and spiritual growth.
The energy of this stone will encourage telepathic abilities and will boost your gifts for communicating psychically.
When you buy a new stone or crystal, it is advantageous to use it on its own first. Once you are fully aware of its energy, you may choose to combine it with other stones.
Combine stones for short periods to begin with, as individuals may react differently. Knowing how you can combine various stones may be helpful, as this allows you to get the most from your crystals, and may help you to solve specific problems in your life.

Looking For Information About A Specific Crystal?
Did you know you can find out more about any crystal or topic that is written about on this site, simply by using the Google Search box below?