Blue Aragonite
Boosts Empathy, Emotionally Calming
➤ Written By Liz Oakes
Blue Aragonite has a comforting, optimistic and joyful vibration that enhances your ability to communicate, particularly spiritually.
It is a third eye, throat and heart chakra stone, that helps communication with your spirit guides, as its energy aids you to communicate with more accuracy.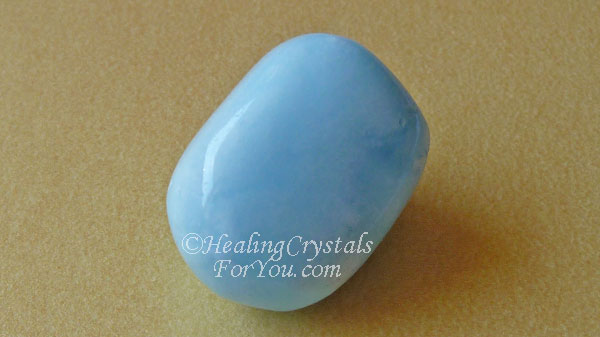 It aids you to more easily empathize, so is an asset to healers and spiritual teachers.
It is a stone of hope that assists you to be more compassionate in your dealings with other people and may help to relieve stress, and aids emotional healing.
When you are communicating with spirit, it allows you to be to be calm and relaxed, and aids you to handle these experiences calmly and without stress.

This is very helpful for you if you work in psychic employment, such as a tarot reader or intuitive psychic reader.
---
Healing-Crystals-For-You.com is reader-supported. When you buy through links on my site, I may earn an affiliate commission. Click to learn more.

Where Is It From? Aragonite Meaning
The main places that this stone is found is China, Spain, Namibia, Morocco, Britain and the United States.
The meaning of its name comes from its discovery in Aragon in Spain, but it has since been found in a number of other locations. 

Blue Aragonite
Aragonite comes in a range of colors, including brown, white, pink, the orange Aragonite Star Clusters and the blue color.
The blue stone is opaque in various shades of blue, and varies from pale blue, almost white, through to deeper blue stones.

Brings Empathy, Enhanced Spiritual Communication
This delightful blue stone is a strong throat chakra stone on all levels, as it assists all types of communication, and especially the communication you receive from spirit.
It helps you to more easily hear and understand information you may hear from your spirit guides. It is a strong stone of spiritual vision, and it brings through optimism and joy.
This is an beneficial stone for emotional healing, as it has a lovely vibration that is very healing to the emotions.
Blue Aragonite
If you have been difficult situations where you have been left feeling some degree of personal wounding, Blue Aragonite is an excellent stone to heal you.
They resonate within the heart chakra and the throat chakra as well as the third eye chakra, and help to unite all three. 
These blue crystals allow you to fully embrace what happened in the past, yet see that it is over.
As you begin to heal, it brings through higher levels of optimism as you see the beauty that life offers, so that you can more easily live in the present.
Why Would You Use It? How To Use It
Blue Aragonite aids you to go deeply into inner awareness more easily during meditation.
Its vibration encourages inspiration, and receptivity to Divine guidance, and may awaken psychic knowing.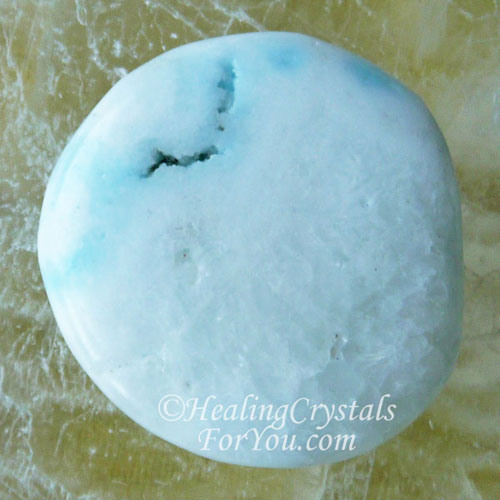 Blue Aragonite
These lovely blue crystals have an excellent energy to aid you with healing your inner child.
You may find resolution to these issues that have been with you for a long time, by doing a healing the inner child meditation.
Some of the issues that need resolving may relate to past life experiences, problems that you may have brought with you into this life.
If you have any issues from your childhood that you have not resolved, you may find that it could be beneficial for you to do this special meditation to help you to let go of these issues.
In this special meditation, Blue Aragonite is used at the throat, and along with other stones used at various chakras, is a powerful aid to help you to resolve old issues.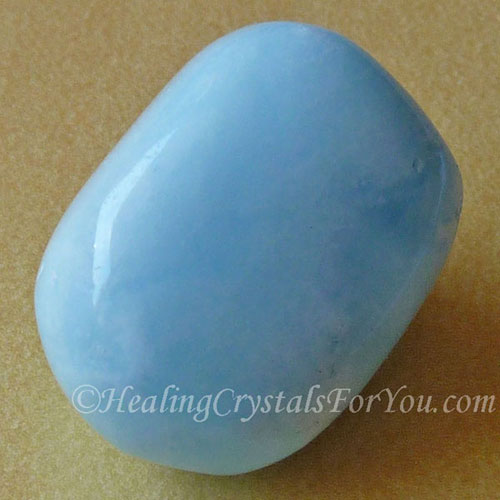 It is an excellent stone generally for meditation, and may stimulate the opening up of your psychic vision. 
It is a lovely stone for balancing the feminine energies and makes a lovely pendant.
Where it is possible to buy Aragonite tumblestones, it is beneficial to put on in your pocket while you are working, to aid you to be more empathetic.
If you are able to find a pendant you like, this makes it easy to keep a piece of stone on you. These blue stones are on the zodiac birthstones list and it is a Capricorn birthstone.
Who Should Use It?

It is one of the ways to help your stress, as it helps you to remain calm and to let go of anger and its associated tension.
It is beneficial for metaphysical healers and for massage therapists who do body work, where it is helpful for you to communicate more sensitively.
It is one of the crystals for patience that will help you to remain calm while waiting for things to change in your life.
This stone's vibration may assist you to develop your intuition and its energy may help you to find out how to be psychic.

Its vibration is harmonious with the Reiki energies, and it is very helpful to healers who use hands on healing. Your clients may benefit by the empathy that this stone brings to your communication.
Use it for psychic meditation, as it is a helpful stone, that may promote an improvement in your psychic communication abilities.
This could assist you if you work in psychic employment, such as psychic reading or tarot reading.
My Final Thoughts: Aids You Empathize
Blue Aragonite aids you to more easily empathize.
If you work with clients who may be feeling disturbed by the turn of events in their lives, this stone's lovely vibration will aid you to help them.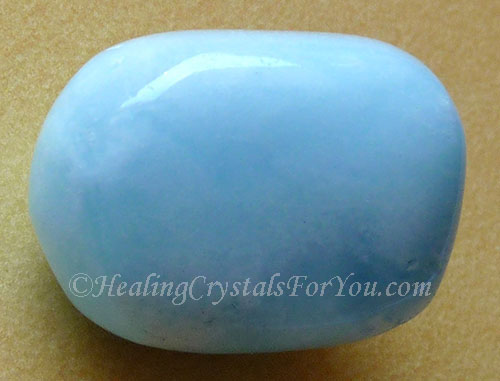 Blue Aragonite
In summary: along with the optimism it instills in you and your client, Blue Aragonite has a lovely energy that is very emotionally calming, and is an asset if you are communicating spiritually.
It may also help you to discover the reason why you have been experiencing specific problems in your day to day life and solve these problems.
Blue Aragonite is very healing to the emotions, and is an excellent stone for healers and spiritual teachers to use, as it increases your patience while also boosting emotional healing.
Crystal Books
Are you looking for a book about crystals and aren't sure what to choose?
There are lots of crystal books available and some are while some are more basic beginner guides others are very in-depth crystal reference books.
I talk about many of the best selling crystal books on my review page.
Many of the authors have been in the crystal industry for years, and their books are good to have when you need information on the stones you purchase.
I feel that any one of these books would benefit you when you have a specific question you need answered.
But it does depend on the length of time you have been using crystals and what type of book you would like to read.
I review books for the person who is new to crystals and I also write about books for those who already have some knowledge.
On my Crystal Book Review Page you can read about some of the newer books that have been published and why you might want to own them. Where possible the page is updated when new ones become available, so check it out.

Best Crystals To Use With Blue Aragonite
What are the best crystals to combine with Blue Aragonite?
To increase your problem solving ability, use this stone with other crystals that aid you to find solutions to life issues.
This includes stones such as Thaumasite, Datolite, Chiastolite and Fuchsite.

Blue Aragonite is helpful to Reiki practitioners and other hands on healers as it will strengthen the level of energy flow from your hands.
To heighten it even more, use it with other stones that also stimulate reiki energy such as  Ascension Stone, Marcasite, Pollucite or Labradorite.
Marcasite
To enhance its action within the throat chakra, and particularly to strengthen its action to enhance communication, combine it with Blue Topaz, Ajoite in Quartz, Aquamarine or Blue Lace Agate.

The high crystal energy stones such as Petalite, Satyaloka Quartz, Herkimer Diamonds, Danburite and Moldavite all aid Aragonite to enhance the spiritual aspect inherent in this stone.

To enhance contact with the spiritual realms, you may choose to combine it with its sister stone, the orange Aragonite known as Aragonite Star Clusters.
By combining it with the green tektite Moldavite, the effects of Blue Aragonite will be magnified and you may find that they work more quickly.
Combine it with Green Seraphinite to strengthen its healing properties and use it with Hanksite or Rainbow Obsidian to aid emotional healing.
Picture Of Blue Aragonite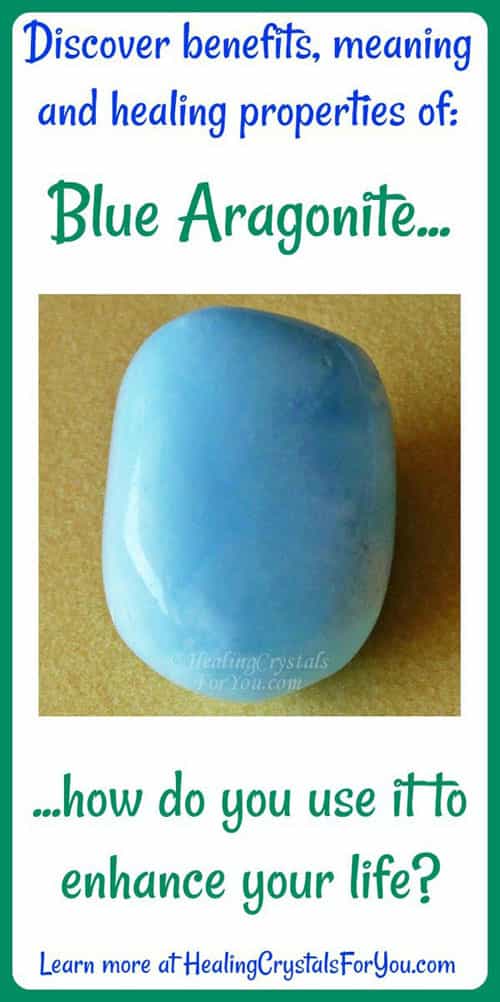 Blue Aragonite Meaning & Use
---
 Want to join my regular newsletter? It's easy.

Simply click on the banner that comes across the screen!
---
Looking for information about a specific crystal?

To See The A-Z of Crystals Minerals and Stones Click Here
If are looking for crystals for a specific purpose, there is an area you may like to check out here, Healing Crystal Uses. It lists individual articles about stones to use for a particular reason.
---
Note: When you use the vibration of crystals to help and support your healing remember that crystals are part of an holistic approach to your health.
Metaphysical healing uses universal energy so does not stand alone and can be used with any other type of healing. 
Using the energy of crystals for healing yourself is about finding a way to enhance conventional medicine not replace it. So always seek out medical treatment for any worrying health issue.
---
---
Don't Know Which Book About Crystals To Buy?
Read reviews of best crystal books here
---
Thank You! I Appreciate Your Visiting My Site!
In my articles I may recommend various items that I use and love or that I feel are of value to my readers, and I earn a commission for purchases made through links on this page. 
FTC Disclosure:  If you make a purchase via a link on this site, I may receive a small commission on the transaction: at no added cost to you. Thank you!
Read My Affiliate Disclosure Here

Please Read Copyright And Disclaimer Notice
For: https://www.healing-crystals-for-you.com/
Any information that may be found anywhere on this site is not presented as a substitute, nor intended to be a substitute for medical advice, treatment or diagnosis.
Never disregard advice from your medical professional or delay seeking medical advice because of anything you may have read on Healing-Crystals-For-You.com.