Golden Yellow Labradorite
Balances Masculine-Feminine Energy
➤ Written By Liz Oakes
Golden Yellow Labradorite has the golden solar energy and has a masculine vibration, and is a stone to use to balance your masculine and feminine energy.
It also has a strong energy to aid you to discover your life purpose, and reason for being here.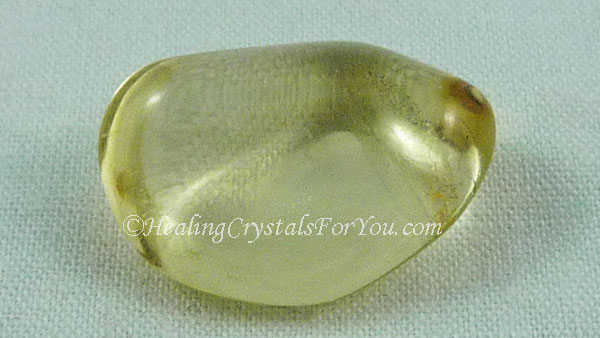 This crystal works within the solar plexus chakra to assist you to better manage your personal power. It is a golden crystal, so may be helpful to boost manifestation. 
Its energy helps to strengthen your creative gifts, so put a piece in your pocket if you need to give your creativity a boost.
Place one of these crystals under your pillow to ensure that you will wake up in the morning feeling eager to get on with what you have planned for your day.
---
Healing-Crystals-For-You.com is reader-supported. When you buy through links on my site, I may earn an affiliate commission. Click to learn more.

It is especially powerful when combined with lovely Rainbow Moonstone, the premier stone of the feminine vibration, and the stone of the Goddess.
Where Is It From? Golden Labradorite Properties
This stone is a form of Labradorite, that is a lovely clear transparent yellow color.
It does not have the labradorescence of the other type of Labradorite that you see in lovely bluish green colors.
Some of the Bluish Green Labradorite stone may have golden colors or flashes through it.
That type of crystal is known as Gold Flash Labradorite, but is a different stone to the one I am discussing here.
The largest deposits of Yellow Labradorite are found in Mexico, and it has also been found in China, Mongolia and the United States. 
It can form as tabular crystals and is often used to make stunning jewelry.
This crystal is also commonly called Bytownite, Oregon Sunstone as well as Golden Labradorite, as it is a beautiful clear golden yellow color. 
Due to the fact that it goes by various names, you may also find it selling as Bytownite and even sometimes as Oregon Sunstone.

Why Would You Use It? 
Golden Yellow Labradorite gives you the wonderful attribute to connect you to the Great Central Sun.
It has a male solar tone, and from the Great Central Sun comes the qualities of assertiveness, self confidence and physical vitality.
This marvelous quality is a highly valuable asset, as it aids you to let go of things that hold you back and embrace the new qualities that come through from using this golden yellow crystal.
Golden Yellow Labradorite
This stone is a premier manifestation stone and if used consistently, it may manifest into your life what you give your attention to.
It is most important that you keep your predominant mental attitude positive while using it. If you wish to manifest money into your life, this is one of the stones that will aid you.
By using it in combination with the seven laws of attraction you may bring whatever you desire into your life.
If you appreciate the value of using this crystal, and add into the mix a strong attitude of gratitude, and love, you will succeed.
How Will It Help You?
These bright yellow crystals have a good energy to assist you to discover what the aim of your life might be and if you have a true calling.
Sometimes we spend time thinking about this without taking action, and this may be out of fear that we could walk the wrong path.
These crystals aid you to find your life purpose and this stone could be used in meditation to assist you to learn what your purpose or reason is for being here. 
This is a wonderful crystal to use when you are doing a crystal meditation. It will calm your emotions and help you to better see the direction of your life.
How To Use Golden Labradorite
There are quite a few ways to use Golden Yellow Labradorite including:
The reason that the solar plexus chakra can also be called the power chakra, is that from it comes the strength and the power needed for your life to flow smoothly.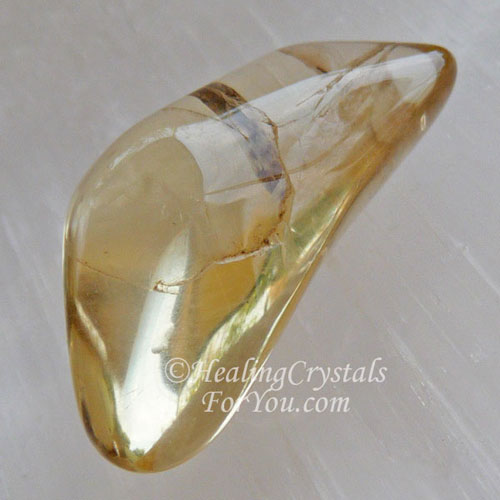 Yellow Labradorite
When using it in meditation it assist you to find out why you are here at this time and what your true calling might be.

This bright yellow stone will help to center your energy into the solar plexus, and may bring its powerful attributes to you, to aid you to utilize the powerful energy of this chakra.
A powerful way to use this stone is in meditation:

Hold your Golden Yellow Labradorite in your hand as you allow yourself to go into relaxed inner awareness.
Use one of the yellow crystals to guide you into a state of deep meditation, and allow yourself to take a journey to the realm of the Great Central Sun.

This is a place in the etheric realm, located within the nucleus of the spiritual universe.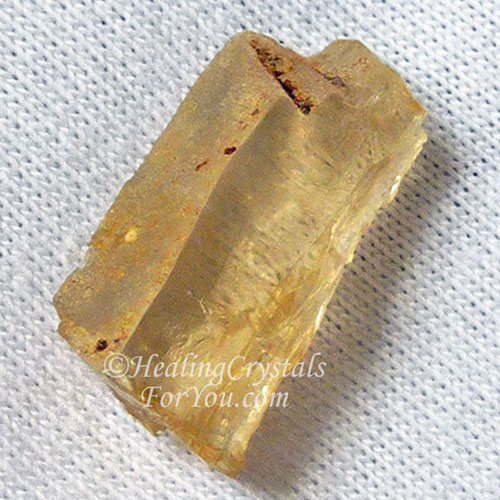 Bytownite Golden Labradorite
Once there permit yourself to go where you may be led, as you let go of control. 
Allow this stone's energy to take you to a place where you will be surrounded by angels and other Divine beings, and can begin to connect with the angels.
Reach out to the beings in spirit and ask for help, including asking about steps to take to achieve your true calling or life purpose.
Wearing Yellow Labradorite
Lovely yellow Labradorite rings are a powerful way to use this stone.
Any golden Labradorite jewelry will work best if kept as close as possible to the area of the solar plexus chakra.
It is a beautiful crystal so is a lovely stone to make into jewelry.
Lovely bright yellow Labradorite pendants are another idea, as they may be worn just above this chakra, but they are not very common.
Yellow Labradorite
As long as you keep the energy within your aura, they will be effective. A small stone in your pocket will work well too.
Advantages of wearing this stone is, that it will enhance your creativity, aid clearness of thinking, heighten confidence and introduce essential life force energy.
 My Final Thoughts: Manage Your Personal Power
Using this crystal is truly a beautiful and life changing experience. It will infuse you with a feeling of reverence, love and gratitude for all that the Divine gives to you.
It has the capacity to enhance your creativity, so if you wish to be more creative this is another reason why you might choose to use this stone.
This lovely golden crystal has beneficial healing properties that work on the organs within the region of the solar plexus, so is helpful to aid healing of kidney and bladder problems.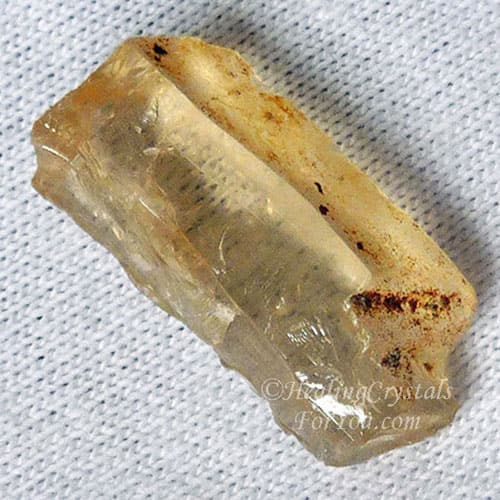 Bytownite Golden Labradorite
In summary: this stone will also help to heal any issues within the liver and spleen, and will aid with detoxification.
This is a lovely stone to add to your collection, that assists you to manage your personal power as it has the golden solar energy. This stone has a masculine vibration, that will balance your male-female energy.
Keep a piece of Yellow Labradorite under the pillow and it will aid you to wake more refreshed, and keen to get into the new days activities.
Best Crystals To Use With Yellow Labradorite
What are the best crystals to use with Golden Yellow Labradorite?
There are a number below that combine well with them.

If you feel you have a need to balance your male-female energies you may like to combine Yellow Labradorite with other crystals that harmonize your energy.
This includes Sphalerite, Amazonite, Lapis Lazuli and Rhodochrosite.

This stone has a strong male aspect, so it is powerful to combine it with the stone of the Goddess, the Moonstone.
A powerful way to use this stone, is to wear a lovely pendant made from Rainbow Moonstone.
Moonstone is a beautiful stone to wear, both for its beauty and to integrate and balance the masculine and feminine energies within you.
Golden Labradorite has a strong male tone and the combination with this stone is highly desirable.
Rainbow Moonstone Pendant
This marvelous yellow stone may be used to combine with crystals that have strong and overwhelming energy, that have the potential to agitate and overpower you.

Stones that have a high vibration, such as the high crystal energy stones Moldavite, Phenakite, Natrolite, Heulandite and Herderite are more easily integrated when use in combination with Yellow Labradorite.
If you are working on discovering your life purpose and need some help to do this, these stones can be paired with other stones that aid the process.
Other crystals that can help you with to find your life path and purpose includes Melikaria, Natrolite, Eudialyte and Astrophyllite.
Other strong crystal energy stones may also benefit by being combined with it, including Danburite, Stellar Beam Calcite, Datolite and Scolecite.
To strengthen its vibration to manifest increased money, combine it with Yellow Apatite, Brazilianite, Uvarovite Garnet or Sphene also known as Titanite.
It is powerful combined with Orange Zincite or Pietersite, as using these together may assist you with personal power issues.
Zincite activates all of the three lower chakras, and when combined with Yellow Labradorite it will center the energy in the solar plexus or power chakra.
It also combines well with Vesuvianite aka Idocrase, Amber, Vanadinite and the multi-colored Labradorite Crystal.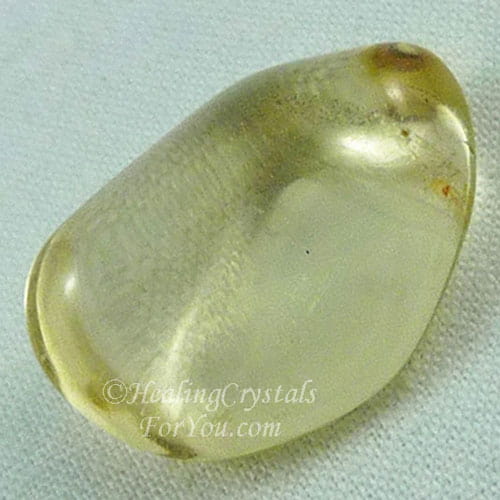 Golden Yellow Labradorite
Stones in U-V-W-X-Y & Z Alphabetic Groups
---
 Want to join my regular newsletter? It's easy.

Simply click on the banner that comes across the screen!
---
Looking for information about a specific crystal?

To See The A-Z of Crystals Minerals and Stones Click Here
If are looking for crystals for a specific purpose, there is an area you may like to check out here, Healing Crystal Uses. It lists individual articles about stones to use for a particular reason.
---
Note: When you use the vibration of crystals to help and support your healing remember that crystals are part of an holistic approach to your health.
Metaphysical healing uses universal energy so does not stand alone and can be used with any other type of healing. 
Using the energy of crystals for healing yourself is about finding a way to enhance conventional medicine not replace it. So always seek out medical treatment for any worrying health issue.
---
---
Don't Know Which Book About Crystals To Buy?
Read reviews of best crystal books here
---
Thank You! I Appreciate Your Visiting My Site!
In my articles I may recommend various items that I use and love or that I feel are of value to my readers, and I earn a commission for purchases made through links on this page. 
FTC Disclosure:  If you make a purchase via a link on this site, I may receive a small commission on the transaction: at no added cost to you. Thank you!
Read My Affiliate Disclosure Here

Please Read Copyright And Disclaimer Notice
For: https://www.healing-crystals-for-you.com/
Any information that may be found anywhere on this site is not presented as a substitute, nor intended to be a substitute for medical advice, treatment or diagnosis.
Never disregard advice from your medical professional or delay seeking medical advice because of anything you may have read on Healing-Crystals-For-You.com.