Amethyst Crystals...
Powerful Stones To Use For Violet Flame Healing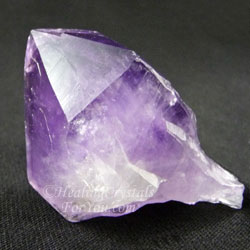 Purple Amethyst Crystal Point
You are here: Home > Quartz Crystals > Amethyst Crystals
Part Two > Part Three > Part One
Amethyst crystals are potent stones to aid healing and they bring intense spiritual growth. They are very beautiful, and are some of the most well-known of the quartz crystals.

These purple crystals are widely sold in many retail outlets, in many parts of the world.

Are you wondering why this crystal is so popular? It is the metaphysical properties that make it a stone that a great number of people choose to use.

It is a potent stone for spiritual healing and growth, and to aid you to beat addictions. This beautiful purple quartz crystal is one of the stones that embody the energy of the violet flame.

Why Would You Use These Crystals?
Why is it so admired, and why are people keen to use it? It is a beautiful stone to have in any part of the home as its energy is so helpful. Having a piece in the bedroom will promote restful sleep and peaceful dreaming. 
Any person may benefit by having this stone close by, as it is also a highly protective crystal. This crystal is common and comes in a variety of forms, and has many good and valid reasons for it to be the stone of choice.
As I mentioned above it is a quartz crystal and all quartz crystals are strong amplifiers of energy.  When it comes to their healing energy the properties of all varieties of quartz crystal are very impressive.
It is very easy to obtain and natural crystals should be able to be bought very easily at crystal shops, gift shops, on the internet and at a wide variety of other retail outlets, as its popularity is high.
Heal With Amethyst



Lovely Purple Amethyst jewelry is easy to obtain, and wearing a pendant made from this quartz crystal keeps the energy close.

Many of the darker yellow Citrine Crystals were made from Amethyst crystals through a process of heating them.
They too carry a strong healing vibration, and are excellent crystals to keep on your body.
They have a strong psychic protection vibration, so just remember to keep the energy close to you for best results.
They may assist you to let go of built up melancholy and depression based in the past, as well as helping to dissolve anger, fear and anxiety.

This quartz crystal may also help with healing sadness and grief, and will assist you to heal your inner child.
Powerful Violet Flame Healing
Amethyst Geode
This is a potent spiritual healing method using a powerful energy, overseen by the Ascended master, St Germaine.
All colors of these stones have a useful energy that will cleanse negative energy from your auric field.
You can see that it will be a great advantage in the overall growth of your spirituality and health.
More than any other crystal it will quieten the mind, allowing you to more easily make contact with spirit.
Looking at the deep purple color in the pictures of these lovely stone, you can see why this stone is so admired, but to really understand why it is so loved, you need to look at the Amethyst facts in more detail.

These purple stones are the most well known crystals for carrying the violet flame healing vibration.

The color of these crystals is only an indication of the level of heat that the particular stone endured while in the ground.
Although many pieces of these crystals are purple, all colors of this crystal carry a strong healing vibration.
Prasiolite or the Green Quartz variety of the family has amazing healing aspects, as do the pink, lavender and of course the violet and purple stones.
There is a lot more detail about the Violet Flame and using this amazing energy for healing on a dedicated Violet Flame page, that tells you more about the stones that embody this amazing healing energy.

More pictures of these lovely crystals...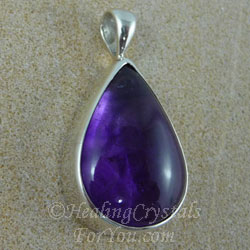 Amethyst Pendant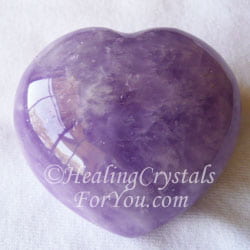 Amethyst Crystal Heart
---
---
When you buy a new stone or crystal, it is advantageous to use it on its own first. Once you are fully aware of its energy, you may choose to combine it with other stones.
Combine stones for short periods to begin with, as individuals may react differently. Knowing how you can combine various stones may be helpful, as this allows you to get the most from your crystals, and may help you to solve specific problems in your life.

Looking For Information About A Specific Crystal?
Did you know you can find out more about any crystal or topic that is written about on this site, simply by using the Google Search box below?