Cavansite... 
Comfortable Transition Through Major Life Changes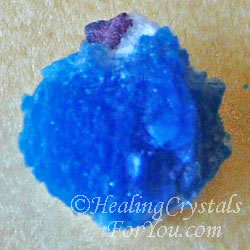 Cavansite
You are here: Home > Crystal Stones- C > Cavansite
Part Two > Part One
Cavansite is a stone of transition through major life changes. It aids you to let go of faulty thinking and be comfortable in the knowledge of your actions.
It has a lovely heart felt energy, that is excellent to use in meditation.

It helps you to make sense of previous experiences, or life lessons that you may have had difficulty with in the past, and to optimistically and happily deal it.
It aids your ability to connect with spirit and is a highly useful stone for those in psychic employment.

It aids you to remember information gained from spiritual journeys, and facilitates the clear communication of messages from the spirit world.
Where Is It From? Cavansite Meaning
Deposits of this lovely blue crystal have been found in India, New Zealand, Brazil and the USA, but it is said that the finest specimens come from India.
These are very small crystals, especially the blue puffballs, like the one shown above, which is a blown up picture of a very small stone.

Other stones that are not puffballs, may be bought in a matrix, and they may be a little larger. They often come in or with white stilbite.
The meaning of this stone comes from the chemical composition of the stone, which is Ca-V-Si. Their color is a shade of blue, that ranges from deep ultramarine blue to slightly greenish blue.

Why Would You Use It?
Blue Cavansite Crystal may assist healing of the body, and can help to open and heal the heart chakra. It helps the cells to remember the state of perfection where they began,  so they can return to it.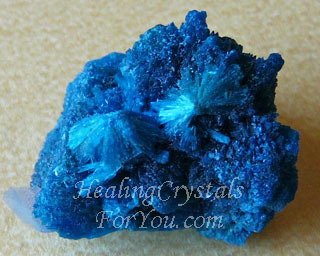 Deep Blue Cavansite Crystal
It is said to enable some individuals who attune to its energies to be able to access the Akashic records, the repository of all history and knowledge on the etheric level.
It is a comforting and calming stone that is excellent to use to help to heal grief and loss, and using this crystal is one of the ways to relieve your stress.
This is a stone of truth, and allows you to accept yourself as you are, as well to accept others as they are.
This crystal will unite the throat chakra with the third eye chakra, and this unity of the two chakras is highly beneficial.
This lovely crystal embodies the energy of the purest blue ray which is why it has such a strong energy in the throat area. This will allow you to be able to express more clearly, any spiritual communication that comes through to you.
Cavansite is known to help to heal the eyes, the throat, the kidneys and bladder, and may aid tinnitus, also known as ringing in the ears.
By using this blue stone during your daily meditation, it allows you to slip easily into the state of mind needed to make the journey to the higher realms.
This may assist you to develop a large number of psychic gifts, including helping you to develop your intuition and assisting clearer communication with spirit.

Who Should Use It?
This is a natural crystal whose role is to assist your passage through major life changes.  
Cavansite aids you to change how you look at the past, and to deal with it in a positive way, and be comfortable with your actions.

It may help you to discover ways to be psychic via its strong vibration, that resonates within the third eye chakra and the crown chakra. 
This makes it helpful to hold while doing a meditation to develop psychic gifts, as it may stimulate a number of psychic abilities.
If the timing is right, this stone will aid you to find a new teacher or guide in spirit.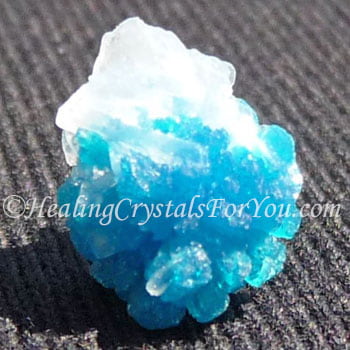 Cavansite with Stilbite
If you have not yet made contact with your guides, it may help you when you are working to find your spirit guide for the first time.

Using it is commonly an ecstatic and peaceful progression, that is amazingly healing to the spirit.
As it allows truth to flow freely, the energy of this stone may prevent you from getting in the way of clear communication from spirit.

This energy may stimulate your desire to develop your psychic powers. As it helps you to develop a number of psychic gifts, enjoy using its unique energy.
In part two of this article, link below, you can read more about the psychic gifts that are assisted by the vibration of Cavansite.

---
---
When you buy a new stone or crystal, it is advantageous to use it on its own first. Once you are fully aware of its energy, you may choose to combine it with other stones.
Combine stones for short periods to begin with, as individuals may react differently. Knowing how you can combine various stones may be helpful, as this allows you to get the most from your crystals, and may help you to solve specific problems in your life.

Looking For Information About A Specific Crystal?
Did you know you can find out more about any crystal or topic that is written about on this site, simply by using the Google Search box below?