Calcite Temple Stacks
Strong Spiritual Energy
➤ By Liz Oakes
Calcite Temple Stacks energy aids spiritual contact, and their energy seems to take you into a sacred space.
So you can see why they are known by that name. Also called Poker Chip Calcite, these stones have a good energy to aid spiritual growth.
They have an excellent energy to aid you to go deeply into meditation.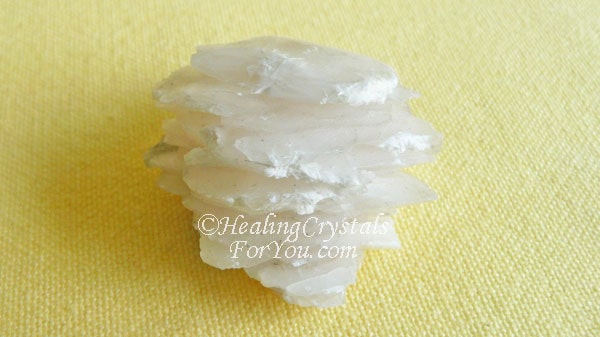 Calcite Temple Stack
Use them in meditation to assist the growth of your psychic abilities.
The white stones resonate within the crown chakra and soul star chakra but there are also pink stones that have a good higher heart chakra energy.
---
Healing-Crystals-For-You.com is reader-supported. When you buy through links on my site, I may earn an affiliate commission. Click Here to learn more.

---
Where Is It Found? Calcite Temple Stacks Meaning
Every now and then I run across rather unique calcite formations, and before buying this, I hadn't seen images of this one, nor was it talked about much.
These crystals are known by at least four names that I have seen so far, with the most common being Poker Chip Calcite as well as Calcite Blades, Pagoda Crystal and Calcite Temple Stacks.
These crystals come in both white and pale pink, and many of the pink crystals are quite beautiful, with an obvious heart and higher heart chakra based energy.

This variety goes by a number of names, and as always when this happens, it does mean that if you want one it may take some tracking down to obtain one.
The gorgeous pink Calcite Temple Stack I have, not yet pictured, came to me the day after I had visualized finding one, during my regular daily meditation.
Why Would You Use Calcite Temple Stacks?
Calcite Temple Stacks have strong metaphysical properties and excellent Spiritual powers.
These unique crystals have a strong vibration that aid spiritual contact, and can aid you to journey into a sacred space.
Their energy is uplifting taking you up into the higher chakras and aiding you to make a deep spiritual connection. 
Calcite Temple Stack
Their spiritual powers mean that they are excellent crystals to aid you to settle into deep meditation.

They are very calming, and will help those you have trouble meditating who feel fidgety, as they allow you to relax into it.
These crystals also embody many of the properties of other calcite varieties, as they aid spiritual growth and help to boost your psychic abilities.
How Will Poker Chip Calcite Help You? Healing Properties
Poker Chip Calcite have a strong energy that may help to relieve any stress or tension you may be feeling. 
They have a calming and soothing energy which may also assist you to sleep better so would be beneficial to place in the bedroom at night.
Calcite Temple Stacks
They are inclined to be fragile so simply place them on the bedside to allow their energy to flow throughout the room.
They also have a good energy that may help to amplify and cleanse your energy field, and will settle your mind.
Best Crystals To Use With Calcite Temple Stacks
What are the best crystals to use with Calcite Temple Stacks?
These crystals have a good energy to assist stress and tension, and will combine well with other crystals for stress relief.
There are quite a few crystals for stress that are listed on the specific in-depth article about stones that can help your stress, and will some of these are common others are not as well known.
Some of the crystals that will pair well with these crystals and will be beneficial if kept nearby to aid your stress, includes the lithium based crystals.
This includes Lepidolite, Pink Tourmaline and Lithium Quartz which are all powerful to relieve stress and tension. Although Lepidolite is thought of as a purple stone, you may find it selling in a range of colors.
Another well known stone for stress is Black Tourmaline. It has many other powerful properties as well so check it out if you haven't heard of it before!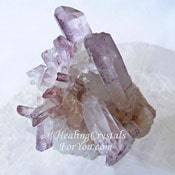 Lithium Quartz
If you have difficulty sleeping and would like to boost the energy of these crystals to assist your sleep, use them with other crystals for sleep
Many of the sleep crystals are also helpful to aid stress. Good crystals for healing insomnia or just generally aiding your sleep includes both Lepidolite and  Black Tourmaline, mentioned above.
In addition or instead you may like to combine them with one of my favorite crystals for sleep, the lovely white Scolecite. Other powerful crystals to aid sleep that you may choose to use includes Rose Quartz, Unakite, Dream Quartz and Stilbite.
There are a number of excellent crystals and stones that can assist you if you wish to attain deeper meditation.
This includes Stilbite which has a powerful energy to stop those voices that prevent you getting deep into meditation and this makes them helpful for sleep as well.
Other stones in this group include Stellar Beam Calcite, Nirvana Quartz and Prehnite.
Combine this calcite crystal with other colors and types of calcite to boost the energy that they all contain.
There are quite a few colors that Calcite comes in with the most common being the pink, blue, green and orange varieties but there are other colors as well.
This includes the pale yellow Honey Calcite, peach calcite and the high vibration yellow variety known as Stellar Beam Calcite.
All colors and types of calcite will combine well with this crystal.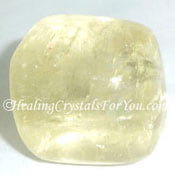 Honey Calcite
---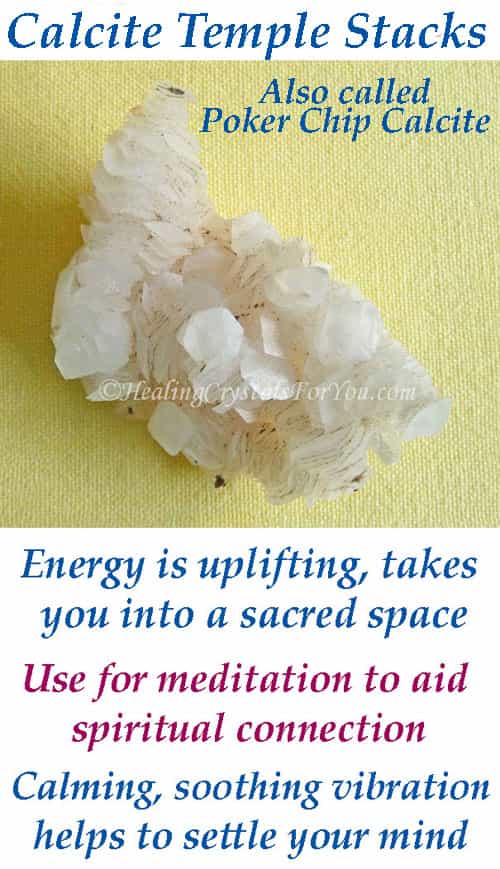 Calcite Temple Stacks
---
Want to join my regular newsletter? It's easy.
Click on the banner that comes across the screen!
---
Looking for information about a specific crystal?

To See The A-Z of Crystals Minerals and Stones Click Here
---
Note: When you use the vibration of crystals to help and support your healing remember that crystals are part of an holistic approach to your health.
Metaphysical healing uses universal energy so does not stand alone and can be used with any other type of healing. 
Using the energy of crystals for healing yourself is about finding a way to enhance conventional medicine not replace it. So always seek out medical treatment for any worrying health issue.
---
Thank You! I Appreciate Your Visiting My Site!
In my articles I may recommend various items that I use and love or that I feel are of value to my readers, and I earn a commission for purchases made through links on this page. 
FTC Disclosure:  If you make a purchase via a link on this site, I may receive a small commission on the transaction: at no added cost to you. Thank you!
Read My Affiliate Disclosure Here

---
Please Read Copyright And Disclaimer Notice
For: https://www.healing-crystals-for-you.com/
Any information that may be found anywhere on this site is not presented as a substitute, nor intended to be a substitute for medical advice, treatment or diagnosis.
Never disregard advice from your medical professional or delay seeking medical advice because of anything you may have read on Healing-Crystals-For-You.com.