Cryolite
Lightbody Awakening, Ascension & Enlightenment?
Cryolite energizes the brain and creates a powerful mind-heart link! A dynamic stone for lightbody awakening, ascension and enlightenment. 
A quite amazing high vibration crystal that inspires a deep connection to the higher realms and to Spirit. 
It connects you with angels and with beings in the higher realms. 

This stone has a delightful heart based vibration yet it is quite intense and may create deep spiritual growth.
It has a strong vibration within all of the chakras, and this flow of light will move throughout the body, and at the base chakra may stimulate kundalini activation.

---
Healing-Crystals-For-You.com is reader-supported. When you buy through links on my site, I may earn an affiliate commission. Click Here to learn more.

---
Where Does It Come From?
Originally this stone was discovered in Greenland, and this was the only deposit of it in the world.
It was used in that country as a flux for aluminum smelting and this has almost used up the deposit.
Fortunately for the metaphysical community other deposits of Cryolite have also been found in Canada, the United States and in Russia, so these stones are now more easily available. 
This stone is white and has a low refractive index, which makes it almost seem to disappear when placed in water.

If you wish to use one of these stones to make a crystal essence or elixir, use the indirect method, where there is glass between the stone and the water, that way you only receive the vibration in the water.
It has been found alongside other minerals such as Cassiterite, Siderite, Chalcopyrite, Wolframite, various Quartz varieties, Fluorite, Topaz, Columbite, Galena and Molybdenite, some of which are toxic minerals.
It contains aluminum, and it is used to make pesticides, and it is known to leave a toxic residue on the plants.
So please take care with its use and make sure the pieces you use are sealed. Or use them in a container of some sort.
You may choose to use it inside a crystal bag if you are not sure if it is sealed properly. Their energy will still work.
Why Would You Use It?
Cryolite is known to enhance your gifts of psychic knowing, as well as stimulating other psychic gifts. 
This is a highly spiritual crystal with a high vibration that has a powerful effect on the brain. 
This crystal markedly energizes the prefrontal cortex of the brain and the third eye chakra, and is known as one of the more powerful crystals to aid lightbody awakening.
Cryolite
Cryolite also strongly activates the crown chakra and the heart chakra, along with the third eye chakra, bringing all three chakras into harmony and alignment.
This joining together of these three chakras creates a greater appreciation of your connection with the Divine mind.
It may connect you with beings in the higher realms, and you may feel a euphoric heart based energy fill you.
Don't be surprised if this deep strong energy within your heart wells up within you, with a quite intense emotion, as this is commonly created by the vibration of this lovely stone.
Wearing This High Vibration Stone
It  can be found on the list of zodiac birthstones, and it is helpful to keep a piece close to you to help you to gain from its energy, as it is highly beneficial for your spiritual growth.
Cryolite pendants are not easy to find and it is not common to find it made into jewelry. One way to wear it is to find someone who does wire wrapping and have one made for you.
This white crystal is a birthstone for the Aquarius person, and it is a lovely crystal to wear on your body.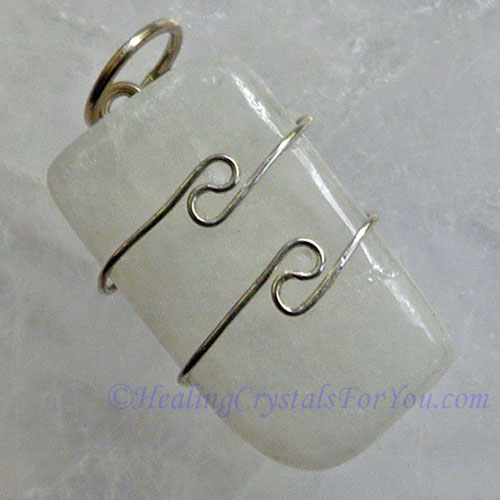 Cryolite Pendant
It has a powerful vibration that resonates within all chakras, creating a stream of light that flows throughout the body.
Its vibration within the throat chakra is also known to aid public speaking and may assist with speech disorders. 
Its vibration may also help you to be less noticeable when you are in a situation where you would prefer no one took any notice of you.
This is a powerful stone for lightbody awakening, ascension and enlightenment, and for connection with angelic beings as well as other beings in the spiritual realms.

How To Use It
At the base chakra, it's vibration may kindle the start of kundalini activation and the energy of Cryolite is known to stimulate the kundalini to awaken.
Cryolite Stone
Even if you do not find that it creates a full kundalini experience you may feel its energy moving up your spine and up to the crown chakra.
Allow yourself to flow with it and to follow where it goes and be aware of its movement within your body.
Cryolite brings Divine light through your body, introducing it via the crown chakra and the higher transpersonal chakras, to help the process of lightbody activation.
Through the creation of the brain-mind relationship, a profound spiritual connection with the Divine mind and the beings in spirit can be created if you allow it to happen.
Creates Strong Mind-Heart Link

It helps to create a deep connection to the higher realms and to Spirit, and may help you to solve problems using your intuition.
Cryolite is an amazing high vibration crystal that stimulates the brain to bring about a strong mind-heart link. 
It has an exquisite heart based vibration that is quite intense, and its action may bring about deep spiritual growth.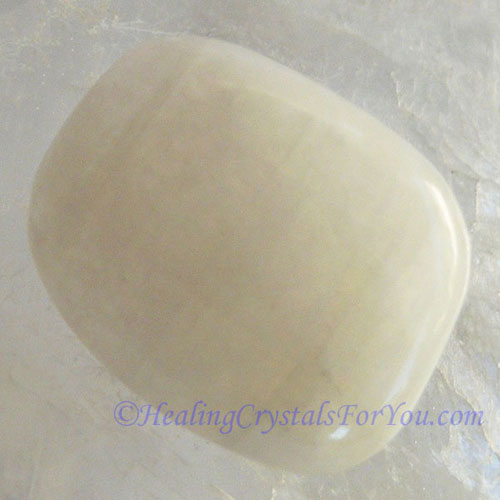 You will probably feel its vibration flowing out into your entire auric field. You may feel the energy of this crystal within your root chakra at the base of your spine. 
It is not necessary to place it on a particular chakra as its energy easily flows to the right place where its energy may be needed by you.
How Will It Help You?
Learn easy meditation techniques to use with this stone, as this is a wonderful crystal to use in a meditation.
This high vibration crystal aids your mind to become congruent with your desires and your deepest feelings.
This may engender an acceptance to give of yourself what you require to live your live in greater service to the Divine.
The specific heart based energy created by the awakening of the heart chakra can bring through profound feelings of joy, peace, deeper understanding and faith.
Who Should Use It?
Cryolite is an amazing high vibration crystal that energizes the brain & produces a strong mind-heart link, creating a deep connection to the higher realms and to Spirit.
This white crystal may also stimulate the seat of the will, as it resonates strongly within your solar plexus chakra also known as the power chakra.
This chakra aids personal power and the energy of this stone used in this region  may empower you to do what needs to be done.
While it works at all chakras, this high vibration stone strongly resonates within the soul star chakra.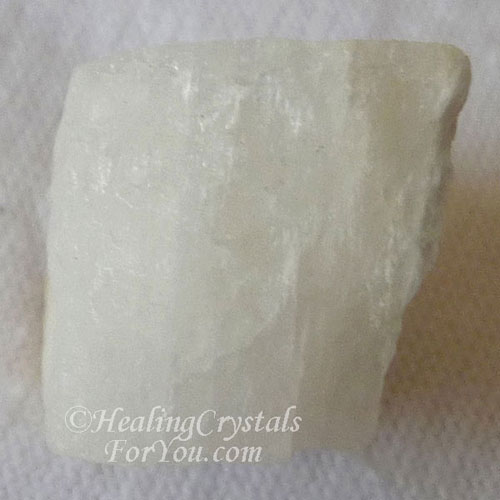 Not by using willpower, but by the heart based energy that comes through, and from surrendering to the will of the Divine. This may aid you to make a deeper spiritual connection with the Divine mind.
You may find that you may connect with beings in the higher realms including making contact with the angelic kingdom.

You will find that the heart based energy that flows through you will create feelings of deep inner peace and acceptance throughout your entire being. 
As you continue using Cryolite crystals, the flow of energy from the mind to the heart, and the desires of the heart returning to the mind center may create within you feelings of deep surrender to Spirit.
Crystal Books You May Enjoy
The crystal books shown below are all very in-depth crystal reference books. There have been a lot of excellent new crystal books published in the last couple of years.
I love the latest book from Cassandra Eason, The Complete Crystal Bible and it features many of the more common and less common stones.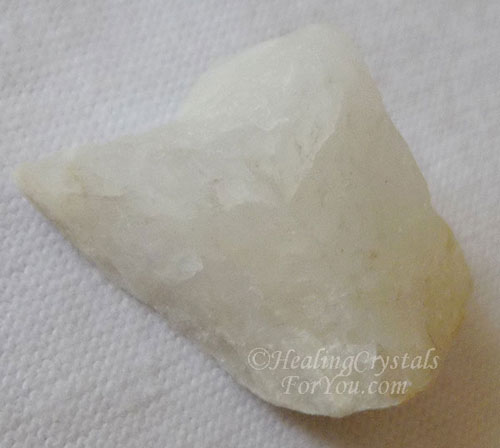 The Book Of Stones put out an expanded edition a few years ago. The updated version featured a number of new stones  which I was pleased to see covered. 

Crystal Prescriptions Volume Three may be useful if you have a sensitivity to electromagnetic devices, and Judy hall discusses many ways to handle life with this issue.

The book Crystals and Sacred Sites, Use Crystals to Access the Power of Sacred Landscapes, is an interesting book where you can discover a lot about many extraordinary places that many potent stones originate from.
If you need to know more read my crystal book reviews here.
Best Crystals To Combine With Cryolite
What are the most beneficial crystals to pair with Cryolite?

Combine it with some of the high crystal energy stones. 
Stones such as Nirvana Quartz, Datolite, Natrolite, Stellar Beam Calcite, Phenacite or with Moldavite the green tektite, may be beneficial.

Stones that also aid you with connecting with angels such as Prehnite, Celestite, Amphibole Quartz also called Angel Phantom Quartz and Seraphinite may benefit by being combined with this stone.

You may also like to use it in combination with Nuummite (to aid emotional healing), Shamanite Black Calcite or Shaman Stones.
Strong heart based stones such as the gorgeous energy of Pink Tugtupite or Pink Petalite accentuate the loving heart based vibration of this stone.
Other stones that also activate the brain may benefit from being used with Cryolite. This includes other high vibration stones such as Brookite, Phenacite, Natrolite or White Heulandite.

It can also be beneficial to use these white crystals with Prophecy Stones,  Astrophyllite, Selenite Crystals or Sacred Light Stone.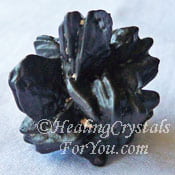 Prophecy Stone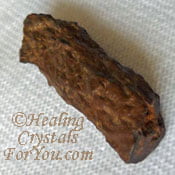 Sacred Light Stone
Using this stone with the soul star chakra stones shown above is beneficial if you are working on your spiritual growth, to help with bringing more spiritual light into the body.
More Photos Of Cryolite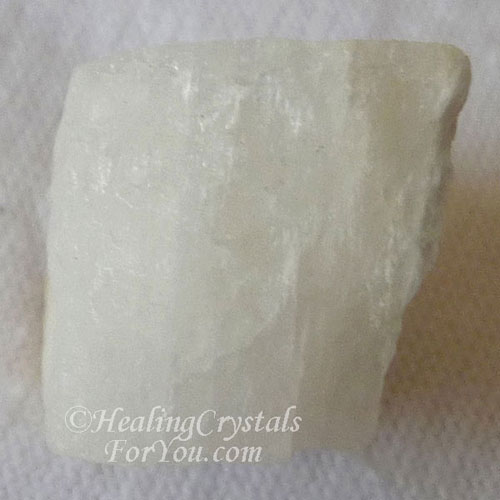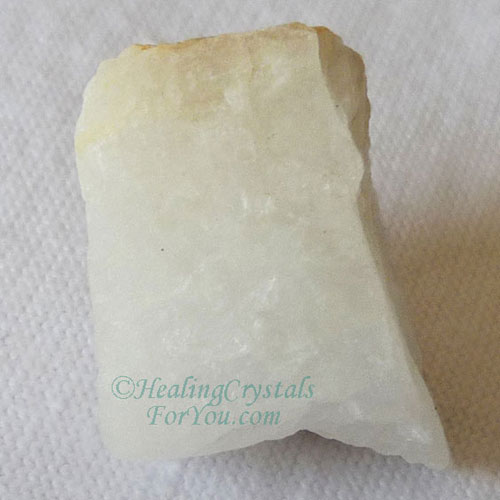 ---
Want to join my regular newsletter? It's easy.
Click on the banner that comes across the screen!
---
Looking for information about a specific crystal?

To See The A-Z of Crystals Minerals and Stones Click Here
---
Note: When you use the vibration of crystals to help and support your healing remember that crystals are part of an holistic approach to your health.
Metaphysical healing uses universal energy so does not stand alone and can be used with any other type of healing. 
Using the energy of crystals for healing yourself is about finding a way to enhance conventional medicine not replace it. So always seek out medical treatment for any worrying health issue.
---
Thank You! I Appreciate Your Visiting My Site!
In my articles I may recommend various items that I use and love or that I feel are of value to my readers, and I earn a commission for purchases made through links on this page. 
FTC Disclosure:  If you make a purchase via a link on this site, I may receive a small commission on the transaction: at no added cost to you. Thank you!
Read My Affiliate Disclosure Here

---
Please Read Copyright And Disclaimer Notice
For: https://www.healing-crystals-for-you.com/
Any information that may be found anywhere on this site is not presented as a substitute, nor intended to be a substitute for medical advice, treatment or diagnosis.
Never disregard advice from your medical professional or delay seeking medical advice because of anything you may have read on Healing-Crystals-For-You.com.