Cavansite 
Transition Thru Major Life Changes
➤ Written By Liz Oakes
Cavansite aids comfortable transition through major life changes. It helps you to let go of faulty thinking and be comfortable in the knowledge of your actions.
It helps you to remember information gained from spiritual journeys and aids your ability to connect with spirit.
It also facilitates the clear communication of messages from the spirit world. It also has a lovely heart felt energy, that is excellent to use in meditation.
It helps you to access the Akashic records and is a highly useful stone for those in psychic employment.
It's vibration helps you to make sense of previous experiences, or life lessons that you may have had difficulty with in the past.
It has strong metaphysical properties that help you to optimistically and happily deal with problems from the past.
---
Healing-Crystals-For-You.com is reader-supported. When you buy through links on my site, I may earn an affiliate commission. Click Here to learn more.

---
Where Is It From? Blue Cavansite Meaning
Deposits of this lovely blue crystal have been found in India, New Zealand, Brazil and the United States, but it is said that the finest specimens come from India.
These are very small crystals, especially the blue puffballs, like some of the ones shown here, which are pictures of very small stones.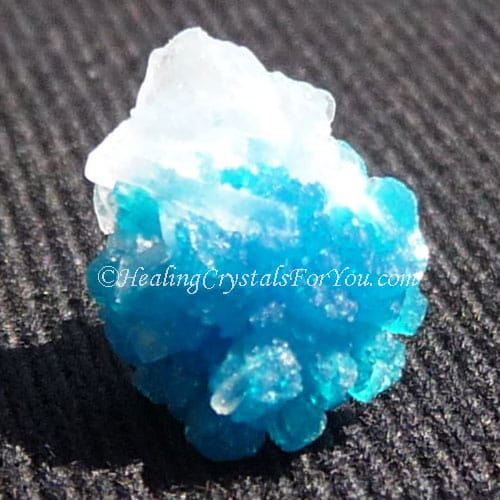 Blue Cavansite with White Stilbite
Other stones that are not puffballs, may be bought in a matrix, and they may be a little larger. They often come in or with White Stilbite.
The meaning of this stone comes from the chemical composition of the stone, which is calcium vanadium silicate... Ca-V-Si.
Their color is a shade of blue, that ranges from deep ultramarine blue to slightly greenish blue.
Most stones that sell are raw or natural crystals but it is possible to obtain tumbled stones fairly easily. Cavansite mineral specimens are quite common and are often sold in the matrix stone.
While it is made into jewelry, they will not be labeled as gemstones as most jewelry is simply natural stone set in silver or gold, and often combined with other stones.
How Will It Help You?
This lovely crystal embodies the energy of the purest blue ray which is why it has such a strong energy in the throat area.
This will allow you to be able to express more clearly, any spiritual communication that comes through to you.
Cavansite is known to help to heal the eyes, the throat, the kidneys and bladder. It may also aid tinnitus, also commonly known as ringing in the ears.
This crystal will unite the throat chakra with the third eye chakra, and this unity of the two chakras is highly beneficial.
Blue Cavansite
This blue stone is a powerful asset to use during your daily meditation.

It helps to create deeper meditation, and its vibration allows you to slip easily into the state of mind needed to make the journey to the higher realms.
Its energy may assist you to develop a large number of psychic gifts including helping you to develop your intuition and assisting clearer communication with spirit.
Using Cavansite alone, or in the Cavansite and Stilbite combination, is wonderful for aiding your daily meditation.
They are a balm to the emotions and bring harmony and restful repose. The combination stones are wonderful crystals to assist you if you have trouble sleeping.
Why Would You Use It? Healing Properties
Blue Cavansite Crystal may assist healing of the body, and can help to open and heal the heart chakra. It helps the cells to remember the state of perfection where they began, so they can return to it.
It is said to enable some individuals who attune to its energies to be able to access the Akashic records, the repository of all history and knowledge on the etheric level.
It is a comforting and calming stone that is excellent to use to help to heal grief and loss, and using this crystal is one of the ways to relieve your stress.
This is a stone of truth, and allows you to accept yourself as you are, as well to accept others as they are.
It is a beneficial crystal for pain relief and is a natural stone whose role is to assist your passage through major life changes.
For stress related headaches you might benefit by combining these blue stones with crystals that help stress.
It is said to be a beneficial crystal to ease headaches and may also help migraines, especially if they are stress related.
Who Should Use Cavansite?
Cavansite aids you to change how you look at the past, and to deal with it in a positive way.
It aids you to be comfortable with your actions, and its energy may help you to discover ways to be psychic via its strong vibration.
It resonates within the third eye chakra and the crown chakra. This makes it helpful to hold while doing a meditation to develop psychic gifts, as it may stimulate a number of psychic abilities.
Buy Cavansite at Exquisite Crystals, a most reliable crystal seller.
Cavansite on Matrix
Using it is commonly an ecstatic and peaceful progression, that is amazingly healing to the spirit.

If the timing is right, this stone will aid you to find a new teacher or guide in spirit.
If you have not yet made contact with your guides, it may help you when you are working to find your spirit guide for the first time.
As it allows truth to flow freely, the energy of this stone may prevent you from getting in the way of clear communication from spirit.

This energy may stimulate your desire to develop your psychic powers. As it helps you to develop a number of psychic gifts, enjoy using its unique energy.
Use It's Vibration To Stimulate Psychic Gifts
Cavansite is easy to buy. These stones have a lovely vibration of joy and optimism.
Their energy will allow you to develop your spiritual and psychic gifts in a blissful and peaceful way. 
These blue crystals often grows naturally combined with Stilbite. The Stilbite is usually colored white when combined this way, and this is a lovely natural combination.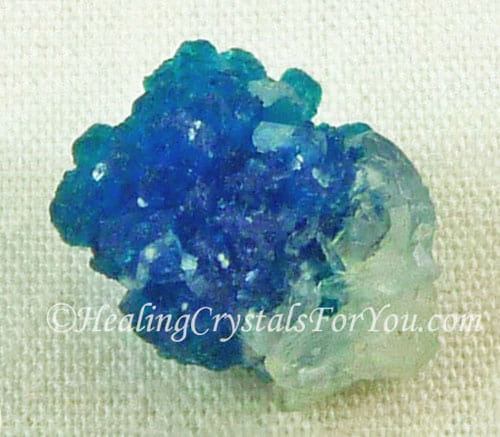 Cavansite With Stilbite
These natural crystals united bring the energies of both stones together, and this creates a beautiful vibration of love and joy.
Their energy brings through extraordinary joy and excitement, and at the same time may enhance your creativity and curiosity.
How To Use Cavansite
These lovely blue crystals can assist you to discover your personal method of communicating psychically.
They are strong stones to aid you to learn to be psychic, and can be used alone or in combination with other specific crystals for this purpose.
Cavansite Puffball
See some of the psychic gifts that this stone may stimulate below. Be aware that it does depend and your natural inclination, and of course you are unlikely to develop all of them.
This stone may stimulate a number of psychic abilities, including gifts such as:
channeling

mediumship 
psychometry 
clairsentience: which is clear sensing or feeling psychically or spiritually
psychokinesis 
psychic hearing, commonly known as clairaudience
These stones can help you to make sense of previous experiences in your life, that you may have had problems dealing with.
There are various articles on this site about individual psychic abilities mentioned above with in-depth articles where you can learn more. 
You may like to read about these if you are particularly interested in a specific gift mentioned.
Books For Developing Psychic Gifts
Sonia Choquette books are excellent aids to help you if you are working on developing psychic gifts. 
This includes your intuition, which is a closely related ability.
Sonia has been working in psychic employment as a reader, and as a teacher in the development area for many years.
In her book 'Diary of a Psychic', you can read the story of how Sonia developed her gifts, and how to develop yours.
To read reviews of Sonia Choquette's books Click Here.
Best Crystals To Use With Cavansite
What are the best crystals to use with Cavansite?
You may use it with other stones that are helpful to assist you to access the Akashic records. 
This includes Black Andradite Garnet, Petrified Wood, Prophecy Stone and Calligraphy Stone also called Miriam Stone.

If you have been experiencing life situations that have created major alterations in your life, you may find is beneficial to use them with other crystals for change.
There are a number of stones that you may choose for this purpose, and it is possible that you could already have one of the more well known ones.
Stones to assist you when you are negotiating adjustments in your life, includes Moldavite, Malachite, Labradorite, Pietersite and Jeremejevite, see image below.
To aid accord between the higher heart and the higher mind, you could combine this natural crystal with Pink Tourmaline, Morganite, Emeralds or Rose Quartz Crystal.

If you are working on developing your psychic gifts, or working professionally doing readings or in other psychic employment, take care to ground yourself regularly.

This is important as you may get strange symptoms if you remain ungrounded for long periods of time. As well ensure that you have stones for psychic protection on you as well.
Apophyllite may be combined with Cavansite, for heightening your ability to use your psychic powers, including clairvoyance.
You could also combine it with White or Silver Topaz, Ammonite or Tinaksite, if you have a need to release any negativity you may have been holding onto.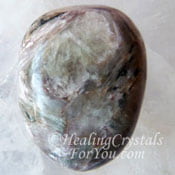 Tinaksite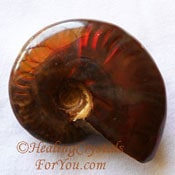 Ammonite
To help you to cope with grief of any sort, you may like to use it with other crystals that aid grief, including Spurrite, Jeremejevite, Datolite and Diopside.

---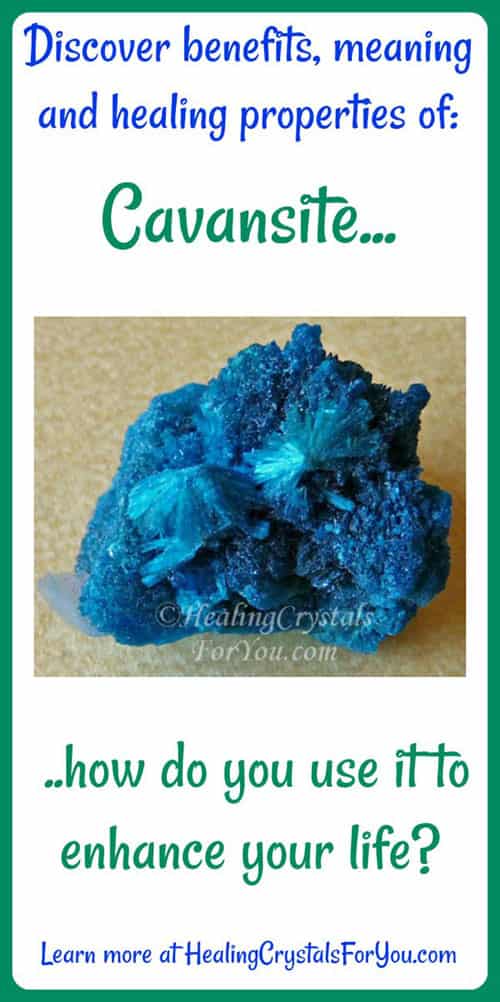 Cavansite Meanings Properties & Uses
---
Want to join my regular newsletter? It's easy.
Click on the banner that comes across the screen!
---
Looking for information about a specific crystal?

To See The A-Z of Crystals Minerals and Stones Click Here
If are looking for crystals for a specific purpose, there is an area you may like to check out here, Healing Crystal Uses. It lists individual articles about stones to use for a particular reason.
Discover more here about Psychic Gifts, Meditation and Spirituality
---
Note: When you use the vibration of crystals to help and support your healing remember that crystals are part of an holistic approach to your health.
Metaphysical healing uses universal energy so does not stand alone and can be used with any other type of healing. 
Using the energy of crystals for healing yourself is about finding a way to enhance conventional medicine not replace it. So always seek out medical treatment for any worrying health issue.
---
Thank You! I Appreciate Your Visiting My Site!
In my articles I may recommend various items that I use and love or that I feel are of value to my readers, and I earn a commission for purchases made through links on this page. 
FTC Disclosure:  If you make a purchase via a link on this site, I may receive a small commission on the transaction: at no added cost to you. Thank you!
Read My Affiliate Disclosure Here

---
Please Read Copyright And Disclaimer Notice
For: https://www.healing-crystals-for-you.com/
Any information that may be found anywhere on this site is not presented as a substitute, nor intended to be a substitute for medical advice, treatment or diagnosis.
Never disregard advice from your medical professional or delay seeking medical advice because of anything you may have read on Healing-Crystals-For-You.com.