Chrysoprase 
For Divine Truth, Joy, Happiness & Healing
➤ By Liz Oakes
Chrysoprase promotes joy and happiness and helps to boost feelings of love and forgiveness.
It brings through the vibration of Divine Truth, and at the same time it also helps to heal the heart from depression and anxiety.
It has metaphysical properties for healing as well as being a stone to attract new love, abundance and prosperity.
It has strong spiritual powers that will also help you to release ego based negativity associated with co-dependent relationships.

They will empower you to understand more deeply, the concepts around Divine Truth, helping you to know when someone is authentic and truthful as you center yourself within your heart.
---
Healing-Crystals-For-You.com is reader-supported. When you buy through links on my site, I may earn an affiliate commission. Click Here to learn more.

---
Did you know? Chrysoprase is a variety of chalcedony, which is a type of quartz, and is one of the more valuable stones of this group.
It is a delightful stone of the green ray and they are excellent healing crystals for you to make use of.
How Will Chrysoprase Help You?

These green crystals will help you in many ways. The energy of Chrysoprase is known to emphasize the energy of abundance and manifestation and its vibration may help you to manifest money.
Abundance and prosperity will be accentuated by this stones energy, especially if its is a more yellow green color.
If the specific stone you use has a more yellow shade within its color, the vibration of the heart chakra will resonate along with that of the solar plexus chakra.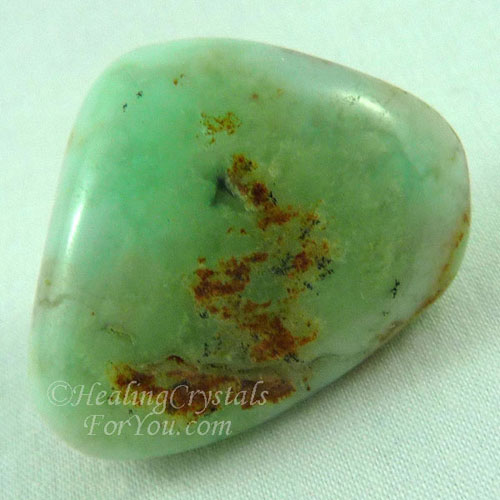 Combine them with third eye chakra stones, as this may enhance the development of your intuition.

These green crystals will assist you to make use of gifts and talents you may not have been using, and may elevate feelings of joy and happiness within you.

Why Would You Use It? Promotes Divine Truth

By promoting Divine Truth you learn to live your life in accord with the Divine plan for your life.

It's heart based energy will bring through joy and happiness. You can all use these attributes in your life.
You can buy Chrysoprase from Exquisite Crystals my most trusted crystal seller.
This green crystal is predominantly a heart chakra stone.
This is a stone that is a useful crystal for combining with other stones, so it is an aid for either self healing or for professional healers.
Although most stones are the apple green color, some have quite a bit of yellow within them.
The pale yellowish green stones also vibrate to the energy of the power chakra commonly known as the solar plexus chakra.
Like many green ray stones, it has a strong connection to nature and to the elemental beings.
It is an advantageous stone for spiritual healing and it brings the gift of natures growth and may connect you to Mother Gaia and to earth spirits. 
Green Chrysoprase brings through the energy of Divine Truth and a sense of justice, with the ability to release energy around and related to ego based issues from the past.
A Crystal For Happiness
It is an excellent companion stone to use when you need specific healing within the heart, as it works to aid other healing stones to work more effectively.
This is a crystal for happiness, that helps anyone who needs a lift. It promotes joy, self acceptance and independence, as well as forgiveness and compassion towards others.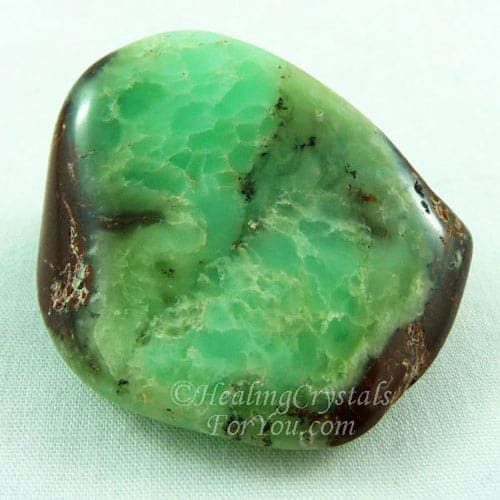 Apple Green Chrysoprase
As it promotes joy and happiness, it will assist many who have been finding life difficult to learn more about being happy.

If you are in a co-dependent relationship, their energy will also help you to understand the circumstances that created this dependence.
This will help you to let of people in your life that are holding you back, and aid you to become independent.
Where Is It From? Chrysoprase Meaning
The meaning of Chrysoprase comes from two words, chrys being the Greek for 'gold or yellow' and prase from the Greek for 'leek', referring to the green coloring of it.
The colors of natural green chalcedony stone varies, depending on how much nickel there is them.
In the past the gold or yellowish green colored stone may have been more common.
But these days the apple green Chrysoprase is the most common variety and the lighter Citron Chrysoprase is getting easier to obtain.
This stone is a type of Green Chalcedony, and deposits of this stone have been found in Russia, Brazil, Madagascar, Tanzania, South Africa, Poland, Australia and the United States.
Pieces of this stone are often very beautiful as the nickel creates lovely patterns in the stone. The rough stones may be quite different to each other.
Tumbled stones are easy to buy and may be bright green through to a pale yellowish green, with nickel inclusions through them.
Who Should Use This Green Chalcedony?
Through the heart chakra, Apple Green Chrysoprase has a wonderful energy of love.
Through its resonance within the solar plexus or power chakra, it's vibration brings you the energy of abundance on all levels.
These two energies combine to bring an abundance of love and prosperity into your life, and the possibility of attracting new love, if that is what you desire.
This beautiful crystal helps to bring acceptance and healing into the cells of the body, and prepare them for deep healing.
Chrysoprase Healing Properties
These green crystals open up your heart in order to assist your heart to heal. If you are feeling depression or anxiety, it brings you hope, as it aids you to release these feelings. 
These crystals have a good healing energy, and may aid the healing of eye problems, as well as strengthening your eyesight.
You may choose to put one of these stones under your pillow to create restful and peaceful sleep.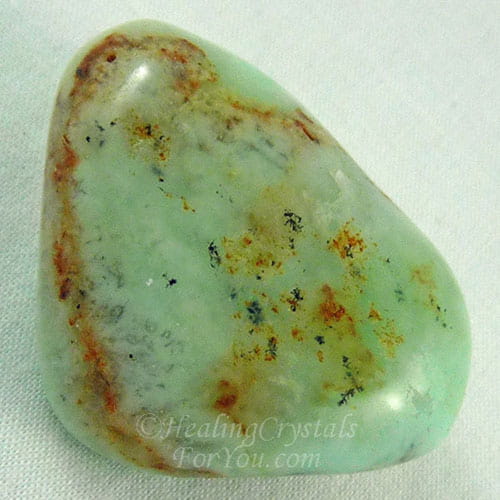 Chrysoprase
These green stones are known to aid hormone balancing and recuperation from illness generally, and they are also purported to be helpful to aid fertility problems.
Chrysoprase is easy to buy. They are excellent stones to use in combination with other healing stones, as they help to prepare the cells and ready them for healing.
How To Use Chrysoprase
This lovely stone is on the zodiac birthstone list, and wearing it as jewelry will be beneficial.
It is also easy to buy a Chrysoprase stone to keep in your pocket, and as it is an excellent stone to use for meditation, this may be helpful.
The energy of this stone may induce a deep meditative state.
During meditation with this crystal, you will be enabled to make a connection with the Divine mind.
Chrysoprase
This stone embodies a strong vibration of forgiveness. This energy makes it a strong stone to assist you when you need inner child healing, as an important part of that process is forgiveness.
This vibrations works powerfully within the heart or higher heart chakra, or you may choose to use this green stone at the sacral or navel chakra for this use.
It is a Libra birthstone that will keep you centered within the heart energy.
As it is important to keep this stone within your aura if you wish to get maximum benefit, wearing it may be a good way to utilize it. 
Beautiful apple green Chrysoprase jewelry such as earrings and pendants are helpful to wear.
It is on the list of birthstones by month as it is both a May birthstone and a June birthstone.
So you should be able to buy lovely birthstone jewelry made from Chrysoprase gemstones.
Best Crystals To Combine With Chrysoprase 
What are the most beneficial crystals to use with Chrysoprase?
Some stones are of particular significance to use with it and may be especially helpful to combine with it.
Stones you might like to use includes Variscite, Green Calcite, Emerald stone and Morganite, also known as Pink Beryl, as this connection will accentuate the loving heart energy and aid forgiveness.

To accentuate the strong vibration of truth within this stone, you may choose to use it other crystals for truth.
This includes stones such as Shattuckite, Blue Sodalite, Montebrasite or Sunstone.

This stone has a positive energy that may stimulate joy and feelings of happiness within you.
To accentuate this energy you may choose to use it with other stones that also have this effect.
Some stones you may like to use with it for this purpose could be Peridot, Ocean Jasper, Sardonyx and Watermelon Tourmaline as they can stimulate optimism and joy in your life.
Pink Danburite is also a stone that embodies the loving heart energy, and along with other high vibration crystals, and Ajoite in quartz, will aid you by linking the heart with the crown chakra.
Danburite is a high vibration crystal, and like all of this group will raise the vibration of the stones that are combined with them.
Other high crystal energy stones that will work well with green Chrysoprase, to strengthen the energy of the heart chakra vibration, includes Phenacite and Moldavite.
Green Chrysoprase combines very well with most stones, and of course will resonate specifically well with solar plexus chakra and heart chakra stones.
To alleviate depression and anxiety, powerful stones to combine with it includes stones that contain lithium, such as Amblygonite, Holmquistite, Lithium in Quartz and Lilac Lepidolite.

More Pictures Of This Crystal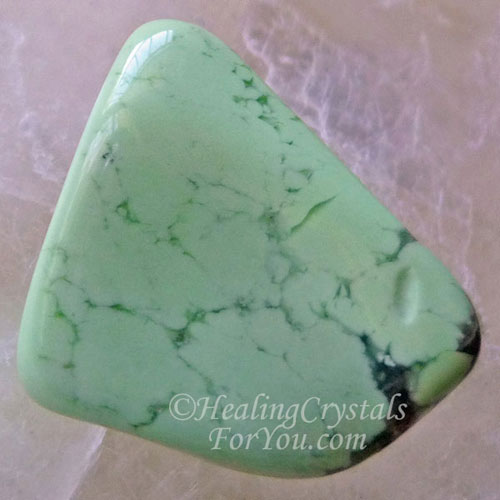 Citron Chrysoprase is a lighter green variety of Chrysoprase.
Citron Chrysoprase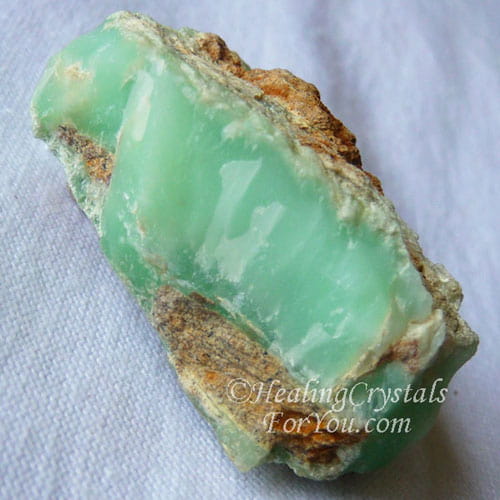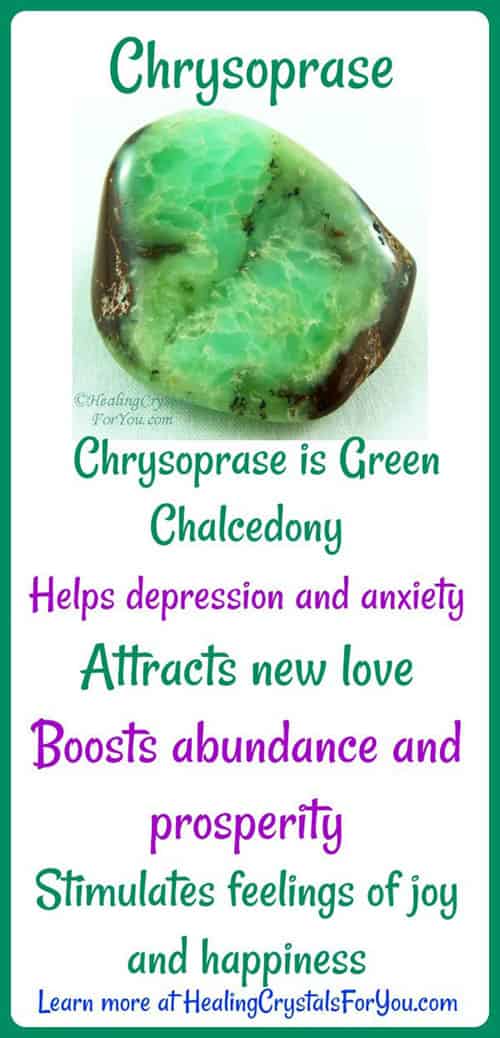 Chrysoprase Meanings Spiritual Powers And Use
---
Want to join my regular newsletter? It's easy.
Click on the banner that comes across the screen!
---
Looking for information about a specific crystal?

To See The A-Z of Crystals Minerals and Stones Click Here
---
Note: When you use the vibration of crystals to help and support your healing remember that crystals are part of an holistic approach to your health.
Metaphysical healing uses universal energy so does not stand alone and can be used with any other type of healing. 
Using the energy of crystals for healing yourself is about finding a way to enhance conventional medicine not replace it. So always seek out medical treatment for any worrying health issue.
---
Thank You! I Appreciate Your Visiting My Site!
In my articles I may recommend various items that I use and love or that I feel are of value to my readers, and I earn a commission for purchases made through links on this page. 
FTC Disclosure:  If you make a purchase via a link on this site, I may receive a small commission on the transaction: at no added cost to you. Thank you!
Read My Affiliate Disclosure Here

---
Please Read Copyright And Disclaimer Notice
For: https://www.healing-crystals-for-you.com/
Any information that may be found anywhere on this site is not presented as a substitute, nor intended to be a substitute for medical advice, treatment or diagnosis.
Never disregard advice from your medical professional or delay seeking medical advice because of anything you may have read on Healing-Crystals-For-You.com.