Chrysanthemum Stone 
Encourages Synchronicity & Luck
➤ By Liz Oakes
Chrysanthemum Stone has a lovely energy that will bring joy and childlike happiness into your life. 
The saying 'be fully present' applies to this stone, as it aids you to be in the moment. 
They are an interesting stone to look at and each stone is quite unique.
These black and white stones have a calming energy that assists you to feel centered and helps to increase luck.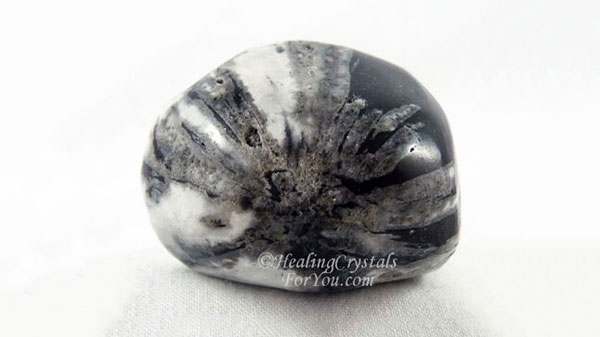 As you work on discovering your true purpose, it encourages the real you to open up and bloom!

By aiding you to see the bigger picture, you may discover your purpose. It may help you to find within you the courage to live your dream.
---
Healing-Crystals-For-You.com is reader-supported. When you buy through links on my site, I may earn an affiliate commission. Click Here to learn more.

---
Have you had a feeling that you have not yet achieved your potential or are you unsure what your reason for being here is?
This stone has a strong vibration and metaphysical properties that will assist you if you have been unable to work out your purpose.
It also aids you to take the action required to manifest it into your reality.
Where Is It From? Chrysanthemum Stone Meaning
This stone was first discovered in Japan, but has also been found in China, Canada and the United States.
It is a naturally occurring stone that is made from a mixture of gypsum, dolomite and limestone, with inclusions of various other minerals including Celestite, Calcite, Andalusite and Feldspar.

It is commonly black and white, but it may also be brown and white, as this depends on the minerals present.
The way the minerals are arranged in the stones resembles a flower, which explains the meaning of the name Chrysanthemum Stone.
Want Help To Find Your Purpose?
The vibration of this stone may help you to move forward, and enable you to live the life of your dreams.
As you use the energy of the Chrysanthemum Stone, you may allow yourself to break free from the past and take the steps needed to make changes in your life.

If you have always had an idea, a dream that you wanted to fulfill, but were unable to quite make happen, use the energy of this stone to aid you.
Its vibration will provide a firm foundation from which to launch yourself into the life of your dreams. You may find that as you allow this blooming of your inner self to take place, that a greater level of creativity may emerge.
This enhanced creativity may help you to work with any of these creative ideas that are emerging, and to find your purpose.
How To Use It: 
Why Would You Use It?
Chrysanthemum Stone is easy to buy. There are a few very powerful ways that Chrysanthemum Stone can be used and they are all quite easy to do.
Start by putting this stone under your pillow at night. Allow its energy to work on you while you sleep, and when you wake up slip it in your pocket and keep it on you all day.
After a few days you may find that you wake up feeling joy and happiness surging through you.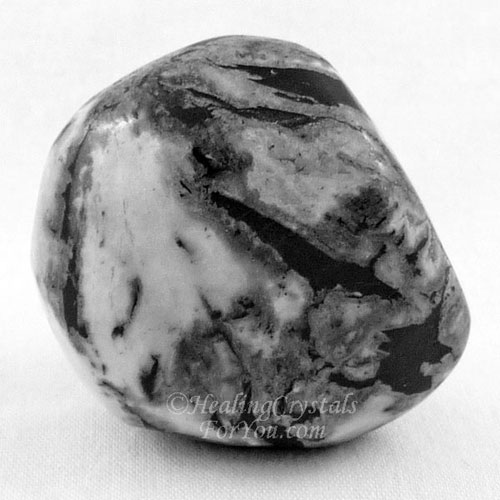 Chrysanthemum Stone
You may also like to meditate with it, but instead of doing a deep meditation, hold this stone in your hand and simply allow your mind to drift. 
This type of meditation may be called reflective meditation. 
As you find that a specific thought comes to mind, you might just allow your mind to lightly follow that thought, and allow yourself to gain inspiration from what comes to you.
As you allow this process to unfold, be aware of the thoughts that you find present themselves. They may provide the answer to where you might go with your life.
How Will It Help You?
This stone can help you in a number of ways including:
The vibration of this stone is said to encourage positive synchronicities. 
Their energy is known to increase both the number and frequency of experiencing coincidences and synchronicity

 in your life.

It is also known as a stone of good fortune. This stone has a strong vibration that encourages these to occur. 
Using this stone may also be accompanied by periods classified as 'lucky'. From this situation you may be enabled to manifest greater abundance and prosperity in your life. 
Buy Chrysanthemum Stone from Exquisite Crystals a most trusted seller.
Chrysanthemum Stone
Do you feel that what you are doing in your day to day life is not right for you?
These stones are beneficial for you to use if you are not sure what path you should take, when you may utilize the energy of a Chrysanthemum stone to assist you to find that right path.
Although these coincidences may seem to be simply random unrelated events that are somehow brought together, they can be a powerful assistance to move your life in a new direction.
If you wish to bring increased money into your life, as part of this process, this is often possible, but it will depend on your predominant mental attitude. 
The good thing about using this stone is that you may find that as your way of thinking improves, the level of abundance flowing into your life may also improve.

Brings Joy & Happiness Into Your Life!
This black and white crystal will bring joy and childlike happiness into your life, and may enhance abundance and manifestation, good luck and increased synchronicities. 
If you have a feeling that you have not yet achieved your full potential this stone may help you.
On those occasions that you feel that you need help you to find the courage to live your dream use this stone.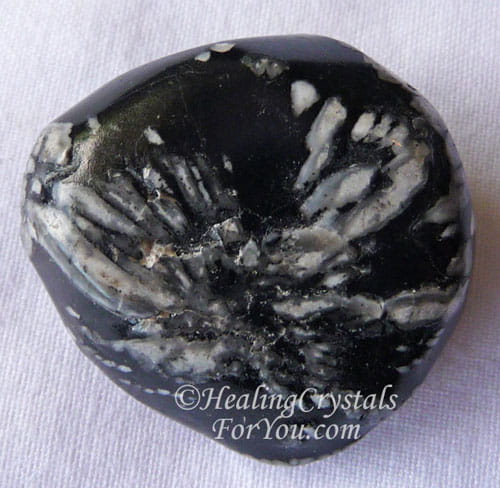 These unique stones have a calming energy that assists you to feel centered.
They embody a lovely energy that may aid you to take the action required to manifest what you desire into your reality.
They are happiness crystals that have a strong vibration to assist you if you have been unable to work out your purpose.
Who Should Use It?
These are lovely stones to improve the way you feel, and they are known to provide you with excellent methods to relieve stress.
They will be of benefit if you have been feeling depression or stress.

I personally found that by putting one under my pillow, after a few days I was waking up with happiness zinging through me!
Having one under your pillow is so easy to do that it is worth using for the happy feeling alone. Chrysanthemum stones will help you to easily open up the inner self and bloom.
Chrysanthemum Stone
I found myself singing and was totally surprised at the level of happiness surging through me, and I felt so good to be alive.

As well it is said to help women who have been having menstrual problems, cystitis and other female health problems.
It may also aid the removal of toxins, and may aid the healing of issues of the skin and the bones.
Crystal Books
Are you looking for a book about crystals and aren't sure what to choose? There are a large number of crystal books selling and some are better than others.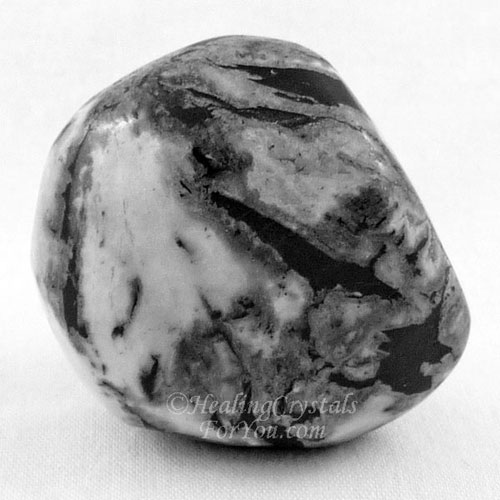 There are a number of excellent authors who have been writing for years, and Judy hall is one of my favorites.  

Judy Hall has written a large number of books and every one that I have read is worth owning. 
Best Crystals To Combine With Chrysanthemum Stone 
What are the most beneficial crystals to combine with Chrysanthemum Stone?
You may combine it with any of the stones for the third eye chakra, crown chakra or soul star chakra, if you desire to move yourself forward on the higher spiritual path.
This stone works within all chakras and may be used in combination with most stones. Using it with Green Moldavite, the transformation crystal, may aid the process to move very quickly. 
Combine it with any of the other high vibration crystals, as any of the high crystal energy stones help you on your spiritual path. You might like to use it with Blue Celestite or Herkimer Diamonds if you wish to heighten your spiritual growth.
Use it with the lovely Green Seraphinite stones to aid healing, and to help you to make contact with higher spiritual guides, to help you with any decisions you need to make.

The energy of Chrysanthemum Stone to increase how often coincidences or synchronicity occurs in your life, may be boosted by using them with other crystals for the same purpose.
There are quite a few crystals that you can use for this purpose, including either Blue or Clear Euclase, Violet Flame or Morado Opal, Black Moonstone or the unusual spotted stone Kakortokite from SW Greenland.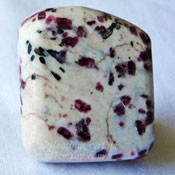 Kakortokite
Sardonyx, Gaspeite, Orange Carnelian and Cuprite and Zincite are powerful stones to use in combination with Chrysanthemum stones.

They will enhance your spiritual energy and endurance, to do what needs to be done to achieve your aims and aspirations.

If you are feeling tense, depressed, stressed or anxious, using crystals for stress is one of the ways to relieve your stress.
It may be combined with other specific stones for this purpose including Kunzite, Lithium Quartz, the yellow or light green Hiddenite or Spurrite also called Strombolite.

Pin Me!
---
Want to join my regular newsletter? It's easy.
Click on the banner that comes across the screen!
---
Looking for information about a specific crystal?

To See The A-Z of Crystals Minerals and Stones Click Here
---
Note: When you use the vibration of crystals to help and support your healing remember that crystals are part of an holistic approach to your health.
Metaphysical healing uses universal energy so does not stand alone and can be used with any other type of healing. 
Using the energy of crystals for healing yourself is about finding a way to enhance conventional medicine not replace it. So always seek out medical treatment for any worrying health issue.
---
Thank You! I Appreciate Your Visiting My Site!
In my articles I may recommend various items that I use and love or that I feel are of value to my readers, and I earn a commission for purchases made through links on this page. 
FTC Disclosure:  If you make a purchase via a link on this site, I may receive a small commission on the transaction: at no added cost to you. Thank you!
Read My Affiliate Disclosure Here

---
Please Read Copyright And Disclaimer Notice
For: https://www.healing-crystals-for-you.com/
Any information that may be found anywhere on this site is not presented as a substitute, nor intended to be a substitute for medical advice, treatment or diagnosis.
Never disregard advice from your medical professional or delay seeking medical advice because of anything you may have read on Healing-Crystals-For-You.com.