Cryolite...
Lightbody Awakening, Ascension And Enlightenment?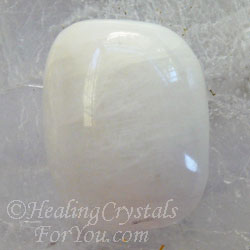 Back to Home Page > Crystal Energy > Cryolite
Part Two > Part One
Cryolite is a quite amazing high vibration crystal that inspires a deep connection to the higher realms and to Spirit.
It energizes the brain and creates a powerful mind-heart link!

A dynamic stone for lightbody awakening, ascension and enlightenment. It connects you with angels and with beings in the higher realms.
This stone has a delightful heart based vibration yet it is quite intense and may create deep spiritual growth.
It has a strong vibration within all of the chakras, and this flow of light will move throughout the body, and at the base chakra may stimulate kundalini activation.
Where Does It Come From?
Originally this stone was discovered in Greenland, and this was the only deposit of it in the world. It was used in that country as a flux for aluminum smelting and this has almost used up the deposit.
Fortunately for the metaphysical community other deposits of Cryolite have also been found in Canada, the United States and in Russia, so these stones are now more easily available. This stone is white and has a low refractive index, which makes it almost seem to disappear when placed in water.

It has been found alongside other minerals such as Cassiterite, Siderite, Chalcopyrite, Wolframite, various Quartz varieties, Fluorite, Topaz, Columbite, Galena and Molybdenite... some of which are toxic minerals.

It contains aluminum, and it is used to make pesticides, and it is known to leave a toxic residue on the plants. So please take care with its use and make sure the pieces you use are sealed.
You may choose to use it inside a crystal bag if you are sure it is sealed properly. The energy will still work.

If you wish to use one of these stones to make a crystal essence or elixir, use the indirect method, where there is glass between the stone and the water, that way you only receive the vibration in the water.
Why Would You Use It?
Cryolite is known to enhance your gifts of psychic knowing, as well as stimulating other psychic gifts. This is a highly spiritual crystal with a high vibration that has a powerful effect on the brain. 
This crystal markedly energizes the prefrontal cortex of the brain and the third eye chakra, and is known as one of the more powerful crystals to aid lightbody awakening.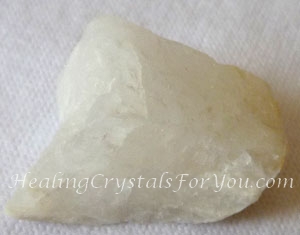 Cryolite also strongly activates the crown chakra and the heart chakra, along with the third eye chakra, bringing all three chakras into harmony and alignment.
This joining together of these three chakras creates a greater appreciation of your connection with the Divine mind and may connect you with beings in the higher realms. You may feel a euphoric heart based energy fill you.
Don't be surprised if this deep strong energy within your heart wells up within you, with a quite intense emotion, as this is commonly created by the vibration of this lovely stone.
It helps to create a deep connection to the higher realms and to Spirit, and may help you to solve problems using your intuition.
Wearing This High Vibration Stone
It  can be found on the list of zodiac birthstones, and it is helpful to keep a piece close to you to help you to gain from its energy, as it is highly beneficial for your spiritual growth.
Cryolite Pendant
Cryolite pendants are not easy to find and it is not common to find it made into jewelry. 
One way to wear it is to find someone who does wire wrapping and have one made for you.
This white crystal is a birthstone for the Aquarius person, and it is a lovely crystal to wear on your body.
It has a powerful vibration that resonates within all chakras, creating a stream of light that flows throughout the body.
Its vibration within the throat chakra is also known to aid public speaking and may assist with speech disorders. Its vibration may also help you to be less noticeable when you are in a situation where you would prefer no one took any notice of you.
This is a powerful stone for lightbody awakening, ascension and enlightenment, and for connection with angelic beings as well as other beings in the spiritual realms.

Crystal Books You May Enjoy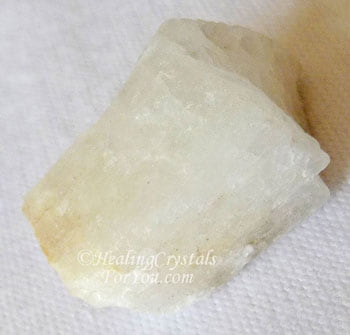 Cryolite Stone
The crystal books shown below are all very in-depth crystal reference books. There have been a lot of excellent new crystal books published in the last couple of years.
I love the latest book from Cassandra Eason, The Complete Crystal Bible and it features many of the more common and less common stones.
The Book Of Stones has a new expanded edition. It was recently updated and I was pleased to see a number of new stones featured. 

Crystal Prescriptions Volume Three may be useful if you have a sensitivity to electromagnetic devices, and Judy hall discusses many ways to handle life with this issue.

The book Crystals and Sacred Sites, Use Crystals to Access the Power of Sacred Landscapes, is an interesting book where you can discover a lot about many extraordinary places that many potent stones originate from.
If you need to know more read my crystal book reviews here.
More Photos Of Cryolite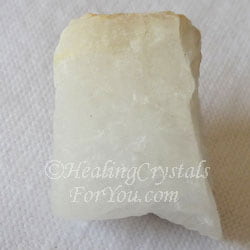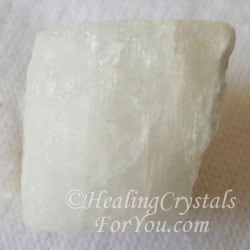 ---
---
When you buy a new stone or crystal, it is advantageous to use it on its own first. Once you are fully aware of its energy, you may choose to combine it with other stones.
Combine stones for short periods to begin with, as individuals may react differently. Knowing how you can combine various stones may be helpful, as this allows you to get the most from your crystals, and may help you to solve specific problems in your life.

Looking For Information About A Specific Crystal?
Did you know you can find out more about any crystal or topic that is written about on this site, simply by using the Google Search box below?