Amber Stone...
Clears The Mind and Eases Stress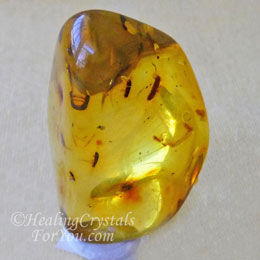 Amber containing ants
You are here: Home > Healing Stones A > Amber Stone
Part Two > Part One
Amber stone is not strictly speaking a stone at all, but is a fossilized resin. Beautiful jewelry made from it resembles gemstones, so it is sold as a gem stone.
It is popular as it has marvelous metaphysical properties for psychic protection. 
It is a powerful healer that gives the person who wears it a lovely sense of health and healing. 
Amber helps to balance the emotions, clear the mind and release negative energy. It aids manifestation, eases stress by clearing phobias and fears, and it is a lovely warm stone to wear.
History of Amber...
Amber Stone Meaning
Although Baltic amber is well known, the history of amber includes many countries and cultures, not just those in the Baltic region. Archaeologists have found many beautifully carved amber pieces in graves, dating back around 2000 b.c. or before.
Amber stone artifacts and jewelry have been found in many places, and this may be because it was possibly a trade item that ended up in the hands of those who had the wealth.

The meaning of amber healing attributes has been well known as it has been in use since ancient times. Part of its use may be attributed to its beauty, but those that used it and kept it on their body as jewelry or talismans would have been aware that it helped to improve their health.

Archeological finds made from this stone are well documented. This includes a well known Amber cup that may have been made in Britain, as it was found at Hove near Brighton. There has even been Amber discovered in Egyptian tombs, including that of Tutankhamen.
Insects or Bugs in Amber Stone...

Many of the artifacts made of amber had insects within them. If you look for them they are fairly easy to buy and its quite astonishing to see them clearly visible, trapped in the stone.
In ancient times, the pieces containing insects were probably thought to have magical virtues, as they were carved into hunting talismans, worn to ensure safe and abundant hunting.
Amber that contains termites
You may be able to find interesting things in the pieces you buy, including small bugs in amber, and sometimes ants, spiders or a dragonfly in amber. Among the pieces I have obtained are pieces with termites and ants embedded in the amber stone and these are quite interesting.

Within this resin you will also find other things from nature, with a variety of leaves and other plant based material trapped in the stones. You will notice inclusions from parts of the ancient trees, such as leaves, leaf mould and pine needles.
Where Does It Come From?
Amber is available from sources in quite a few countries, and depending on where it is found, the quality may vary. It comes from Russia, Poland, Britain, Italy, Columbia and Germany and of course baltic amber.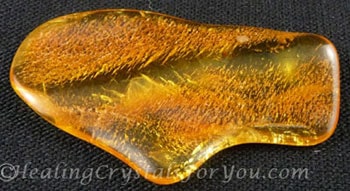 Amber With Inclusions Within The Stone
It can be obtained reasonably easily, and comes in various shades from pale yellow through to a dark orange color.
The traditional Amber color is middle of the range, and the best specimens are fairly clear, although pieces of Amber may have inclusions of plant matter or insects within them.
Green amber may be natural, and the color can be anything from yellow green to a deeper greenish color. Sadly most green amber jewelry sold is made from stone that has been through a process that creates the color artificially.
Baltic Amber is highly prized for its high quality. Polish craftsmen have long been reputed for making beautifully crafted pieces from it.
How Will Amber Help You?
These golden yellow stones will help to relieve stress and anxiety and may also help to clear depression.

They may aid the emotions, and through their role to assist emotional healing they help to create a more positive outlook on life.
Their role within the sacral chakra means that it this a strong stone to help you to enhance your creativity.
These stones link the everyday self to the spiritual self.
It is known to be one of the better natural crystals to use for protection from psychic attack.
This golden yellow resin is highly protective against any type of negativity, especially from psychic sources.
Amber stone has many wonderful qualities for healing the physical and emotional body. It is worth using as it may also heal health problems you forgot you had until they are gone.
---
---
By releasing negativity it will balance the emotions as it clears the mind and eases stress, one of the more endemic problems in today's society.
More Images Of Amber Stone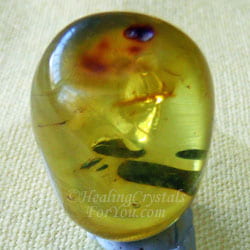 Green amber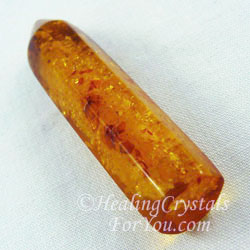 Amber Healing Wand
When you buy a new stone or crystal, it is advantageous to use it on its own first. Once you are fully aware of its energy, you may choose to combine it with other stones.
Combine stones for short periods to begin with, as individuals may react differently. Knowing how you can combine various stones may be helpful, as this allows you to get the most from your crystals, and may help you to solve specific problems in your life.

Looking For Information About A Specific Crystal?
Did you know you can find out more about any crystal or topic that is written about on this site, simply by using the Google Search box below?