Orange Aragonite Star Clusters

Aids Earth Healing
➤ Written By Liz Oakes
Orange Aragonite Star Clusters assist healing and balancing of the emotional body. They are known as The Conservationist's Stone, as their vibration encourages conservation, caring for the earth and earth healing.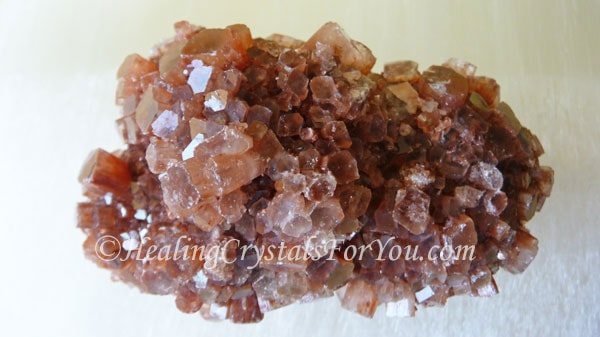 They are excellent crystals to aid with healing the earth, assist emotional healing and help you to overcome stress and anxiety.
Also known as Orange Aragonite, they are said to clear blocked ley lines and aid geopathic stress, in the area where they are located.
Because of their structure, they send light out in a variety of different directions, to create an outcome of heightened light and energy in their surroundings.
They may relieve anger and resentment, boost patience and are known to help you if you have anxiety, stress or other negative emotional feelings.
---
Healing-Crystals-For-You.com is reader-supported. When you buy through links on my site, I may earn an affiliate commission. Click Here to learn more.

---
What Are Star Clusters? Where Are They From?

The Orange Aragonite stones were named after the spot where they were first discovered, in Aragon in Spain, and this is the major place where the Star Cluster type are found. 
Deposits of Aragonite have been found in Britain, Spain, Mexico and Namibia. The star clusters are sometimes sold as Aragonite Sputniks or orange aragonite.
Aragonite stone comes in a variety of different crystal colors, including pink, brown, orange, white and blue Aragonite.
Orange Aragonite Star Clusters or Aragonite Sputniks may have slightly different structures with twinning being common as well as some being interpenetrating.
They have a structure, color, and metaphysical properties that is quite different to other types of aragonite.
Why Would You Use Aragonite Star Clusters?

There are quite a few reasons why you might choose to use these unique stones. This is a strong stone to heal the earth, and to heal you, both emotionally and spiritually.
They resonate strongly through the base chakra and the earth chakra to release excess energy.
They are also strong spiritual grounding stones that take excess energy down into Mother Gaia.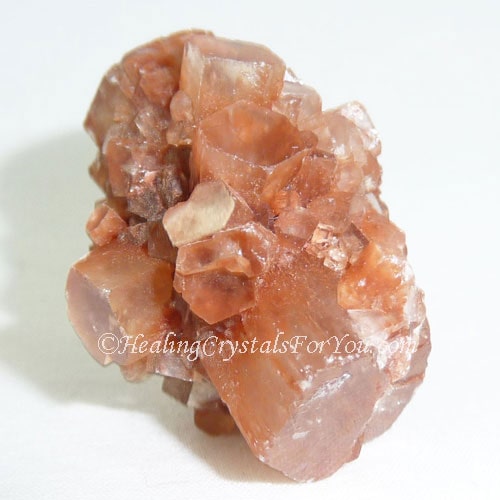 Orange Aragonite
The vibration of these stones aids you to feel a stronger sense of support and connection to the earth.
These orange crystals have an excellent vibration for allowing you to feel more grounded, fully present and centered.
The energy of Aragonite Star Clusters will balance and support your lower chakras. They are known for their action to provide you with a feeling of stability within your life.
They may aid you to be more patient and to be more content about your life circumstances. Using them is one of the useful methods to relieve stress.
If you are generally having difficulty coping emotionally with the circumstances of your life, these stones may be particularly helpful.
Who Should Use Orange Aragonite
?
Orange Aragonite stones have a strong healing vibration, and will work within all chakras. They will clear and balance the chakras as their energy flows out into your auric field.
The structure of the stone creates an impressive result, because each of the points in the cluster distributes energy and light outwards, to create an amazing energetic charge.

This strong field of light will then flow out into your aura. The result is a deep sense of peace and harmony.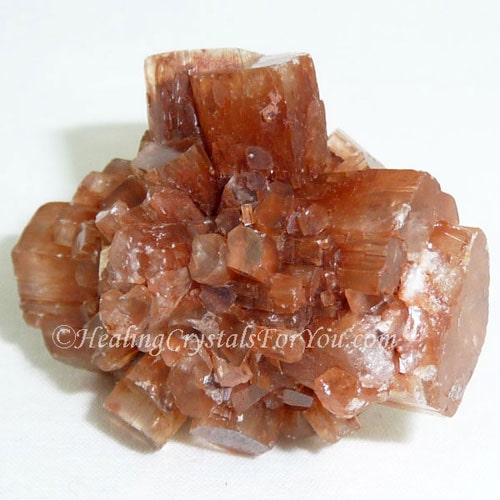 Orange Aragonite
Any energy blockages that may originate from past life issues that have not been resolved, may then be able to be healed.
They are beneficial crystals for patience as they teach patience and acceptance, and if you are someone who needs to let go of control, these stones will benefit you.
Sometimes you need to allow others to help you, and if you have difficulty with this concept, by using one of these stones you may be enabled to let others assist you when it is necessary.
As they absorb negativity quite easily, ensure you cleanse them very frequently.
They may be cleaned by using water, as long as you are careful, as well as some of the other methods for cleansing crystals.
Wearing Aragonite Star Clusters

Because of the structure of Aragonite Star Clusters, which sends light out in a variety of different directions, they create an outcome of heightened light and energy in their surroundings.
These orange crystals are powerful stones to wear as jewelry. They will help you to release stress and disharmony, and aid the healing of physical problems, including aches and pains.
Aragonite Star Cluster
Orange Aragonite is known to aid the immune system and to help with calcium absorption.
Although jewelry made from them is not common, if you are able to get one, they are highly effective stones for self healing.
Aragonite Star Clusters bring an influx of energy into the body, creating increased sparkle, liveliness, endurance and zest for life.
The amount of light flowing out from the many points on the stones creates an amazing lattice of light around your body.
This will aid both yourself and others you have contact with, and is known to heal the earth.
The conservationists's stone has a vibration that is known to effect people to take action, including doing recycling and being more environmentally conscious.
They will aid you in a variety of ways and they are very useful stones for anyone who is interested in the health of the earth.
These stones are unusual as their vibration encourages conservation and caring for the earth, and they are said to clear blocked ley lines and aid geopathic stress.
This energy flows to both yourself and all who are nearby. These lovely crystals are potent aids to assist the healing and balancing of the emotional body, and help you to overcome stress and anxiety.
How To Use It: My Final Thoughts

Aragonite Star Clusters have a strong spiritual vibration and are excellent to aid meditation. 
It is a good idea to learn easy meditation techniques, as during meditation, they are known to bring visions of forgotten memories, both from this life and past lives.
It may be challenging to have these memories that you would rather have forgotten, come back to your attention. 
As this is quite common when using these stones, it is highly beneficial to use the Aragonite Star Clusters before meditation, to enable you to be more prepared.
They will clear your auric field of disharmony, then balance your chakras. The energy of this stone may bring your vibration to a higher point, in preparation for making contact with spirit.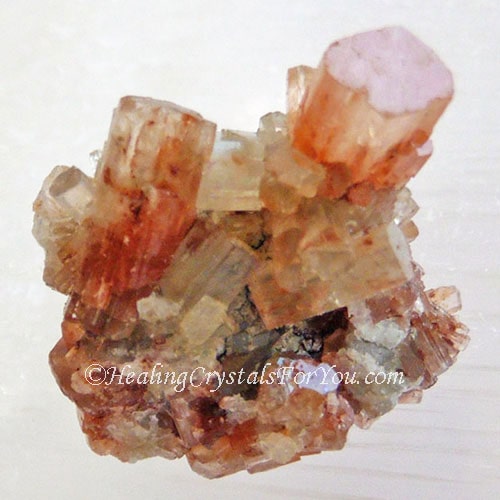 Aragonite Star Cluster
In summary: remember that once it has succeeded in raising your vibration this energy then flows through to energize the physical body. 
Meditation with this stone may vividly bring back old memories, both from this lifetime and past lives.
Once you have released these memories, the subsequent meditation with these stones will be quite different. 
They are strong psychic communication stones and may aid you to make a connection with angels and other beings in the higher realms.

These stones will take you to a very high point where you may learn a lot of information about past life circumstances and events, and your soul history, that may help your spiritual growth.
Best Crystals To Use With Orange Aragonite
What are the best crystals to combine with Orange Aragonite Star Clusters?

High vibration crystals are powerful to combine with it, so it may be beneficial to use these stones with any of the high crystal energy stones.
Herkimer Diamonds and Phenacite are in this group of crystals that you might choose, and they will both aid you to see more clearly when visiting other planes of existence.
Using it in combination with Selenite may aid you with inter-dimensional travel. You may choose to use it with any color of Calcite as these are good in combination. 

Combine one of these clusters with Angelite, Petalite of any color, Stellerite, Blue Celestite or Angel Phantom Quartz also called Amphibole Quartz.
This may aid you to make contact with angels and other high vibration spiritual beings.

You can combine them with base aka root chakra or earth star chakra stones to aid their grounding energy.
Although these are grounding stones, when you combine them with high vibration crystals it is still possible to become ungrounded. If you feel at all ungrounded ensure you use spiritual grounding stones as well.
You might like to keep one of these stones on you while working with high energy stones, and both Black Tourmaline and Dalmation Jasper are known to work particularly well in combination with this stone.
They combine well with other colors of Aragonite, including both Brown and Blue Aragonite.
---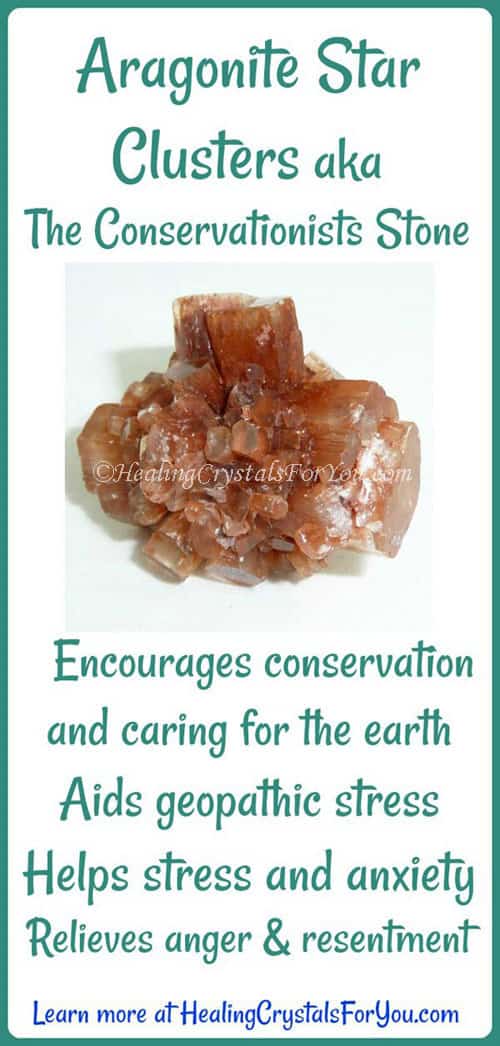 Aragonite Star Clusters Meaning & Use: The Conservationists Stone
---
Want to join my regular newsletter? It's easy.
Click on the banner that comes across the screen!
---
Looking for information about a specific crystal?

To See The A-Z of Crystals Minerals and Stones Click Here
If are looking for crystals for a specific purpose, there is an area you may like to check out here, Healing Crystal Uses. It lists individual articles about stones to use for a particular reason.
Discover more here about Psychic Gifts, Meditation and Spirituality
---
Note: When you use the vibration of crystals to help and support your healing remember that crystals are part of an holistic approach to your health.
Metaphysical healing uses universal energy so does not stand alone and can be used with any other type of healing. 
Using the energy of crystals for healing yourself is about finding a way to enhance conventional medicine not replace it. So always seek out medical treatment for any worrying health issue.
---
Thank You! I Appreciate Your Visiting My Site!
In my articles I may recommend various items that I use and love or that I feel are of value to my readers, and I earn a commission for purchases made through links on this page. 
FTC Disclosure:  If you make a purchase via a link on this site, I may receive a small commission on the transaction: at no added cost to you. Thank you!
Read My Affiliate Disclosure Here

---
Please Read Copyright And Disclaimer Notice
For: https://www.healing-crystals-for-you.com/
Any information that may be found anywhere on this site is not presented as a substitute, nor intended to be a substitute for medical advice, treatment or diagnosis.
Never disregard advice from your medical professional or delay seeking medical advice because of anything you may have read on Healing-Crystals-For-You.com.