Citrine Crystals...
Can You Use It To Manifest Abundance and Prosperity?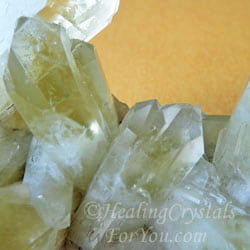 Natural Citrine Tantric Twin Crystals
You are here: Back to Home Page > Quartz Crystals > Citrine Crystals
Part Two > Part One
Citrine Crystals are a variety of quartz and are closely related to Amethyst. Many of the stones on the market are created from Amethyst Crystals by heat treatment.
Although it is believed that this process does not actually damage the stone, the heat treated stones have different qualities to the natural genuine Citrine crystals.
The lovely Burmese crystals that is in the tantric twin formation, shown in the picture on the right is natural.
There are also quite a few others among my pieces of this crystal that are natural unheated stones, including the lovely Honey Citrine shown in the image in the column on the right.
Read on to discover how you can use the metaphysical properties of this golden stone to bring positive things into your life!
Where Is It From? Citrine Meaning
The meaning of the name Citrine crystal, comes from the Greek word meaning 'citron', as many early Citrine crystals found had a color similar to the citrus fruit of that name.
The Citrine properties that are most well known are its value for aiding manifestation of prosperity, particularly if you combine it with the power of affirmations.
By its ability to activate the solar plexus, the seat of the will, it will help you to be decisive about what you will bring into your life.
This crystal has been found in a large number of locations, including France, Britain, Russia, Madagascar, Burma, Spain, the USA and Brazil. Its color varies according to the location where it is found, and whether it has been heat treated.
You may be surprised at the range of colors that the lovely genuine natural Citrine comes in, and contrary to what some people say it is possible to get genuine Citrine stones.
This is related to where it is found, and it can vary from a very pale yellow, in a range of shades through to a deep honey color, depending where it comes from.
How Will Citrine Crystals Help You?
It is quite easy to find Citrine to buy, as its popularity is high, as it is known to be the premier manifestation stone. As it is a quartz it has a strong amplification ability, and most people are aware of the energy emitted by this lovely yellow stone.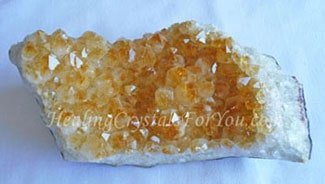 Citrine Crystal Cluster
One of the less well known Citrine properties are their strong ability to soothe fear and anxiety. By allowing you to let go of your fear it may aid you to be able to accept into your life the good that is coming your way.
Citrine Properties... Color of The Stone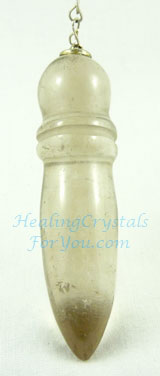 Natural Citrine Pendulum
The colors of my natural Citrine Pendulum, shown on the left and the lovely pale yellow Burmese natural Citrine Cluster below, are examples of the differences in the look of natural stones.
The properties of Citrine varies according to its color. It comes in a range of different shades, including the bright yellow stone and very pale yellow.
The natural Citrine crystals may often resemble the color of paler Smoky Quartz, also called Smokey Citrine crystals.
If you prefer to use natural Citrine, the color of the natural Citrine may be pale yellow, honey yellow or even with very little color at all.

Both of these are a very different color to many of the other Citrines, as they are a very pale yellow color.
Regardless of which of the various quartz configurations or formations the stone occurs as, you will find that the natural Citrine stone has different metaphysical qualities to the manufactured heat treated Citrine stone.
The natural Citrine is an excellent choice, both for manifestation and healing. Not only is it just as powerful for manifestation, but in addition it will help you to release etheric blockages within your chakras.
These blockages may have been holding you back from allowing your greatest good. Its energy is often stronger than the heat treated stone.

It will aid you in healing ego issues that come from within the solar plexus, also known as the personal power chakra.
It may also boost your ability to take the right actions, when faced with difficult choices, and may improve your level of self esteem, as it has a strong effect within the area that governs personal power.
Wearing Citrine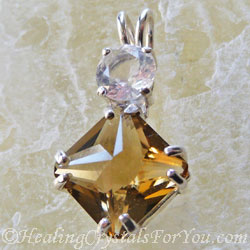 John Of God Citrine and Clear Quartz Pendant
It is easy to buy Citrine jewelry, and using one of these crystals will help you if you sit quietly in meditation and allow yourself to feel the vibration.
Wearing Citrine earrings may help you to think more clearly, as their vibration energizes the third eye chakra.
This may bring mental clarity and may precipitate an increase in spiritual vision.
This energy encourages joy, happiness and hope to flow through you. Through this help, you may learn how to be happy.
You can use this lemon crystal in your daily meditation using crystals, and you can do a specific meditation to attract abundance.
If you wear it anywhere on the body it will be helpful, but if you wear it as close as possible to the solar plexus chakra area it will be more effective to aid creativity.

The bright yellow Citrine crystals stimulate the sacral chakra and this will help to stimulate your creativity.
The sacral or navel chakra is where your imagination and creative abilities are birthed.
Having a piece of one of these beautiful yellow crystals within your auric field for as long as possible each day is advantageous to stimulate all chakras.

Who Should Use It?
This is an exceedingly beneficial stone, that brings through energy to all of the lower three chakras. In addition it will open up the third eye chakra and aid you to think more clearly.
This opening may be powerful as Citrine Crystals have the effect of deepening your level of mental clarity and accelerating spiritual vision.
Having a piece in the environment can be helpful, and a good example is the gorgeous Natural Burmese Citrine Crystal Cluster below.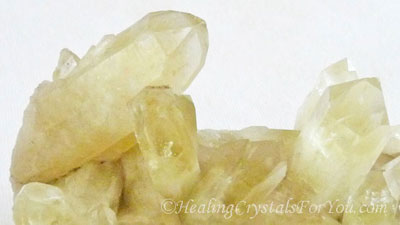 Natural Genuine Citrine Cathedral Lightbary Cluster
It may also elevate intuition, or assist you to develop your intuition, and it is excellent to combine with Tourmalinated Quartz, also a stone that aids mental clarity, as the combined energy of the two stones will amplify the result.
As it is a quartz crystal it has the added benefit of amplifying the energy of any stones that are used in conjunction with it. It may also be helpful for aiding healing of problems in the eye area.

---
---
More Pictures Of Citrine...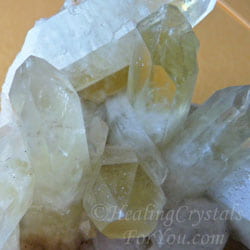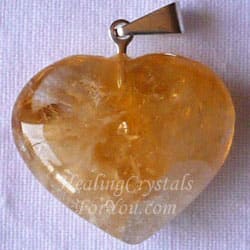 When you buy a new stone or crystal, it is advantageous to use it on its own first. Once you are fully aware of its energy, you may choose to combine it with other stones.
Combine stones for short periods to begin with, as individuals may react differently. Knowing how you can combine various stones may be helpful, as this allows you to get the most from your crystals, and may help you to solve specific problems in your life.

Looking For Information About A Specific Crystal?
Did you know you can find out more about any crystal or topic that is written about on this site, simply by using the Google Search box below?