Star Hollandite Quartz...

Aids You To Discover Your Spiritual Destiny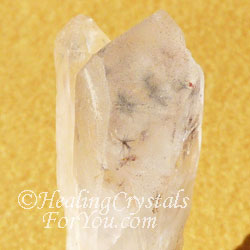 Star Hollandite Quartz
Home > Crystal Energy > Hollandite Quartz
Part Two > Part One
Star Hollandite Quartz is a type of quartz crystal that has very small inclusions of Hollandite in it, that look like tiny black stars.
These unusual stones are powerful high vibration crystals that bring light into your being, from the Divine source. They have a number of metaphysical qualities that make them helpful to use.
Valuable attributes of these crystals include helping you to develop psychic visions and to encourage powerful coincidence or synchronistic events to play out in your life.

The amplifying effect of all types of quartz is well known. This heightening of the energy means that even tiny inclusions like these create a more powerful result, caused by the quartz magnifying the level of vibration you may experience.
Their action may aid you to make contact with specific spirit guides, whose role is to aid you to discover what the plan for your life was, and you may learn why you chose to come here to this earth.
Would you like to learn what your higher self planned for your life, and how to help your life to unfold as it was destined to?
Where Is It From? Hollandite Quartz Meaning
The meaning of its name relates to a man named T H Holland, who was the director of the Geological survey of India, in the period around 1906 when it was discovered.
Star Hollandite Quartz is quartz crystal that has tiny stars of Hollandite included in clear quartz crystal. It is also known as Star Quartz or sometimes Black Star Quartz, because of the color of these tiny stars or miniature black spider like inclusions in the stone.
These tiny star inclusions in the quartz are known as Hollandite. They comprise a mixture of barium oxide with other minerals including magnesium, and it is said Goethite. Although they were discovered in India, the main place where they have since been found is in Madagascar.
Hollandite is found in a number of countries and is related to where manganese is mined, but it needs barium to also be present to create Hollandite. 
Yet it seems that the process where the Hollandite becomes embodied in the quartz and as a result of high temperatures forms these lovely stars is fairly unusual.
Up till now they have only been found in India and Madagascar, so until they are found elsewhere they may be less easy to obtain. In the past this crystal was known as spider quartz.
Some pieces of this stone have only tiny grayish dots rather than visible stars, yet other pieces of this crystal have quite visible grey or black stars in them.
How To Use It
Like many crystals, one of the ways to use this crystal is to do a crystal meditation.
Generally quartz crystals are powerful to use to meditate with, because they can be programmed, which can help you to achieve a specific outcome from your meditation.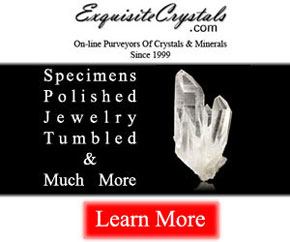 To help you to bring a desirable opportunity or circumstance into your life, it may be beneficial to learn how to program your crystal.
Hollandite Quartz is excellent to use to meditate with, especially if you are aware that you have had a past life in ancient Egypt or Atlantis.
It is also said that it may aid walk-ins or star seed beings to adjust to the energy of the earth.
During meditation you may make contact with star beings, and spirit beings that may guide you to remember past lives in these areas. This may help you with dissolving any karma that you may have not yet released, that is associated with past life events.
Contact Your Spirit Guide...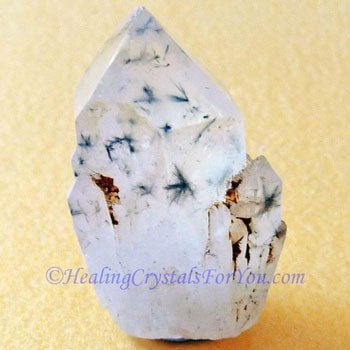 Hollandite In Quartz aka Black Star Quartz
Their action to help with locating your spirit guide, can assist you to discover your reason for being here.
They are impressive crystals to aid you to contact specific spirit guides, whose role may be to aid you to awaken to your highest purpose.
When we are born we generally suffer from a type of amnesia, blocking us from remembering why we decided to be born, and what our purpose and destiny was in returning to the earth at this time.
Yet it is possible to remember why you came, and although this may be a gradual process.
You may find that using Hollandite Quartz helps to break the barriers down between the past and the present.
You may learn your reason for coming here, and how to go about walking the path that your higher self planned for you before you were born. 

Wearing Hollandite Quartz
These crystals have an excellent energy to aid emotional healing, and they have a valuable effect within the thymus also known as the higher heart chakra and the heart chakra.
Their energy can be beneficial to assist you if you are feeling tense, anxious or stressed, as using them is one of the ways to help your stress.

Hollandite Quartz crystals are quite grounding, and the Hollandite mineral can help you to release negative energy that you may have accumulated within your auric field.
Their energy can be helpful to heal anyone who has been undergoing radiation treatment, as they aid the body to process radiation and high vibration energy entering the body's energy field.
While jewelry made from Hollandite Quartz is not common, you can get macrame pouches that work well to hold different shaped crystals, and these are now more commonly available from many crystal suppliers.
Alternatively you can simply put a small piece in your pocket, as the main thing is to keep it within your auric field. At night you may like to place a piece of this crystal under your pillow.
This may include helping you to develop psychic visions or what is known as clairvoyance, and they may aid the development of psychic hearing also known as clairaudience.
"If you are facing in the right direction, all you have to do is keep on walking." Buddhist saying.

---
---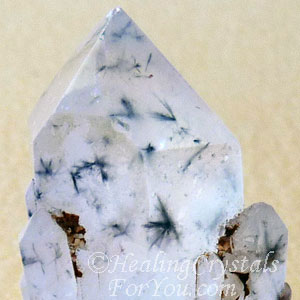 Hollandite Quartz
When you buy a new stone or crystal, it is advantageous to use it on its own first. Once you are fully aware of its energy, you may choose to combine it with other stones.
Combine stones for short periods to begin with, as individuals may react differently. Knowing how you can combine various stones may be helpful, as this allows you to get the most from your crystals, and may help you to solve specific problems in your life.

Looking For Information About A Specific Crystal?
Did you know you can find out more about any crystal or topic that is written about on this site, simply by using the Google Search box below?