Using Selenite For Healing

Powerful Healing Method
Written By Liz Oakes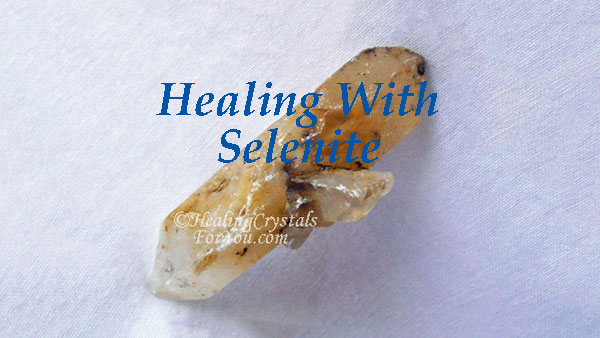 Natural Golden Selenite Wand
Using Selenite for healing is simple, and quite easy to learn.
To get you started you simply need a piece of crystal shaped like a wand as any wand-shaped piece of this crystal will work.
Once you have bought your wand you can start immediately, once you have cleansed and charged it. 
There is a simple way this can be done, which I will outline below.
Selenite crystals can be made into beautiful wands like the lovely one in the photos and they are wonderful healing tools. 
You can get wands that are made from the white Gypsum Selenite variety, which is known as satin spar.
You can also use a natural Golden Selenite wand, and these occur naturally in a perfect shape to use for healing.
Using Selenite For Healing
There are a couple of different types of Selenite wands that you can use for healing.
You can obtain naturally occurring wand shaped pieces of this crystal, as well as shaped Selenite light wands.
Selenite wands do have a different energy to quartz crystal wands and are used differently.

Check out the article on using crystal wands for general information on using wands for healing, including wands made from quartz crystal.
Charge Your Wand: Before you get started with a new wand and after each time you use it, it may be beneficial to place your piece of selenite in the sun for an hour or so.
The solar power of the sun helps to remove any negativity in the stone that may be deposited there during a healing.
Selenite is said to not hold negativity, but I like to do this anyway. This is a quick way to recharge its energy.

Just make sure you don't leave it in an area where it may be rained on, as Selenite should never be cleansed with water.
Read more about cleansing your crystals here.
Wonder How To Use Selenite Light Wands?
These lovely stones are very beautiful, and look quite different to the translucent variety, which is often called Optical Selenite.
Satin spar Selenite may have vertical lines running down the length of the stone.
This is usually in the direction of the point of the wand. Crystals shaped like this may be referred to as light wands, as these wands are quite reflective of light.

They make marvelous healing tools, as they will channel energy through them, and this energy can be directed by the healer.
Want to learn about using Selenite wands for healing?
When you hold a piece of this stone in your hand, particularly a wand shaped piece, you should be able to quite quickly feel the energy within it.

How Do You Use Selenite Wands For Healing?

So how do you use them for healing, you may wonder? 
If you have a wand shaped piece of this stone, you can gently squeeze it to activate it.

Then hold it to any area of the body where you feel you might need help.

A healer, or anyone who wishes to use them for healing, can also use them to sense where the health problem is located in the body.

This is useful if you are unsure of exactly where in the body the problem originates. 

The way that you discover where the problem might be, is by gently squeezing the wand and moving it. 

When you recognize that you are feeling a change in the energy flow, this tells you that the energy in this area is not flowing as it should be.

The healer, or anyone using it for this purpose, would also activate the wand to use it for healing, by gently squeezing it.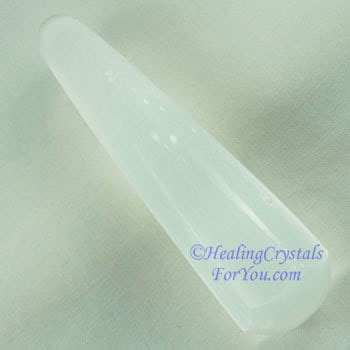 Selenite Light Wand
You then point the wand towards the specific problem area that you have become aware of, when you previously used it to locate the health issue.
Hold it in the position you have identified until the energy once again changes, and you know you have assisted healing of that issue.
Then move on to other areas that you feel may need attention.
Using Selenite For Healing: 

How Will It Help You?

The vibration of these wands is also powerful to assist spiritual healing.

Once they are activated they will cleanse the etheric field of the body of any negativity, and this may also boost your spiritual growth.

Using selenite for healing will work regardless of the shape it occurs in. Short pieces of Selenite can also be utilized if they are all you have.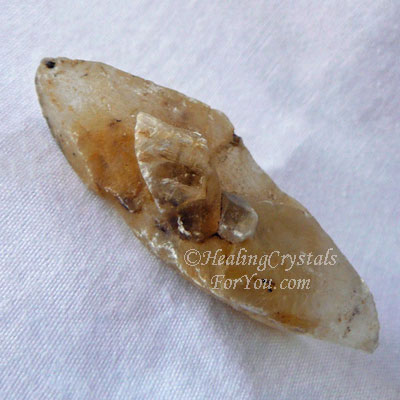 Natural Golden Selenite Wand
The vibration of these high vibration crystals often sets in train the birth of the psychic power of mental telepathy.
This may be helpful for healers, to aid them to discover what a client may be needing help with.
They may also just generally aid you in your life to boost communication with that special someone.
Checkout the page about the properties of Selenite Crystals to learn more about how it will help you.
Using Selenite For Healing: 

Natural Golden Selenite


The natural selenite, seen in the image occurs both as wand shaped pieces and the lovely quite unusual configurations shown.

The main thing about using Selenite for healing is that the type of wand you choose to use, must be able to fit comfortably into your hand.

This means smaller slim pieces are most effective for this purpose.

Whether they are labeled as wands or not, they will work as long as they are a shape that fits into your hand.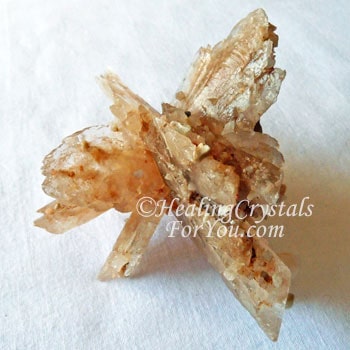 Natural Golden Ray Selenite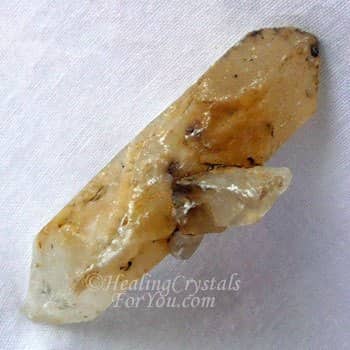 Natural Golden Selenite Wand
High Vibration Crystals & Stones
Using Selenite For Healing
Looking for information on something, maybe a specific crystal?

Go To Healing Crystals For You Site Map to see list of site pages.
To See The A-Z of Crystals Minerals and Stones Click Here
---
Note: When you use the vibration of crystals to help and support your healing remember that crystals are part of an holistic approach to your health.
Metaphysical healing uses universal energy so does not stand alone and can be used with any other type of healing. 
Using the energy of crystals for healing yourself is about finding a way to enhance conventional medicine not replace it. So always seek out medical treatment for any worrying health issue.
---
Thank You! I Appreciate Your Visiting My Site!
In my articles I may recommend various items that I use and love or that I feel are of value to my readers, and I earn a commission for purchases made through links on this page. 
FTC Disclosure:  If you make a purchase via a link on this site, I may receive a small commission on the transaction: at no added cost to you. Thank you!  Read My Affiliate Disclosure Here
---
Don't Know Which Book About Crystals To Buy?
Please Read Copyright And Disclaimer Notice
For: https://www.healing-crystals-for-you.com/
Any information that may be found anywhere on this site is not presented as a substitute, nor intended to be a substitute for medical advice, treatment or diagnosis.
Never disregard advice from your medical professional or delay seeking medical advice because of anything you may have read on Healing-Crystals-For-You.com.