You Could Share Your Story!

About Your High Vibration Crystals! Have You A Story?
This is your place to share your stories... about how high vibration crystals have helped you. This page was created so you can share your stories on your high energy crystals.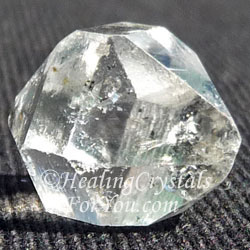 Herkimer Diamond
Have you a special crystal you use, that has made a difference in your life?
You've read my stories about how I use the high energy stones. Would you like to share how you use high crystal energy stones?
---
Healing-Crystals-For-You.com is reader-supported. When you buy through links on my site, I may earn an affiliate commission. Click to learn more.

Have You Used High Vibration Stones?
I would love to hear about how you've used your special crystals... that embody high vibration, strong crystal energy.
Have you some information on using them that hasn't been covered here... that you just know other people would like to hear?

Have you an interesting crystal photo like this one of Golden Herderite?
You could share your picture of your special stone. Would you like to share the story behind a special photo of a stone that made a difference in your life?
Note: You can upload pictures along with your story. HOWEVER... only original photos that you have permission to use and share will be published.
Please do not copy images from other sites without the permission of the owner, and no links to other sites, as they won't be published.
Also note if you are just asking a short question, this is not a story and it also will not be published. This also applies to very short stories, so if yours does not go up its because its not long enough.
Share Your Story Here!
This is the place for anyone who loves crystals as much as I do... to share their stores with others. And maybe you'll help someone by telling us all: why do you use your special stone?
I am looking forward to hearing your Top Crystal Stories! Thank you in advance for sharing!
What Is Your Favorite High Vibration Crystal?
How do you use high crystal energy stones? Share your favorite story or tip about how you use your high vibration crystals!
Your Stories and Tips About High Vibration Crystals
Click on links below to see great crystal stories. These were from other visitors to this page.
---
 Want to join my regular newsletter? It's easy.

Simply click on the banner that comes across the screen!
---
Looking for information about a specific crystal?

To See The A-Z of Crystals Minerals and Stones Click Here
If are looking for crystals for a specific purpose, there is an area you may like to check out here, Healing Crystal Uses. It lists individual articles about stones to use for a particular reason.
---
Note: When you use the vibration of crystals to help and support your healing remember that crystals are part of an holistic approach to your health.
Metaphysical healing uses universal energy so does not stand alone and can be used with any other type of healing. 
Using the energy of crystals for healing yourself is about finding a way to enhance conventional medicine not replace it. So always seek out medical treatment for any worrying health issue.
---
---
Don't Know Which Book About Crystals To Buy?
Read reviews of best crystal books here
---
Thank You! I Appreciate Your Visiting My Site!
In my articles I may recommend various items that I use and love or that I feel are of value to my readers, and I earn a commission for purchases made through links on this page. 
FTC Disclosure:  If you make a purchase via a link on this site, I may receive a small commission on the transaction: at no added cost to you. Thank you!
Read My Affiliate Disclosure Here

Please Read Copyright And Disclaimer Notice
For: https://www.healing-crystals-for-you.com/
Any information that may be found anywhere on this site is not presented as a substitute, nor intended to be a substitute for medical advice, treatment or diagnosis.
Never disregard advice from your medical professional or delay seeking medical advice because of anything you may have read on Healing-Crystals-For-You.com.