Kyanite Stones

Learn About Benefits Of Specific Colors

➤ Written By Liz Oakes
Kyanite stone commonly comes in a range of colors, with some more easy to obtain than others.
Regardless of the color, all colors of this stone have a strong level of crystal energy embodied within them.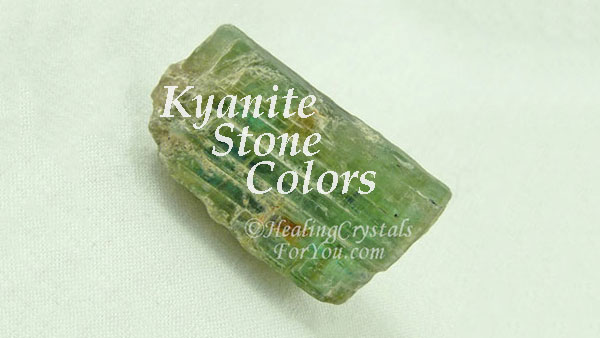 The blue crystals are the most common, but it also comes in other colors, and there are a number of beautiful shades which you can read about here.
Please note that all colors are powerful to align your chakras, and each of the colors work at all chakras.
Their energy can be even more effective when they are used within specific chakras that relate to the individual color of the stone.
This article covers colors of Kyanite apart from the blue stones which have their own dedicated page, as the blue colored stone is the most common of the colors that it comes in.

To make it easier each color has its own section below, and these sections cover attributes that are specific to the color of the stone.

Healing-Crystals-For-You.com is reader-supported. When you buy through links on my site, I may earn an affiliate commission. Click to learn more.

Learn More About The Various Colors of Kyanite Stone

All colors of Kyanite are high vibration crystals and are powerful stones to align the chakras
They are highly beneficial to use in meditation as they will help you in a number of ways. 
They calm the mind and allow you to go deep into the restful and relaxing state required for a totally peaceful meditative experience.
All colors of this stone have particular chakras that they are most effective to heal, but you can use any color to help any issue, as they all are powerful healing crystals with a high vibration.
Each color of this stone has specific chakras that it works best with, but all varieties will be effective to heal the body overall.
In the past some colors were not easy to obtain but specialist suppliers are now able to supply a good range of different colors of kyanite in both raw stone and jewelry.
Buy Kyanite at Exquisite Crystals, who sell high quality crystals.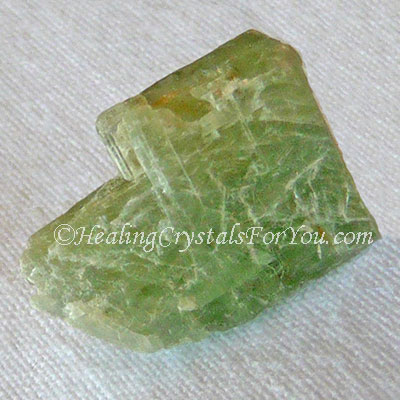 Green Kyanite
Chakra alignment with this stone is easy, and should to be done regularly, as issues may occur that you had not noticed and these can cause you health problems.

Although the various colors have similar properties there are some differences in their use and each color has an individual section below, explaining its metaphysical and healing properties.
Quick Links To Each Color Of Kyanite Is Below Each Picture

There are quite a few colors that this stone comes in, and the less common ones are now very popular.
The blue stone is very common but the others are now seen in most crystal shops.
The shades that Kyanite stone most often occurs in includes the blue, but it is also found in other colors.
Kyanite may be orange, green, indigo and black, but there are also some rare white, yellow, pink and grey stones.
Green Kyanite
Green Kyanite is a lovely heart chakra stone that will bring you into harmony with nature and the world in which you live. 
It brings balance and stability to your life. It works well in combination with Indigo Kyanite.
Used together it will aid you to be more stable when you begin to assimilate any psychic abilities opened by the Indigo Kyanite.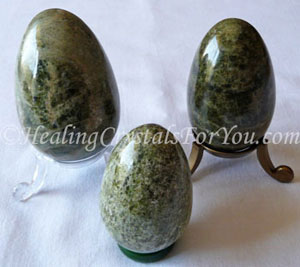 Green Kyanite Eggs
It allows you to flow with the forces of life as you are doing spiritual work that may be impacting you strongly.
They have a good energy at both the heart chakra and within the higher heart. Within the higher heart they help to stimulate feelings of forgiveness and compassion.
Green Kyanite has the ability to aid you in making contact with the elemental beings who live close to your home, and to remain stable within the hearts energy.  
There are some unusual green stones that are a mix of blue and green and you can see one of them below, a Green Kyanite stone that has a Blue Kyanite central core.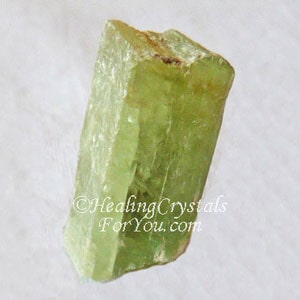 Light Green Kyanite
Using Green Kyanite With Other Stones
As mentioned above, these are helpful stones to use if you wish to attract elemental beings into your surroundings.
There are a number of other stones that will also help you to make contact with nature spirits including Staurolite also known as Fairy Stones, Fuchsite, Prasiolite or Moss Agate.
The green crystals are also known as quite powerful higher heart chakra stones, that also works well within the throat chakra.
The integration of the energy in these two areas is powerful to assist you to give voice to deeper loving feelings.

The higher heart is most well known for its action to stimulate an increase in forgiveness and compassion, and to boost your ability to speak the truth.
It can be highly beneficial to combine Green Kyanite with other higher heart chakra crystals, including with Grandidierite, Mangano Calcite, Green Calcite or Lepidocrocite.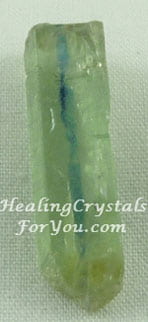 Green & Blue Kyanite
Indigo Kyanite & Teal Kyanite Stone



Indigo Kyanite emanates energies that stimulate the pineal gland, which is located within the third eye chakra.
While it works within all of the higher chakras, as it has a higher vibration, its energy has a potent action within the third eye.
It also has a good action to assist you to persevere when you need to, especially when you are finding life is getting difficult and you feel you need help to keep going.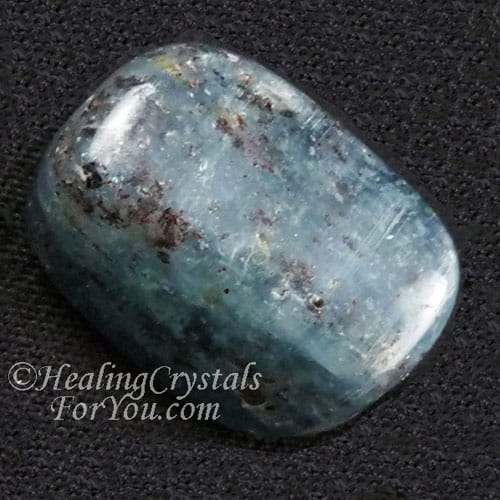 Indigo Kyanite
Its resonance within this chakra may encourage the birth of a number of psychic gifts, including clairvoyance, clairaudience and mental telepathy.
The energy of Teal Kyanite has a similar energy to the Indigo crystals and will also stimulate the higher chakras, including the crown chakra and soul star chakra, which are located above the third eye.

Both Teal and Indigo Kyanite have a strong third eye energy, and both will help to open you to spiritual honesty, and may help spiritual energy to flow through to your thoughts.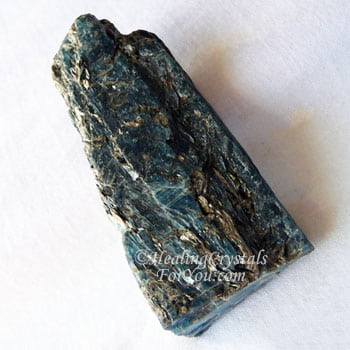 Teal Kyanite
Within the higher chakras it may assist you with the development of psychic abilities. This may activate dormant psychic abilities, and stimulate lucid dreams and even astral travel.
This stone may inspire loyalty and fair treatment of other people. The beautiful Teal Kyanite stone also helps to stimulate the birth of various psychic gifts.

Indigo Kyanite
Using Teal & Indigo Kyanite With Other Stones
It may be advantageous to use either Teal or Indigo Kyanite with other stones that have a powerful energy at the crown or soul star chakra.
The soul star chakra is not talked about as much as many of the lower chakras, but soul star chakra stones are potent aids to initiate enlightenment and quite stunning levels of spiritual growth.
Stones that are very effective combined with this crystal includes Selenite, Libyan Desert Glass also called Libyan Gold Tektite, Apophyllite or Nirvana Quartz which is also called Lemurian Scalar Quartz.
If you have been finding it hard to carry on when life has got difficult, there are a number of other stones that you can combine with the Indigo crystals that may help you to persevere.
Stones such as Labradorite, Pollucite, Nuummite and Ilvaite may assist you to carry on when needed.

Orange Kyanite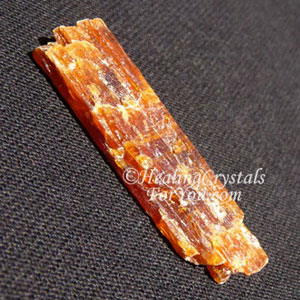 Orange Kyanite Stone
Orange Kyanite works with the sacral or navel chakra, and is a powerful tool for clearing dysfunctional energies within the sexual organs.
It is a stone that has the potential to intensify and enhance your creativity, as the navel chakra is the area where creativity is based.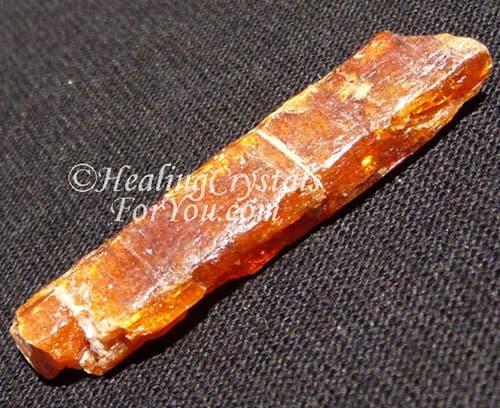 Orange Kyanite
Using this powerful orange stone within this area has a strong ability to help to bring through new talents and abilities, and may stimulate artistic and creative writing skills.
Using Orange Kyanite with Blue Kyanite, will link the heart chakra and the sacral chakra clearing the energy throughout both areas.

Using The Orange Crystals With Other Stones
Orange Kyanite may assist the growth of creativity and may assist those that are working on developing an aptitude for new creative gifts.
It can be beneficial to combine these orange stones with other crystals for developing creativity, as this can boost the growth of specific gifts that you'd like to develop.
There are a number of excellent stones to aid you to develop creativity in a general way.
This includes golden or orange sacral chakra crystals such as Orange Calcite, Sunstone, Stilbite or Orange Spessartine Garnet.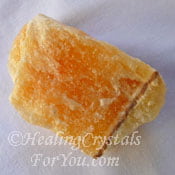 Orange Calcite
If your main aim is to particularly stimulate your artistic creative abilities you may like to combine the orange crystals with other stones that boost artistic gifts.
This includes Picasso Stone aka Picasso Marble, Powellite, Aurichalcite or Covellite.
Black Kyanite

Black Kyanite will bring all of the chakras into alignment and may also replenish the meridian system.
If you have suffered from any accidents in any specific area and there may have been damage done there, any color of Kyanite will heal the area by bridging the energy gaps.
These black crystals are both an earth star chakra stone and a base chakra stone and are excellent stones to aid you with spiritual grounding.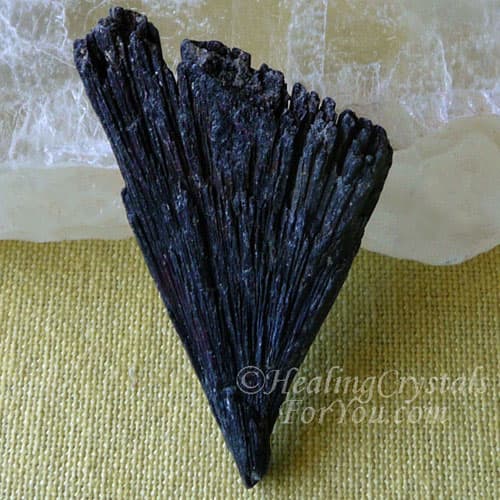 Fan Shaped Black Kyanite Stone
Black Kyanite is a grounding stone and has a strong base chakra and earth star chakra energy.
It will clear negative energy within these chakras as well as stimulating the ongoing flow of energy throughout the entire chakra system.
Its energy also has a beneficial action to assist you to sever karmic ties that connect you to others.
These ties can make it difficult to let go of other people that you have had a relationship with in a past life.

Buy Black Kyanite from Exquisite Crystals, my most trusted seller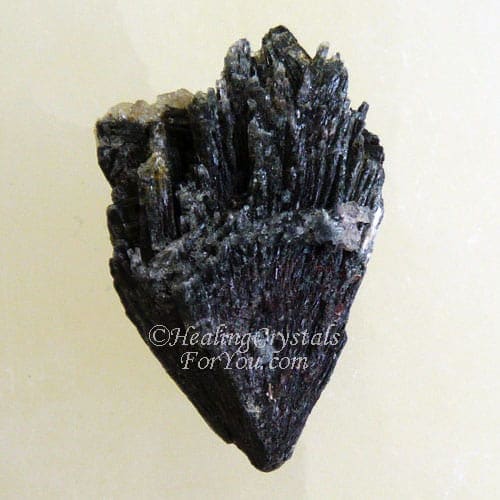 Fan Shaped Black Kyanite Stone
Black Kyanite will harmonize well other colors of Kyanite stone including both the blue and other colored varieties, as they all harmonize well with each other.
They all have the power to magnify each others energy.
Using The Black Variety With Other Stones
Black Kyanite has a strong grounding energy and may assist you to make a deeper connection back to the earth after using some of the high vibration stones that are liable to make you feel spaced out.
Use them with other strong grounding stones, including with Black Tourmaline, Black Diopside, Black Jade,  Black Spinel, Black Onyx or Hematite.
There are a large number of stones listed in the article about stones to use for grounding, and while many are black there are a number of other colored stones listed as well.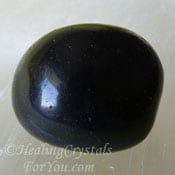 Black Onyx
The black variety of Kyanite also has a good action to assist you to sever karmic ties.
While this aspect is not talked about very often, if you feel that you may have problems related to a past life connection with someone, it can be helpful to use stones that aid you to let go of negative attachments.
There are a number of other quite powerful stones that can help you to cut karmic cords that link you with the soul aspect of others, including  Amblygonite, Novaculite, Tunellite or Black Obsidian.

Group of three Black Kyanite stones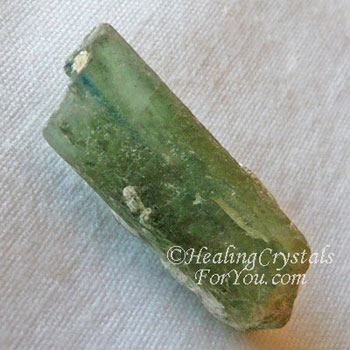 Green Kyanite With A Blue Stripe Within
High Vibration Crystals & Stones
---
Want to join my regular newsletter? It's easy.
Click on the banner that comes across the screen!
---
Looking for information about a specific crystal?

---
Note: When you use the vibration of crystals to help and support your healing remember that crystals are part of an holistic approach to your health.
Metaphysical healing uses universal energy so does not stand alone and can be used with any other type of healing. 
Using the energy of crystals for healing yourself is about finding a way to enhance conventional medicine not replace it. So always seek out medical treatment for any worrying health issue.
---
Don't Know Which Book About Crystals To Buy?
Read reviews of crystal books here
---
Thank You! I Appreciate Your Visiting My Site!
In my articles I may recommend various items that I use and love or that I feel are of value to my readers, and I earn a commission for purchases made through links on this page. 
FTC Disclosure:  If you make a purchase via a link on this site, I may receive a small commission on the transaction: at no added cost to you. Thank you!
Read My Affiliate Disclosure Here

Please Read Copyright And Disclaimer Notice
For: https://www.healing-crystals-for-you.com/
Any information that may be found anywhere on this site is not presented as a substitute, nor intended to be a substitute for medical advice, treatment or diagnosis.
Never disregard advice from your medical professional or delay seeking medical advice because of anything you may have read on Healing-Crystals-For-You.com.