Moldavite... 
Stimulates Change and Transformation!

Moldavite ring
Home > Crystal Energy > Moldavite
Part One > Part Two
Moldavite is certainly the stone to choose if you are on the spiritual path and you are looking for a high crystal energy stone to assist you.
Its high energy makes it a 'must have' for any who are on the spiritual path.
Often it is grouped with other stones of a high vibration and these combinations can be very powerful.
This high crystal energy stone can be a powerful catalyst for making changes in personal relationships. Once you begin the journey there will be no going back as Moldavite is a stone of transformation!
How To Use Moldavite... Why Would You Use It?
If you wear this crystal anywhere on your body, or hold a piece of this powerful transforming crystal in your hand during meditation, you may experience a more powerful and meaningful experience.
Meditation is known to be helpful to help relieve stress, and this may partly be because during successful meditation your brain waves slow.
Throughout normal day to day activities your brain operates at what is called the beta state. During meditation the brain waves change from the beta wave, to the slower alpha wave.
Two special areas of the brain, the Amygdala and the Anterior Cingulate Cortex are said to be connected with developing any psychic abilities. As you go deeper into the meditative state, you may discover that psychic abilities amplify, and you may find a sense of deep peace.

Read About Isochronic Tones, as using them encourages these areas of the brain to entrain with the new rhythms that are introduced. Using this green crystal in combination with isochronic tones is helpful as it is a high crystal energy stone.

 How Will It Help You?
Meditation is an excellent idea for everyone to do every day. In particular if you wish to discover how to be psychic, meditation is a one of the ways that you can start on this path.
During meditation it may be used on its own or with other crystals as it will also raise the vibration of other stones that it is combined with. This will make the overall result much stronger.
It may stimulate kundalini arousal, and another common outcome from its use is to help you to make contact with your spirit guides, as it is a powerful stone to enhance any of your psychic gifts.

Moldavite is here to assist us in our spiritual healing journey, at this time of extraordinary earth changes. It is incumbent upon us to make the best use of it if we want to participate in the amazing spiritual transformations that may be coming soon.

On many pages of this site you will see references to this green crystal. Many crystals will benefit you if you also use this stone with them.
This is the reason that wearing jewelry made from Moldavite is so beneficial, as it makes it easy to know that everything that you work with, will work at its best.
Your intuition may develop or psychic abilities may either come to life for the first time, or you may find the abilities you have may expand or change.  Whatever stone you choose to combine with it, the combination with this stone will take the other stones energy up a notch.
Crystal Books You May Enjoy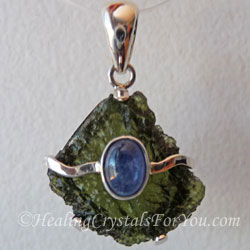 Moldavite and Blue Kyanite Pendant
There are a large number of excellent crystal books now available with some of the authors having been in the crystal industry for many years.
You can now get a number of excellent books that are good to have on hand for reference purposes.
If you wish to read reviews of my favorite Crystal Books Click Here.
One of the first people to write about Moldavite was Robert Simmons and he has written a number of books that may interest you. Check them out below...
Combining It With Other Stones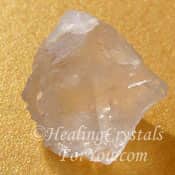 Nirvana Quartz
It is easy to buy pieces of this crystal, and there are many stones that are boosted by using them in combination with this green high vibration stone.  
Quite a few of the high crystal energy stones work very well when combined with this stone, and create quite positive results.
Blend it with any of the high vibration stones, as this is a powerful way to merge its potent energy.
To aid you to connect to the light, use it with Shamanite Black Calcite,  Nirvana Quartz, Hollandite Quartz, Stellar Beam Calcite, Cryolite, Herkimer Diamonds and/or Brookite, as these stones create a powerful combination.
Combined with Amethyst Crystals, your meditation will be an even more powerful experience.
The combination of this stone used with Cerussite, Libyan Gold Tektite, aka Libyan Desert Glass, Aurora Quartz, Lithium Quartz,  or Phosphosiderite is very powerful to create a more powerful level of spiritual transformation.
If you use it with Tourmilated Quartz this will aid the level of psychic protection offered by the Tourmilated Quartz, and this is the case with combining it with many other stones. 
Use it with Zircon Crystals to increase the pace of your spiritual transformation, with Diaspore to handle the changes initiated by Moldavite more easily, and with Pietersite to give you deeper spiritual insights.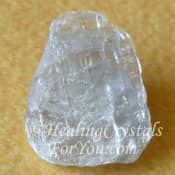 Diaspore Crystal
For healing use it with Seraphinite, as its a lovely combination. If you find that using this green crystal is too much for you, combining it with either Larimar, Rhodonite or Staurolite may help you to deal better with the energy, as these stones will help to smooth its action.

Pictures of Jewelry Made From This Stone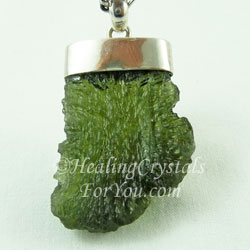 ---
---
When you buy a new stone or crystal, it is advantageous to use it on its own first. Once you are fully aware of its energy, you may choose to combine it with other stones.
Combine stones for short periods to begin with, as individuals may react differently. Knowing how you can combine various stones may be helpful, as this allows you to get the most from your crystals, and may help you to solve specific problems in your life.

Looking For Information About A Specific Crystal?
Did you know you can find out more about any crystal or topic that is written about on this site, simply by using the Google Search box below?