Blue Lace Agate... 
Helps Communication - Soothing Nurturing Energy
Blue Lace Agate
Home > Crystal Properties - B > Blue Lace Agate
Part Two > Part One
Blue Lace Agate will boost your ability to communicate, especially the thoughts and feelings that you receive from your higher self.
It is an excellent emotional healing stone, with strong metaphysical properties.
Its energy resonates within the throat chakra bringing a lovely sense of tranquility, as it alleviates anger and nervous tension.

It is a soothing and nurturing stone, that will bring you calmness and peace of mind. It is an excellent stone for you if you need to boost your ability to express yourself, when you sense that it is required.
Where Is It From? Blue Lace Agate Meaning
This blue crystal has been found in South Africa and Romania. It is a type of blue Chalcedony, that is easy to buy and is available in most crystal retailers. 
The meaning of its name relates to the very attractive lacy bands of either white, grey or darker blue colored lines, which run through the pale blue stone.
The picture on the right is an example of the raw natural stone. In the image above you can see the layers of the stone, and this is how it naturally occurs.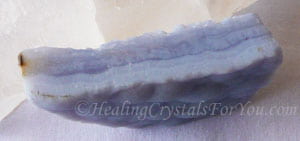 Natural Blue Lace Agate
It has a bubbly look to the stones' surface, and these stones may also have tiny sparkling druzy crystals.
The average stone is simply the lovely pieces that you can readily find selling as tumblestones, and as crystal jewelry. This is a good stone to hold in your hand while you are doing a daily crystal meditation. 

Wearing Blue Lace Agate
When using this stone, your ability to manage all varieties of communication is strongly improved, including communication psychically.
Through its capacity to aid you to make contact with spirit, it assists you to communicate with your spirit guide.
Blue Lace Agate & Natural Pearl Beaded Necklace
It also aids you to make contact with other beings within the spiritual realm, and aids you to contact the angels. This lovely blue crystal has an ability to facilitate smooth communication on all levels.
It may help you to get answers to your questions from your guides, regarding specific information you desire to find out from them.
It is reasonably easy to buy jewelry made from this stone, as they are on the list of birthstones for specific zodiac signs. This is an excellent stone to wear at the throat, as it is a strong stone for spiritual communication.
By wearing a pendant round your neck, in a position that keeps the stone close to, or within the throat chakra area, this is highly useful to aid your communication abilities. 
They are both a Pisces birthstone,  and it is possible to buy lovely Blue Lace Agate jewelry, including Blue Agate rings and pendants.
How Will It Help You?
Blue Lace Agate is lovely soothing stone to wear on the body, or to simply hold in your hand during meditation.
Tumblestones can simply be put in your pocket, so you can keep their vibration within your aura.

If you have found in the past that you have the propensity to speak without thinking, or find it hard to stop talking, this stone will calm your communications.
Its energy also resonates strongly within the heart chakra, and this resonance changes your communications to embody your heart's desires.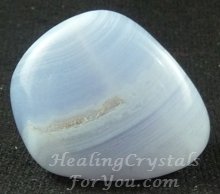 Blue Lace Agate
Blue Lace Agate is one of the more powerful healing stones for those whose spiritual development method is speaking affirmations, or if you are doing EFT tapping.
It is a lovely stone to ease any sense of agitation or upsets you may be feeling. It may assist you to heal old unresolved issues.
Its quiet calming energy is a stone for anyone who wants to allow their vibration to lift, while elevating their communication abilities.
When using it during meditation, it will first clear the throat chakra, then connect to the third eye. The energy will then continue to move up through the crown chakra to help you to make a connection to your higher self and the spirit world.
By this ability to tap into the vibration of the heart, it smooths the flow of pure positive feelings, and it is very effective to aid emotional healing.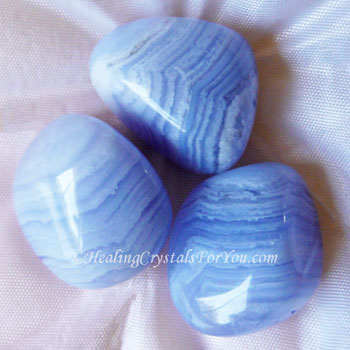 Blue Lace Agate Stones
When you buy a new stone or crystal, it is advantageous to use it on its own first. Once you are fully aware of its energy, you may choose to combine it with other stones.
Combine stones for short periods to begin with, as individuals may react differently. Knowing how you can combine various stones may be helpful, as this allows you to get the most from your crystals, and may help you to solve specific problems in your life.

Looking For Information About A Specific Crystal?
Did you know you can find out more about any crystal or topic that is written about on this site, simply by using the Google Search box below?