Bixbite 

Boosts Energy, Improves Confidence

Bixbite may be beneficial to help you to recover from a long illness as its energy may help you to feel more energized. Also improves your confidence!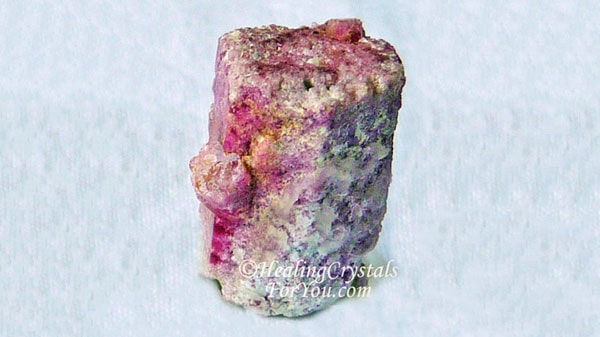 It has a vibration that is quite powerful, as it brings together the heart chakra energy with that of the base chakra.
It has crystal properties that may assist you to release stress and help you to have improved self esteem.

It may be especially helpful if you have manifested your illness because you do not sufficiently love yourself.
Holding it can bring through memories of the issues that have caused your illness, and this may enable you to free yourself of the reason for many of the problems in your life.
---
Healing-Crystals-For-You.com is reader-supported. When you buy through links on my site, I may earn an affiliate commission. Click Here to learn more.

---
Also called Red Beryl: Where Is
Bixbite

From?

Bixbite is very rare. This is the name for the raspberry red variety of Beryl stone and in some places it is known as Red Emerald.

The piece shown here is of course not gem quality stone and has only a small piece of bright red stone in the center.

The red color in Red Beryl comes from the presence of the mineral manganese.

Gem quality stones form as gorgeous transparent or translucent hexagonal shaped crystals with an occasional piece having striations on the side.
Bixbite
While Red Beryl has been previously found in other locations it now only comes from Utah in the United States. Gem quality stone is now very expensive to buy due to its rarity.
Why Would You Use A 
Bixbite Crystal

? How To Use It

Using a Bixbite crystal is said to open and energize the base or root chakra.

This energy boost within the root chakra can stimulate the commencement of the arousal of the kundalini.

These red crystals have a lovely heart based energy which brings through feelings of unconditional love and respect, and may help to boost confidence and self esteem.
These stones are said to help those who are in co-dependent relationships.
They are known for their action to help your love life, as they stimulate a greater depth of intimacy in close personal relationships via their strong vibration within the base chakra.
The darker Red Beryl may also assist you in a number of other ways.
It is known to have some useful healing attributes, including helping health issues relates to the heart, the lungs and the digestion.
These stones may assist with the release of stress and they may are helpful if you are tired or weary, as they can aid you to feel more energized.
Bixbite is also called Red Beryl
These stones may stimulate a love of self, and this may be particularly important if you have an illness that you have had for a long time, that you self manifested from lack of love for yourself.

Best Crystals To Use With Bixbite Crystals
What are the best crystals to combine with Bixbite?

This stone is one of the less well known stones to aid the raising of the kundalini. Please read more about this process before going ahead and doing it.
My article on kundalini awakening will give you more information but there is quite a lot written about this subject elsewhere.

Some of the stones that stimulate the raising of the kundalini includes Almandine Garnet, Astrophyllite, Jet Stone or Snakeskin Agate as well as Serpentine.
See list on above page.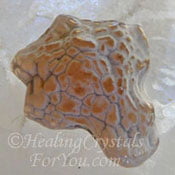 Snakeskin Agate
All of the members of the Beryl family work well in combination with each other.
The main members of the Beryl family are Green Emerald, Pink Morganite, Heliodor, Aquamarine and Goshenite, the Clear Beryl.

These stones have a good action to help you to feel more energized.
There are also a few other stones that have similar attributes that you may choose to use with them to boost your energy.

Specific stones that can help you includes Tigers Eye, Carnelian, Vanadinite, Zircon or Sunstone.

This stone has a good action to assist you to deal with stress or anxiety.
If you wish to strengthen the energy by adding in other stones that help stress, there are a number that might be good choices to use with it.
Some of my favorites include Lilac Lepidolite, Lithium Quartz, Eucryptite and Amblygonite as they all contain Lithium.
There are a number of other crystals that also work well to ease stress and anxiety such as White Scolecite, Aquamarine, Amazonite, Blue Chalcedony  and Kunzite.
You may choose to take a look at my article on ways to relieve stress as there are quite a few other stones listed on this page, as well as other methods to alleviate stress.
If you are having difficulty from a lack of confidence and have low self esteem there are quite a few crystals that may be beneficial.
Use this crystal with stones such as Morganite, Ocean Jasper, Bumble Bee Jasper, Hematite, Rhodonite or Yellow Aventurine.
---
---
Want to join my regular newsletter? It's easy.
Click on the banner that comes across the screen!
---
Looking for information about a specific crystal?

To See The A-Z of Crystals Minerals and Stones Click Here
---
Note: When you use the vibration of crystals to help and support your healing remember that crystals are part of an holistic approach to your health.
Metaphysical healing uses universal energy so does not stand alone and can be used with any other type of healing. 
Using the energy of crystals for healing yourself is about finding a way to enhance conventional medicine not replace it. So always seek out medical treatment for any worrying health issue.
---
Thank You! I Appreciate Your Visiting My Site!
In my articles I may recommend various items that I use and love or that I feel are of value to my readers, and I earn a commission for purchases made through links on this page. 
FTC Disclosure:  If you make a purchase via a link on this site, I may receive a small commission on the transaction: at no added cost to you. Thank you!
Read My Affiliate Disclosure Here

---
Please Read Copyright And Disclaimer Notice
For: https://www.healing-crystals-for-you.com/
Any information that may be found anywhere on this site is not presented as a substitute, nor intended to be a substitute for medical advice, treatment or diagnosis.
Never disregard advice from your medical professional or delay seeking medical advice because of anything you may have read on Healing-Crystals-For-You.com.