Blue Topaz Stone
Helps Writers Block!
➤ By Liz Oakes
Blue Topaz stones will heighten your ability to communicate better. 
It aids you to express yourself in a meaningful way, both when speaking or when writing.
This is a helpful stone if you have been having difficulties with public speaking. 
It may also assist you to think better and to concentrate on the task undertaken and will also help you to decide what type of employment you wish to be in.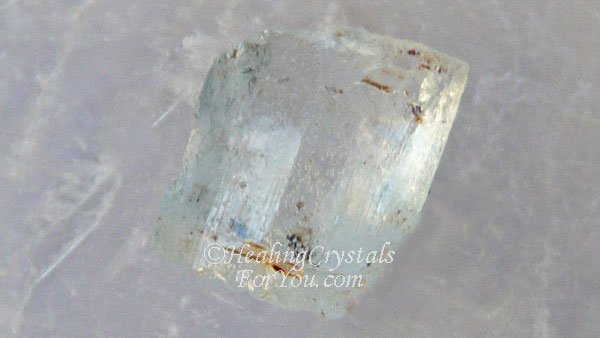 It aids you to discuss your life path with those dearest to you, as it helps you to clearly express your hopes and wishes.

It has a vibration that allows you to make clearer and more specific decisions about the direction you wish to take your life.
---
Healing-Crystals-For-You.com is reader-supported. When you buy through links on my site, I may earn an affiliate commission. Click Here to learn more.

---
Crystal Tip: Blue Topaz will assist writers who have writers block as its energy to boost both spoken and written communication is a powerful aid.
It will help you to speak clearly and to communicate what comes through from spirit, in a manner that others can clearly understand.
Where Is Blue Topaz From?
This blue variety of Topaz is a stone that is often used in jewelry, as the Blue Topaz gemstones are so lovely to look at.
Topaz comes from a range of different places, including India, Pakistan, Sri Lanka, South Africa, Japan, Australia, Mexico and the United States.
The Topaz color may be blue but Topaz stones of other colors can be obtained, including the yellow or Golden Topaz, as well as purple, pink and white colored stones.
It may or may not be natural, as it is possible to create Blue Topaz by heating or irradiating the clear or what is called Silver or White Topaz stones.
These blue stones are quite beautiful, and their strong metaphysical properties make them excellent healing crystals to wear as jewelry.
Why Would You Use This Crystal?
These crystals may heighten the abilities of writers, and aid you to clearly express your thoughts and are also excellent to assist you to enhance your creativity.
By keeping this stone on you when you are doing your daily journal writing, you may find your creative expression improves dramatically.
These blue crystals are known to enable you to do the highest and best at everything you do. This includes expressing yourself in writing, and this is a strong spiritual concept.
Buy genuine Topaz at Exquisite Crystals, my most reliable crystal seller.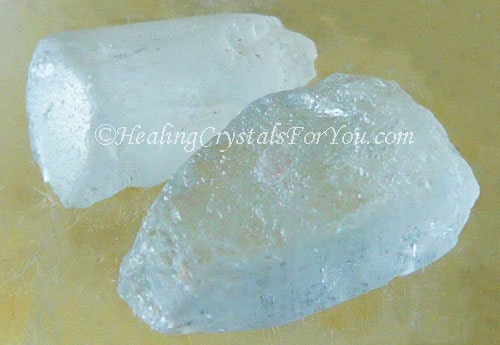 More reasons why you might use Blue Topaz includes:
These stones will enhance your ability to take in psychic knowledge that is communicated to you from spirit and may aid spiritual healing and growth.
Their third eye vibration also enhances the development of psychic abilities. 

May Be Called The Writers Stone: Helps Writers Block
Blue Topaz stones aid spiritual communication, help writer's block, inspired creativity & enhanced public speaking.
These strong psychic communication stones aid the expansion of many psychic powers. It is an excellent stone for writers, especially if you have writer's block, as it may inspire creativity.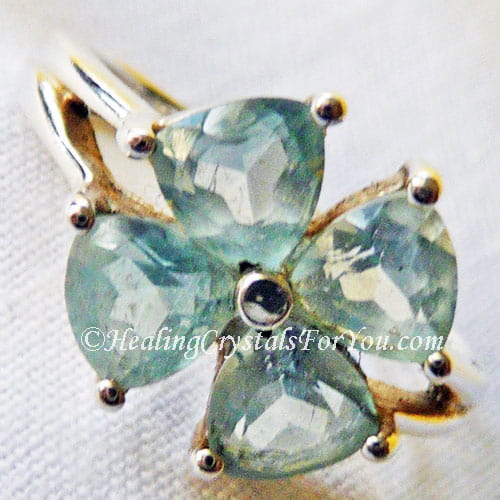 Blue Topaz Gemstone Ring
The vibration of this blue stone within the throat chakra can be clearly recognized by most people.
It is known as a strong stone to help you to improve the way you express yourself.
Blue Topaz Stones also work through the third eye chakra, to aid your mental abilities.
They may bestow an elevation in your ability to think and to clearly express yourself when doing mental or brain based activities.
This stone will aid you if you are a psychic reader, a tarot reader or work in any type of psychic employment where you need to communicate what comes through to you from spirit.
They have a vibration that will unite your mind, body and spirit, and this may help you if you have a fear of public speaking.
They are known to be beneficial crystals for decision making, as their energy brings clarity when you need to decide the direction in which to take your life.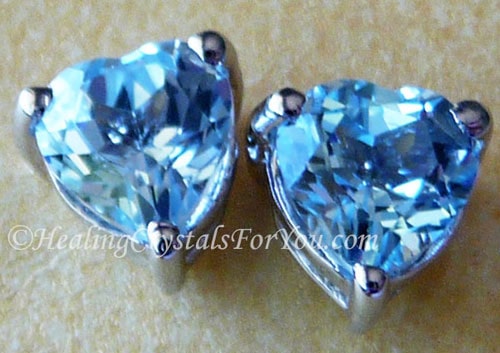 Blue Topaz Gemstone Earrings
These stones are also said to aid you to heal if you have a physical defect that restricts your ability to speak clearly.
This stone has a distinct energy for strengthening psychic gifts, and will aid you to amplify gifts you already possess. 
It is also a strong psychic communication stone, that will aid the expansion of a range of psychic powers.
How To Use It: Wearing Blue Topaz
They are both a Virgo and a Sagittarius birthstone. These stones make beautiful jewelry, and Blue Topaz gemstones are widely found made into lovely pieces.
Using Blue Topaz jewelry is one of the best ways that this may be achieved.
They have a strong vibration, so as long as they are within your auric field they will work to aid you to retain good health.
These stones are on the birthstone list by month, as they are a December birthstone. They are helpful to wear to boost communication and a range of other abilities.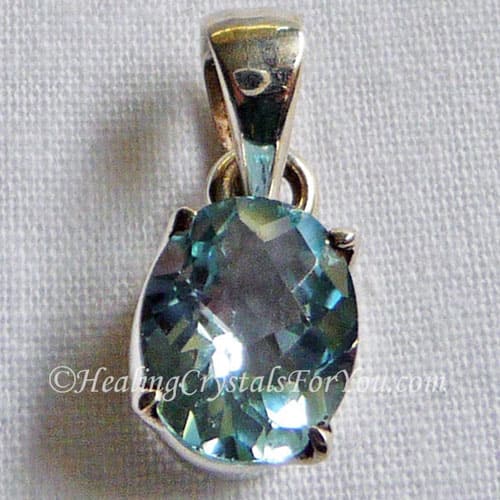 Blue Topaz Pendant
Wearing a lovely Blue Topaz pendant at the throat, or a pair of Blue Topaz earrings, will resonate within both the throat and third eye chakras.
It is known to aid you to speak clearly, and this effects both the physical speech mechanism and the words that you create mentally.
They are on the zodiac birthstones list, and this makes them popular stones to use in a range of different ways.

The best and most desirable way to utilize the strong metaphysical properties of these blue crystals is to wear them within the throat chakra or third eye chakra.
Who Should Use It? How Will It Help You?

Blue Topaz Stones may be used by crystal healers in body layouts, as it has strong healing attributes.
These crystals have excellent healing qualities that aid the restoration of the physical body. These stones will heighten your ability to communicate better.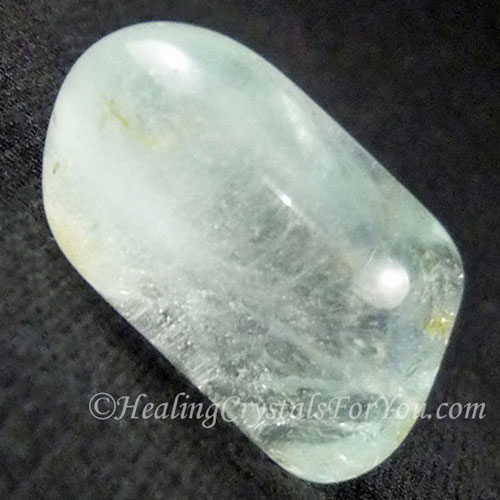 There are a number of ways that this blue stone will help you including:
They aid you to

express yourself in a meaningful way when speaking, or when writing.

They are highly useful stones for writers to use, especially if you have writers block or need to boost your inspiration 

They will help spiritual healing and heighten your creativity.
If you need to be able to speak publicly with ease, this is a desirable stone to use as it aids you when you have been having problems with facing the public.
This stone may also assist you to think more clearly and to concentrate on the task undertaken, and not be distracted by having to face and address strangers.
For alleviating problems within the throat chakra, these blue stones will moderate an over-active throat chakra.
They will aid the recovery of sore throats, and help the overall health of the neck and throat area.
Crystal Books
There are now quite a lot of helpful crystal books for sale and some of the authors have been in the crystal industry for quite some years.
You can now get a lot of excellent books that are good to have on hand for reference purposes, so how do you choose the best one for you?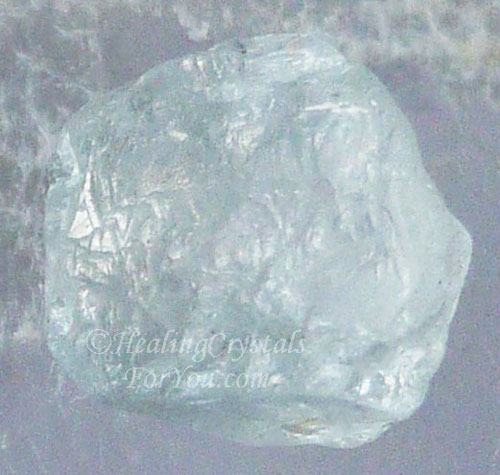 Whether you are new to crystals and just want a basic simple guide or have been using stones for years, its still hard to know what they are like.
This challenge is why I wrote about various books, on my crystal book review page. So take a look and you may discover some books you hadn't heard of.
And if you are new to using stones, right at the top of the page I have reviewed some of the less in-depth and easy to understand books.
So Click Here to read reviews of my favorite Crystal Books.
Best Crystals To Use With Blue Topaz
What are the best crystals to use with Blue Topaz?
There are a number of crystals shown below that combine well with them. Some of the best stones for communication are also blue, and these may be used along with this stone.
By combining your Blue Topaz stones with some of the other blue throat chakra stones, you will enhance your communication abilities.
You may choose to combine them with Lapis Lazuli, like the pendant seen below, or with Trolleite, Blue Lace Agate or Blue Tourmaline, for excellent outcomes.

These stones work particularly well to aid communication when used with other psychic communication stones, such as Iolite, Blue Aragonite, Apophyllite and Celestite.

If you are having problems with writing because you have writer's block, you could combine it with Hornblende, Blue Calcite, Chinese Writing Rock or Goethite, as they are excellent stones that used together can aid you to get writing again.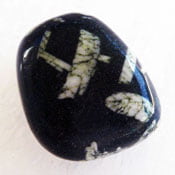 Chinese Writing Rock
You may like to use it with some of the third eye chakra stones, and you may also choose to use them with any other color of Topaz, as this is very beneficial. 
This includes White Topaz, Pink Topaz, Purple Topaz and Yellow or Golden Topaz.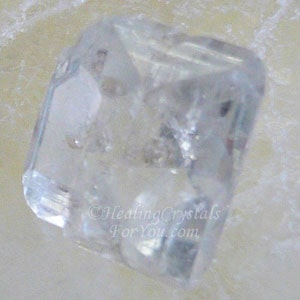 White Topaz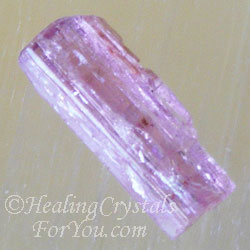 Pink Topaz
More Blue Topaz Images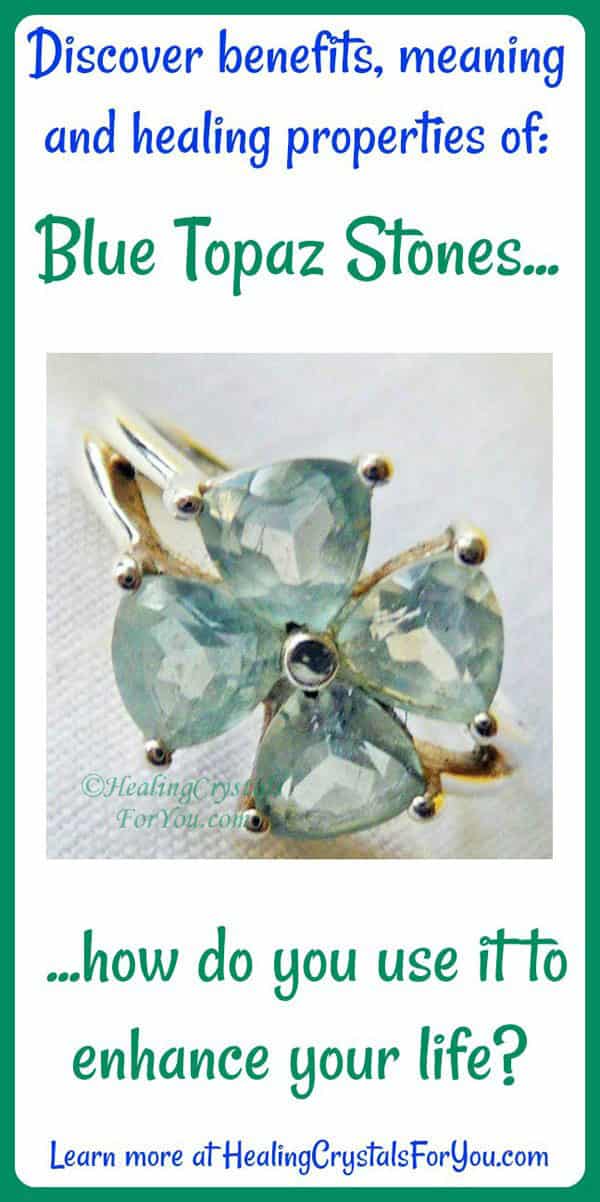 Blue Topaz Stones Meanings Properties Powers & Uses
---
Want to join my regular newsletter? It's easy.
Click on the banner that comes across the screen!
---
Looking for information about a specific crystal?

To See The A-Z of Crystals Minerals and Stones Click Here
---
Note: When you use the vibration of crystals to help and support your healing remember that crystals are part of an holistic approach to your health.
Metaphysical healing uses universal energy so does not stand alone and can be used with any other type of healing. 
Using the energy of crystals for healing yourself is about finding a way to enhance conventional medicine not replace it. So always seek out medical treatment for any worrying health issue.
---
Thank You! I Appreciate Your Visiting My Site!
In my articles I may recommend various items that I use and love or that I feel are of value to my readers, and I earn a commission for purchases made through links on this page. 
FTC Disclosure:  If you make a purchase via a link on this site, I may receive a small commission on the transaction: at no added cost to you. Thank you!
Read My Affiliate Disclosure Here

---
Please Read Copyright And Disclaimer Notice
For: https://www.healing-crystals-for-you.com/
Any information that may be found anywhere on this site is not presented as a substitute, nor intended to be a substitute for medical advice, treatment or diagnosis.
Never disregard advice from your medical professional or delay seeking medical advice because of anything you may have read on Healing-Crystals-For-You.com.