Black Kyanite
Aids Grounding & Severs Karmic Ties 
Black Kyanite is a strong grounding stone that helps to energize you.
It has a good energy to clear any buildup of the energy at any chakra which can be caused by using the more powerful high vibration crystals.
They are effective healing stones that are well known for their action to heal your energy field if there are gaps there caused by past accidents.
They are easy to use for healing and have a strong base or root chakra energy.
Blue Kyanite is the most well known for its healing action but the black stone has a similar level of energy.
It can assist with past life investigations and may also be helpful for you to discover possible situations that may occur in the time ahead.
---
Healing-Crystals-For-You.com is reader-supported. When you buy through links on my site, I may earn an affiliate commission. Click Here to learn more.

---
Where Is It Found? Black Kyanite Meaning
Most of this stone comes from Brazil but there are deposits in other places including India, Burma and South Africa.
The meaning of the name of this black stone is in two parts with the first being its color so this is easy to understand.
The meaning of the name Kyanite is interesting as it comes from a Greek word meaning blue. 
This is because the first color of Kyanite discovered was the blue stone, with other colors being found later.
Black Kyanite has an unusual crystal structure and most pieces form in fan shaped blades.
It is an aluminium-rich mineral known as an aluminosilicate stone that it is said to be found in metamorphic pegmatites.
Why Would You Use Black Kyanite?
Black Kyanite is a grounding stone that resonates within the base chakra and it also has a strong earth star chakra energy.
It will clear any buildup of negative energy within these chakras as well as stimulating the ongoing flow of energy throughout the entire chakra system.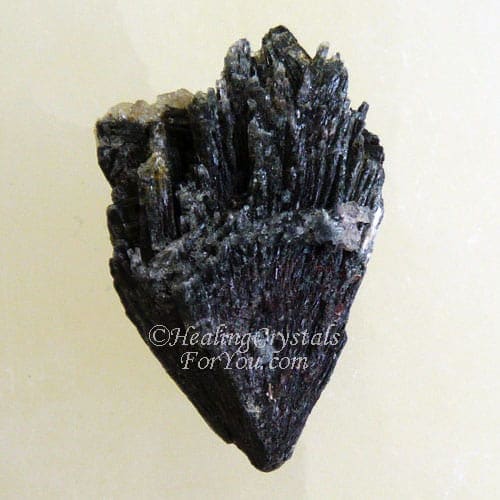 Fan Shaped Black Kyanite Stone
Its vibration also has a beneficial action to assist you to sever karmic ties that connect you to others and may be used with other crystals for this purpose.
Karmic ties relate to the way that people who are in any type of relationship will connect energetically to each other, commonly through the solar plexus chakra.
These ties can make it difficult to let go of other people that you have had a relationship with, and this can be in this life or in a past life.
In my article about crystals that sever karmic ties, there is a lot more information and detailed instructions on how to do this.
How Will It Help You? Healing Properties
Although these black stones are most well known for their action to aid grounding they are also good healing stones with a number of healing properties.
These stones are purported to help you if you have painful fibromyalgia or if you suffer with any type of muscle injury and they are also said to heal connective tissue issues.
Buy Black Kyanite from Exquisite Crystals, my most trusted seller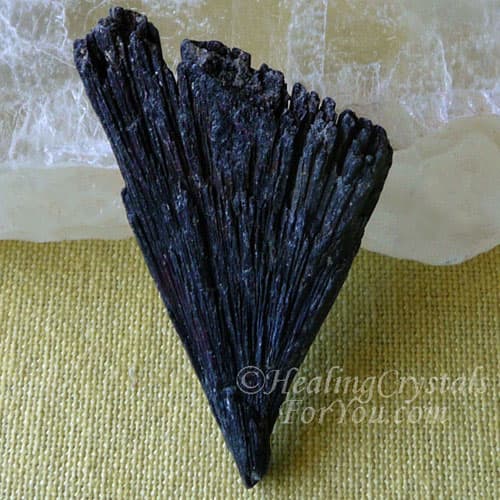 Fan Shaped Black Kyanite Stone
Black Kyanite will bring all of the chakras into alignment and may also replenish the meridian system.
If you have suffered from any accidents in any specific area and there may have been damage done there, any color of Kyanite will heal the area by bridging the energy gaps.
The action of these black crystals to aid you with grounding is also very beneficial. Many people are not aware that being ungrounded has health consequences. 
My Final Thoughts
Black Kyanite is a useful stone to use in meditation, and may help you to adjust as you accustom yourself to higher vibration energy.
Use it to make a deeper connection with beings in the higher realms including in the angelic realm.
It is known to have a good energy in meditation to assist you to communicate with spirit guides waiting to work with you.
Black Kyanite will harmonize well with other colors of Kyanite stone including both the blue green and orange colored varieties.
They all harmonize well with each other and all have the power to magnify each others energy.
Their vibration may assist you to remain peaceful and to approach working with others in a sensible and reasonable way.
They are good stones to use for home protection and this can be done by placing them around the door frame.
Best Crystals To Use With Black Kyanite
What are the best crystals to use with Black Kyanite? There are a number of crystals or stones shown below that combine well with them.
Black Kyanite has a strong grounding energy and may assist you to make a deeper connection back to the earth after using some of the high vibration stones that are liable to make you feel spaced out.
Use them with other strong grounding stones, including with Black Tourmaline, Black Diopside, Black Jade,  Black Spinel, Black Onyx or Hematite.
There are a large number of stones listed in the article about stones to use for grounding, and while many are black there are a number of other colored stones listed as well.

The black variety of Kyanite also has a good action to assist you to sever karmic ties.
While this aspect is not talked about very often, if you feel that you may have problems related to a past life connection with someone, it can be helpful to use stones that aid you to let go of negative attachments.
There are a number of other quite powerful stones that can help you to cut karmic cords that link you with the soul aspect of others, including  Amblygonite,  Tunellite, Sunstone or Rainbow Obsidian.

There are a number of other colors of Kyanite, and they all work well in combination with the black stone. The four colors shown below are the main types that are found.
More Pictures Of Black Kyanite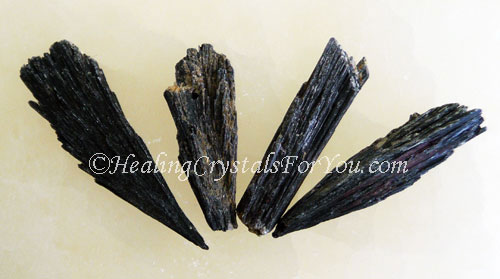 Black Kyanite
Group of three Black Kyanite stones
---
Want to join my regular newsletter? It's easy.
Click on the banner that comes across the screen!
---
Looking for information about a specific crystal?

To See The A-Z of Crystals Minerals and Stones Click Here
---
Note: When you use the vibration of crystals to help and support your healing remember that crystals are part of an holistic approach to your health.
Metaphysical healing uses universal energy so does not stand alone and can be used with any other type of healing. 
Using the energy of crystals for healing yourself is about finding a way to enhance conventional medicine not replace it. So always seek out medical treatment for any worrying health issue.
---
Thank You! I Appreciate Your Visiting My Site!
In my articles I may recommend various items that I use and love or that I feel are of value to my readers, and I earn a commission for purchases made through links on this page. 
FTC Disclosure:  If you make a purchase via a link on this site, I may receive a small commission on the transaction: at no added cost to you. Thank you!
Read My Affiliate Disclosure Here

---
Please Read Copyright And Disclaimer Notice
For: https://www.healing-crystals-for-you.com/
Any information that may be found anywhere on this site is not presented as a substitute, nor intended to be a substitute for medical advice, treatment or diagnosis.
Never disregard advice from your medical professional or delay seeking medical advice because of anything you may have read on Healing-Crystals-For-You.com.