Bauxite

Aids Release Of Anger & Resentment

Bauxite stone can be used in meditation, and this may be helpful to help you to obtain answers to situations that may be concerning you. It is known to help to create an increase of feelings of happiness and heightened well being.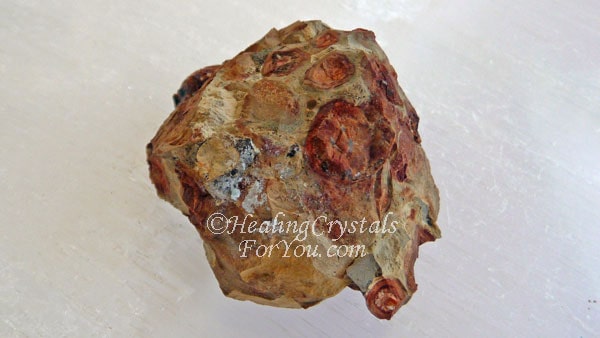 Bauxite
It does not work immediately but if it is kept in your vicinity, its energy works to stimulate you over time and may also allow you to be aware of the intentions of others.
By assisting you to release emotional issues that are stopping you from achieving what you desire.

It may also help you to release feelings that are causing you to feel angry or resentful about the circumstances of your life.

---
Healing-Crystals-For-You.com is reader-supported. When you buy through links on my site, I may earn an affiliate commission. Click Here to learn more.

---
Where Is It From? Bauxite Meaning
This stone is not a crystal as such, but this mineral does have a number of quite interesting attributes. This is the mineral that aluminum is made from.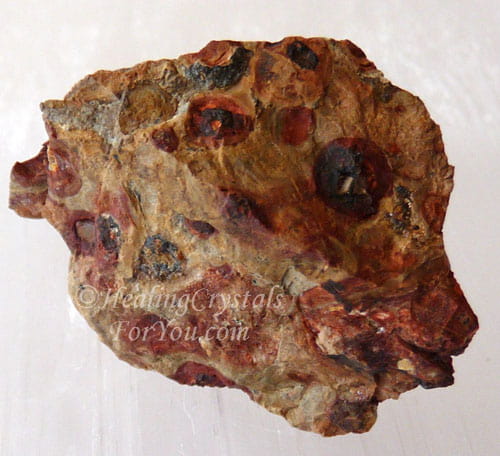 Bauxite
It is mined in a number of countries in the world.
Its color may be brown, reddish-brown, yellow, gray or white and it forms as concretions and earthy masses in sedimentary rocks.
Why Would You Use It? How Will It Help You?

Helps You To Obtain Answers: Keep a piece of this mineral close by when doing your daily meditation.
It may assist you to make a connection with your higher self and receive answers about the direction you should go in.
This mineral is not a quick fix, but works slowly to assist you, and has positive metaphysical attributes for improving your emotions.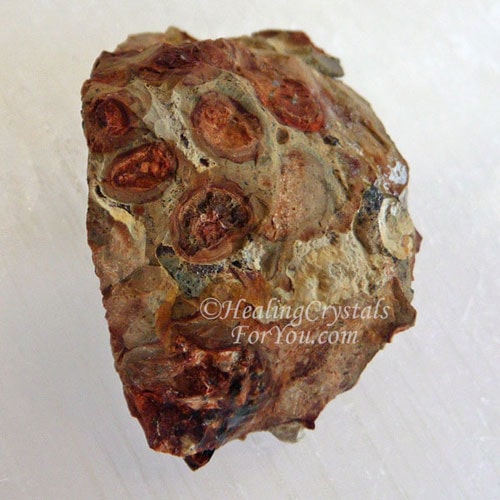 Bauxite
It may stimulate feelings of happiness, and at the same time may help you to let go of angry feelings about the direction of your life to this point.
It is also said to allow you to have an awareness of what ideas others have, and what their goals or end plans might be.
Best Crystals To Use With Bauxite
If you are trying to work out what to do about an important life situation, there are a number of other stones that will assist you to higher guidance.
Stones that may assist you to receive answers from the Divine source includes Tantalite, Hypersthene, Black Obsidian and Que Sera Crystals.

Bauxite stones have a lovely energy to stimulate happiness and joy. To boost the positive vibration of these stones you could put together a number of stones for the same purpose, maybe in a grid?

Some of the crystals for happiness that have an energy that stimulate joy and happiness includes Bustamite, Green Apatite, Peridot and Green Tourmaline.

These stones are beneficial to assist you when you are feeling angry, in a temper or just mildly annoyed.
To help you to release feelings of anger, use them along with other stones that will aid you to let go of your negative emotions.

Other stones to use that also may assist with the release of anger includes Ethiopian Opal, Black Obsidian, Aragonite Star Clusters, Stellerite or Aquamarine.
---
Bauxite
---
Want to join my regular newsletter? It's easy.
Click on the banner that comes across the screen!
---
Looking for information about a specific crystal?

To See The A-Z of Crystals Minerals and Stones Click Here
---
Note: When you use the vibration of crystals to help and support your healing remember that crystals are part of an holistic approach to your health.
Metaphysical healing uses universal energy so does not stand alone and can be used with any other type of healing. 
Using the energy of crystals for healing yourself is about finding a way to enhance conventional medicine not replace it. So always seek out medical treatment for any worrying health issue.
---
Thank You! I Appreciate Your Visiting My Site!
In my articles I may recommend various items that I use and love or that I feel are of value to my readers, and I earn a commission for purchases made through links on this page. 
FTC Disclosure:  If you make a purchase via a link on this site, I may receive a small commission on the transaction: at no added cost to you. Thank you!
Read My Affiliate Disclosure Here

---
Please Read Copyright And Disclaimer Notice
For: https://www.healing-crystals-for-you.com/
Any information that may be found anywhere on this site is not presented as a substitute, nor intended to be a substitute for medical advice, treatment or diagnosis.
Never disregard advice from your medical professional or delay seeking medical advice because of anything you may have read on Healing-Crystals-For-You.com.