Blue Lace Agate 
Soothing Nurturing Energy
➤ By Liz Oakes
Blue Lace Agate will boost your ability to communicate, especially the thoughts and feelings that you receive from your higher self.
It is a soothing, nurturing stone, that will bring you calmness and peace of mind.
Its energy resonates within the throat chakra which brings a lovely sense of tranquility, as it alleviates anger and nervous tension.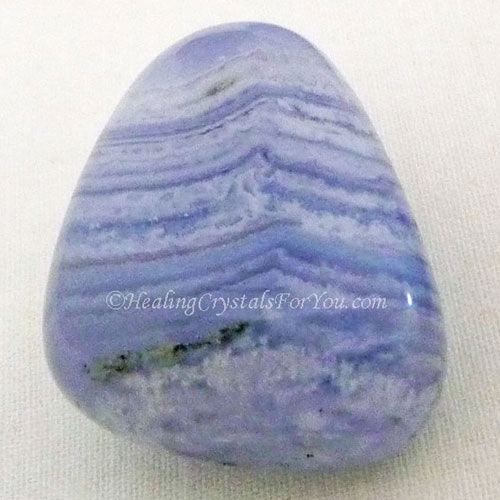 They are excellent healing crystals for you to use if you need to boost your ability to express yourself verbally, when you sense that it is required.
They resonate within the throat chakra, and also help you to communicate with spirit guides and members of the angelic realms.

This is an excellent emotional healing stone with strong metaphysical properties and have a good energy to aid the healing of broken bones.
---
Healing-Crystals-For-You.com is reader-supported. When you buy through links on my site, I may earn an affiliate commission. Click Here to learn more.

---
Blue Lace Agate Helps You Clarify Your Thoughts
Blue Lace Agate will help you to clarify your thoughts, so that the person you are communicating with will clearly understand your point of view.
They will recognize exactly what you want them to understand. Its energy will assist you to speak freely and release any feelings associated with the opinions of others.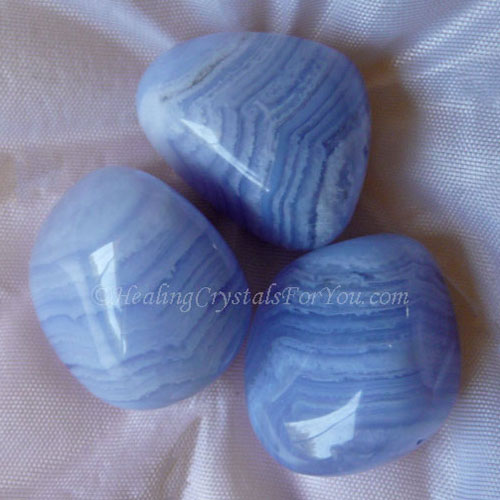 Blue Lace Agate
If you like using positive affirmations, this crystal helps to amplify the energy.

It is an excellent asset to use if you do any healing using sound, like using crystal bowls or any energy work using the spoken voice, such as EFT tapping.
This is an excellent stone to use by holding it in your hand while you are doing a crystal meditation.
Why Would You Use It? Connecting With Angels
Blue Lace Agate energy also aids you to make contact with other beings within the spiritual realm, and aids you to contact the angels.
This attractive blue crystal has an ability to facilitate smooth communication on all levels.
It may help you to get answers to your questions from your guides, regarding specific information you desire to find out from them.
Natural Blue Lace Agate
Emotionally it aids you to express your feelings, so it encourages you to let go of old emotions, especially related to childhood trauma.

Wearing Blue Lace Agate may benefit you, as the vibration of this blue stone may aid you to speak out, without fear of judgment.
It is a good crystal for anger management and is excellent to help you to release anger that may have been stored in the body from past experiences.
Boosts Communication Especially When Speaking
Want to improve the way you communicate?
Blue Lace Agate helps you to connect to your higher self, and once connected it assists the flow of easy verbal communication.
This may encourage you to understand yourself from a higher spiritual perspective.
The vibration of this stone has a strong effect on your ability to communicate freely and easily impart your thoughts to others.

It allows you to first access spiritual thoughts and feelings, and then express them in a truthful yet peaceful way.
If you discern that you are not being heard, it will give you a greater degree of confidence to 'speak your truth' when you feel that you need to.
They are strong crystals for communication and this quite beautiful blue stone works primarily within the throat chakra.
Where Is It From? Blue Lace Agate Meaning
The picture shown is an example of the raw natural stone, and this is how it naturally occurs. 
It has a bubbly look to the stones' surface, and these stones may also have tiny sparkling druzy crystals.
The average stone is simply the beautiful blue pieces that you can readily find selling as tumblestones and as crystal jewelry.
This blue crystal has been found in South Africa and Romania. It is a type of blue Chalcedony, that is easy to buy and is available in most crystal retailers. 
The meaning of its name relates to the very attractive lacy bands of either white, grey or darker blue colored lines, which run through the pale blue stone.
Wearing Blue Lace Agate
When using this stone, your ability to manage all varieties of communication is strongly improved, including communication psychically.
Through its capacity to aid you to make contact with spirit, it assists you to communicate with your spirit guide.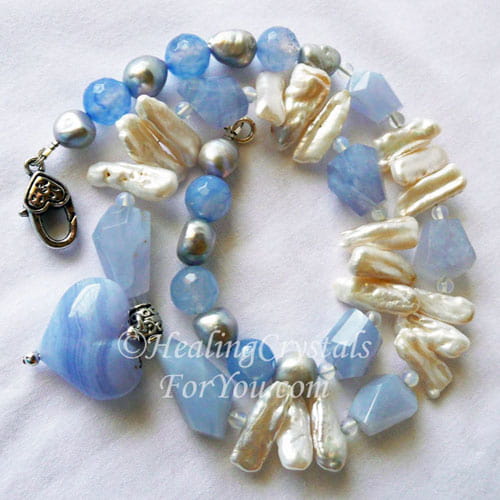 Blue Lace Agate Beaded Necklace
Jewelry made from this stone is reasonably easy to buy, as they are on the list of birthstones for specific zodiac signs. 
This is an excellent stone to wear at the throat, as it is a strong stone for spiritual communication.
By wearing a pendant round your neck, in a position that keeps the stone close to, or within the throat chakra area, this is highly useful to aid you to impart your thoughts using your voice. 
They are a Pisces birthstone and it is possible to buy Blue Lace Agate jewelry, including Blue Agate rings and pendants.
How To Use It
It is an aid for inner child healing, and it will help you to release old bitterness. 
This energy will assist you to heal, emotionally, mentally and spiritually, as well as healing the physical body.
Blue Lace Agate
The vibration of this stone will benefit the glandular system, particularly the thyroid and parathyroid glands.
It is also said to heal arthritis and aid the healing of broken bones. 
It is also known to assist the healing of disorders within the skeletal system, especially within the bones of the neck and throat area.
When using it during meditation, it will first clear the throat chakra, then connect to the third eye.
The energy will then continue to move up through the crown chakra to help you to make a connection to your higher self and the spirit world.
How Will It Help You?
Its energy also resonates strongly within the heart chakra, and this resonance changes your communications to embody your heart's desires.
This is a quite soothing stone to wear on the body, or to simply hold in your hand during meditation.
Tumblestones can simply be put in your pocket, so you can keep their vibration within your aura.
If you have found in the past that you have the propensity to speak without thinking, or find it hard to stop talking, this stone will aid you to calmly speak your thoughts.
These blue crystals are one of the more powerful healing stones for those whose spiritual development method is speaking affirmations, or if you are doing EFT tapping.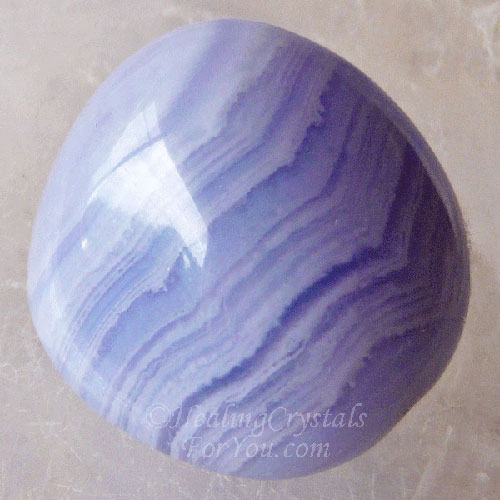 Blue Lace Agate
It is a wonderful stone to ease any sense of agitation or upsets you may be feeling. It may assist you to heal old unresolved issues.
It is easy to buy Blue Lace Agate, and it has a quiet calming energy which makes it a stone for anyone who wants to allow their vibration to lift.
By this ability to tap into the vibration of the heart, it smooths the flow of pure positive feelings, and it is very effective to aid emotional healing.
It is one of the stones for imagination and is helpful if you desire to have more imaginative and inspired thinking, while elevating your communication abilities.
Best Crystals To Use With Blue Lace Agate
What are the best crystals to combine with Blue Lace Agate?

Use it with blue throat chakra stones, such as Vivianite, Owyhee Blue Opal, Larimar or Aquamarine stones, to enhance and strengthen its action to aid your communication abilities.

Blue Lace Agate are excellent crystals for truth so if you have trouble knowing the meaning of truth you may choose to pair them with other strong truth crystals.
Using it combined with Blue Euclase, Preseli Bluestone, Sunstone or Amazonite,  will aid you to more easily speak the truth.
To boost your ability to communicate with the angels, use it with blue anhydrite also known as Angelite, as well as Seraphinite, Stellerite or Prehnite which are all excellent choices to combine with it in meditation for this purpose.

Use it with Dumortierite, Apophyllite, Atacamite or Iolite stones, as this may help to heighten your psychic communication abilities.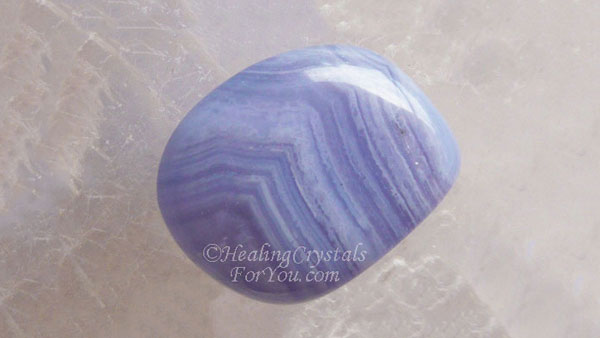 Pin me!
---
Want to join my regular newsletter? It's easy.
Click on the banner that comes across the screen!
---
Looking for information about a specific crystal?

To See The A-Z of Crystals Minerals and Stones Click Here
---
Note: When you use the vibration of crystals to help and support your healing remember that crystals are part of an holistic approach to your health.
Metaphysical healing uses universal energy so does not stand alone and can be used with any other type of healing. 
Using the energy of crystals for healing yourself is about finding a way to enhance conventional medicine not replace it. So always seek out medical treatment for any worrying health issue.
---
Thank You! I Appreciate Your Visiting My Site!
In my articles I may recommend various items that I use and love or that I feel are of value to my readers, and I earn a commission for purchases made through links on this page. 
FTC Disclosure:  If you make a purchase via a link on this site, I may receive a small commission on the transaction: at no added cost to you. Thank you!
Read My Affiliate Disclosure Here

---
Please Read Copyright And Disclaimer Notice
For: https://www.healing-crystals-for-you.com/
Any information that may be found anywhere on this site is not presented as a substitute, nor intended to be a substitute for medical advice, treatment or diagnosis.
Never disregard advice from your medical professional or delay seeking medical advice because of anything you may have read on Healing-Crystals-For-You.com.