Brucite

Aids Goal Setting & Decision Making

Written By Liz Oakes
Brucite has an excellent energy to aid goal setting. It is useful for this purpose as it will help you to decide if the venture you are planning on undertaking is of value to you.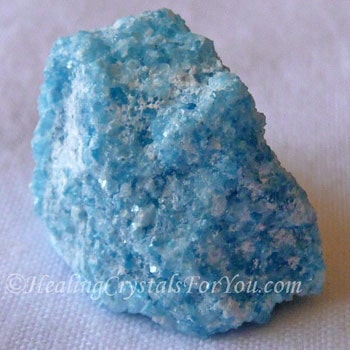 Blue Brucite
It is reputed to have a good number of healing attributes including helping the body during healing of broken bones, aids joint pain, neuralgia and migraines.
The vibration of these stones is especially useful to help you to plan new enterprises, as it generates a powerful energetic lift that helps your decision making process.
Whether it is a working or personal relationship it has an excellent energy to assist you to discover if you are in the right place or whether it is time to move on.
It is a lovely stone to place in the room nearby as its vibration is emotionally uplifting.
Where Is It From?
Brucite

Meaning

The meaning of this stone's name relates to it being named after an American mineralogist called Archibald Bruce.

It is a quite fibrous mineral that can occur in the massive form, as well as platy and tabular crystals and sometimes as rosettes. The stone may be translucent with a pearly lustre depending on the color.


The color range of these minerals includes blue, grey,  white, colorless, a quite pretty pale green, a brighter blue-green, orangey red, red, pink and bright yellow.

Some colors are quite uncommon and are even said to be rare. It is a magnesium hydroxide mineral and while it was originally known to be white, pieces in various colors are now available.

These color variations are caused by the addition of various minerals that color the stones, such as iron and manganese.

It is often found alongside or mixed with other well known stones such as calcite, aragonite, talc, chrysotile, magnesite, dolomite and serpentine.

It has been found in a number of locations, including Turkey,  Spain, Czech Republic, Thailand, South Africa, Russia, Canada, the USA and a new find of bright yellow stone from Pakistan.

Buy Bruicite from Exquisite Crystals, my most trusted source for buying crystals.

Yellow & White Brucite
I have recently added a number of pictures of gorgeous yellow Brucite crystals which came from a small pocket in Pakistan discovered a couple of years ago.
While the yellow ones are said to be rare there are quite a few pieces currently available at good crystals suppliers, as well as even rarer green pieces coming from the same region.

This mineral was originally mined for industrial use, to be used for a number of purposes including as a flame retardant, for paper making and as an ingredient in fertilizer.
How Will It Help You? Healing Attributes
Brucite will help you in a number of ways including:
It is known to have excellent healing properties including helping to control body temperature.

This mineral is reputed to embody an energy that may help the body to deal with excess alkalinity
It may assist intestinal problems and help to diminish furred arteries.

It is also known to help bruising and to aid problems within the muscles by enhancing suppleness and resilience.

Unusual Specimen of Green Brucite With White Hydromagnesite
Through its action to open the crown chakra it is said to lessen the pain of headaches and migraine. Use at the crown chakra to raise your spirits, enhance your thinking and improve your mood.
Brucite has a useful vibration that may help you to uncover if the situation you are involved with is in your best interest.
For those in personal relationship where you feel that it is no longer right for you and that maybe the end is coming, the energy of this stone may assist you to make a decision about the action you should take.
Why Would You Use It?

Like most blue stones Brucite resonates within the throat chakra. Its energy is known to improve communication ability and to be helpful to assist you to speak your truth.
They are known to be helpful when used by groups, as they may enhance interaction between participants and aid greater cohesion between group members.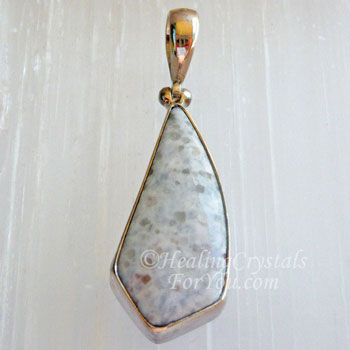 Brucite Pendant
They are reputed to encourage impartiality and reasonable discourse by calming heated debates. While their energy is known to make the situation clearer, the vibration is not always entirely comfortable.
These stones are known to bring members of soul groups together, assisting you to discover why you are here in this life at the same time.
Who Should Use It?

It has a good energy to aid decision making, and may help you to part company with another party by aiding you to uncover positive alternatives that are advantageous to both parties involved.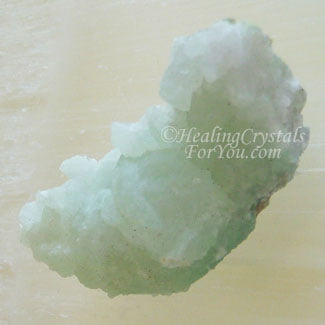 Pale Green Brucite
This can also apply to work situations when you become aware that it is time to move on. If the conditions of the job that you are doing no longer feels appropriate for you, the vibration of this stone may assist you to release it.
When considering the current situation, it helps you to see other possibilities, and aids you to initiate peaceful and constructive dialogue about the issue.
Bright Yellow Brucite
The gorgeous yellow Brucite stone also has a good resonance within the solar plexus chakra. Its action there helps to stimulate self esteem and self confidence and boost your will-power.
These crystals also have a good energy to stimulate positive feelings and are particularly useful to absorb negativity from an area where there are people who feel depressed.
Make sure that you cleanse it often if it has been removing negativity as it is known to help you by absorbing less positive vibrations.

"We make a living by what we get, but we make a life by what we give." Winston Churchill.
Using It With Other Stones
The energy of these stones are known to be helpful to help those with broken bones. If you are suffering with a broken bone, you may also like to use other stones that aid your healing.
Specific stones to assist your bones includes Hackmanite, Tigers Eye, Axinite or Malachite.
These stones have a good energy to assist you to make better decisions.
If you specifically need help with decision making, you may like to combine it with other stones known to help you when you are working towards determining the right outcome.
Stones you may choose include Mookaite Jasper, Inderite, Eilat Stone or Gibbsite.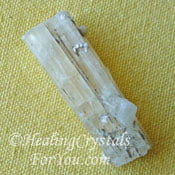 Inderite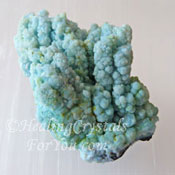 Gibbsite
If you have a need to improve group interactions, you may like to use it with other stones that can help with this, including Bismuth,  Analcime, Grape Chalcedony and Citrine.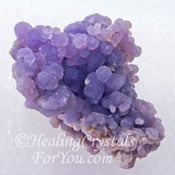 Grape Chalcedony
More Pictures Of Brucite

Brucite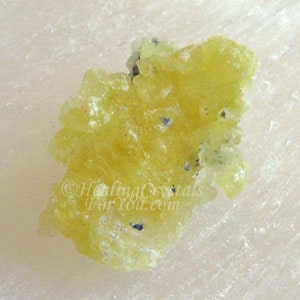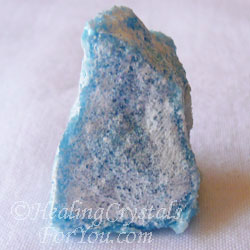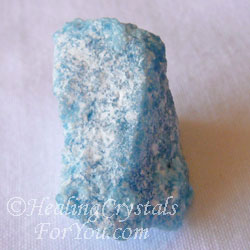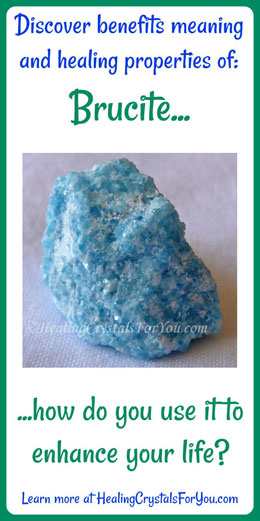 Brucite
Don't Know Which Book About Crystals To Buy?

Please Read Copyright And Disclaimer Notice
For: https://www.healing-crystals-for-you.com/
Any information that may be found anywhere on this site is not presented as a substitute, nor intended to be a substitute for medical advice, treatment or diagnosis.
Never disregard advice from your medical professional or delay seeking medical advice because of anything you may have read on Healing-Crystals-For-You.com.
Thank You! I Appreciate Your Visiting My Site!
In my articles I recommend various items that I use and love or that I feel are of value to my readers, and I earn a commission for purchases made through links on this page. 
FTC Disclosure:  If you make a purchase via a link on this site, I may receive a small commission on the transaction - at no added cost to you. Thank you!