Bumble Bee Jasper 

Enhance Creativity & Boost Self Esteem

Bumble Bee Jasper stimulates both the sacral and solar plexus chakras. It is a strong earth energy stone, that embodies within it the strong energy of the volcano from which it was birthed.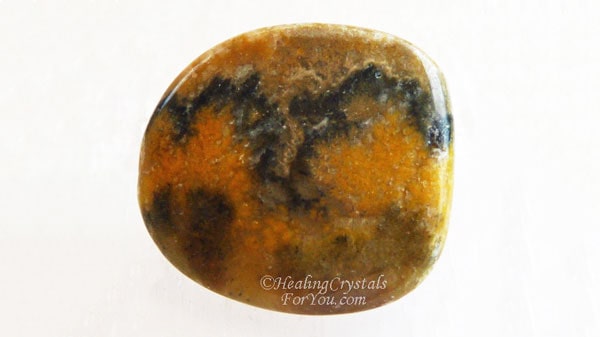 It is an unusual stone that was formed where a volcano opened to the earth.
The solar plexus is also known as the power chakra, and by stimulating this area it may enable a growth in your personal power.
The solar plexus also strongly relates to the self esteem, and these stones are known to assist with an increase in self esteem.
---
Healing-Crystals-For-You.com is reader-supported. When you buy through links on my site, I may earn an affiliate commission. Click Here to learn more.

---
Where Is It From?
Bumble Bee Jasper

Meaning

It is also known as Eclipse stone and as Fumarolic or Fumarole Jasper. The meaning of its name relates to the fact that the colors and swirls resemble the colors on bumble bees.

It is common for there to be quite beautiful swirling colors in these stones, in a mixture of bright yellow, brown and white.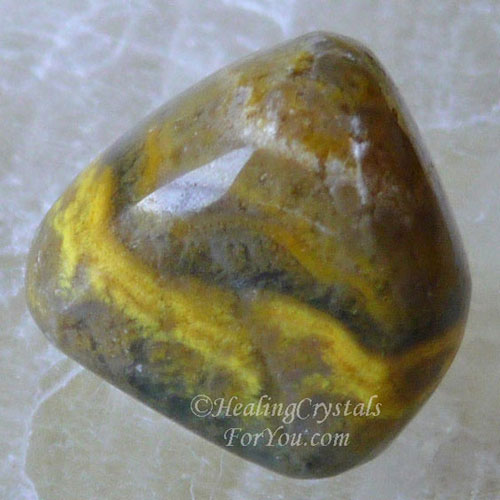 Bumble Bee Jasper
This stone is said to be a mixture of a number of minerals, including sulphur, hematite, ilmenite, anhydrite, as well as ash from the volcano.
Do take care if you choose to use this stone as it contains arsenic and sulphur both of which are toxic.
They are quite beautiful, but make sure you only use a sealed stone.
Many stones contain cracks or fractures, and while these are natural, be aware that they may make it necessary to use this stone with care.
These stones come from the island of West Java in Indonesia, and are not really members of the Jasper family as they do not contain quartz.

Metaphysical and Healing Properties

These metaphysical properties of Eclipse stones are known to assist you by enhancing your creativity and may be advantageous if used in combination with other stones that boost creativity.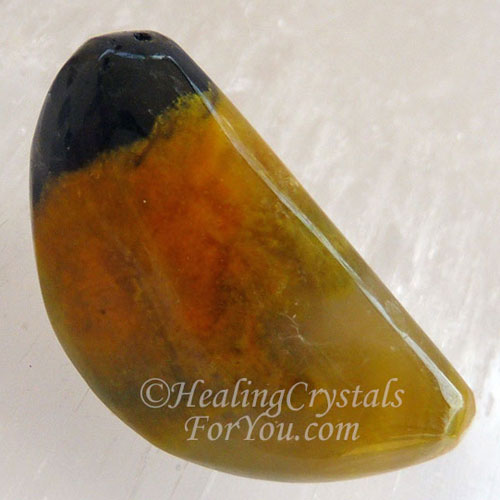 These stones resonate within the solar plexus chakra and may help to ease stress and worry related to others opinions of you. 

They have a number of excellent healing attributes, including helping those who have allergies, as well as aiding healing of the organs governed by the sacral or navel chakra.
These yellow crystals are also said to help to stimulate mental clarity.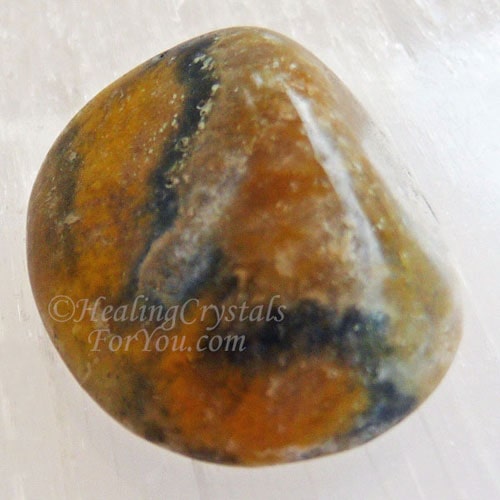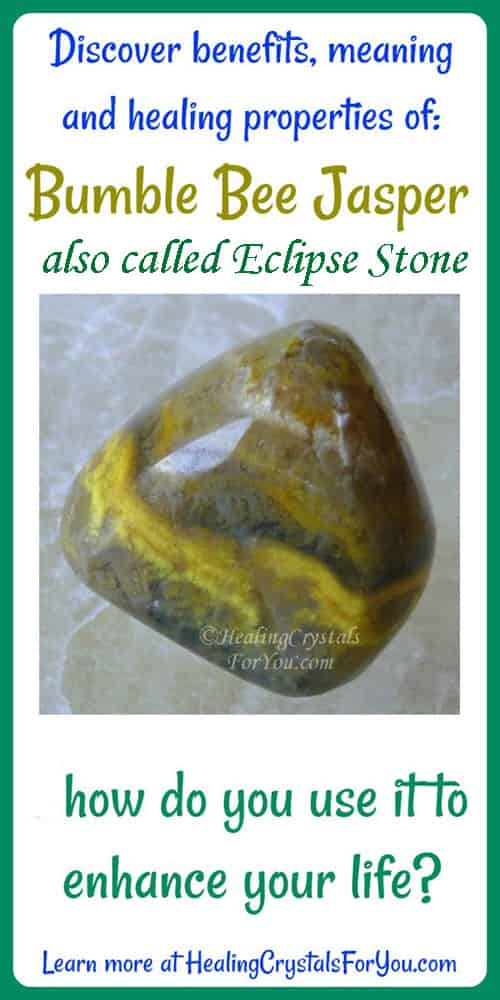 Unsealed Fumarolic or Fumarole Jasper
I bought the piece of stone below from an online seller, and really its not a good way to use it as it is not sealed. But this gives you an idea of what the natural stone looks like.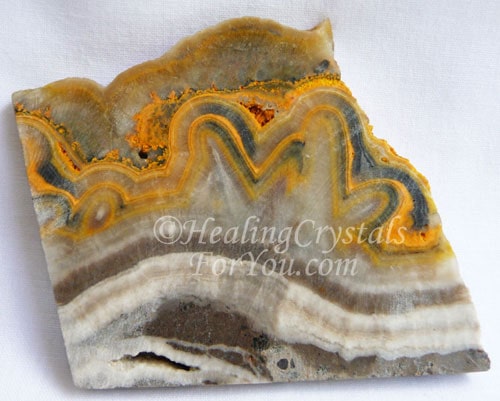 Bumble Bee Jasper aka Fumarolic or Fumarole Jasper
---
Want to join my regular newsletter? It's easy.
Click on the banner that comes across the screen!
---
Looking for information about a specific crystal?

To See The A-Z of Crystals Minerals and Stones Click Here
---
Note: When you use the vibration of crystals to help and support your healing remember that crystals are part of an holistic approach to your health.
Metaphysical healing uses universal energy so does not stand alone and can be used with any other type of healing. 
Using the energy of crystals for healing yourself is about finding a way to enhance conventional medicine not replace it. So always seek out medical treatment for any worrying health issue.
---
Thank You! I Appreciate Your Visiting My Site!
In my articles I may recommend various items that I use and love or that I feel are of value to my readers, and I earn a commission for purchases made through links on this page. 
FTC Disclosure:  If you make a purchase via a link on this site, I may receive a small commission on the transaction: at no added cost to you. Thank you!
Read My Affiliate Disclosure Here

---
Please Read Copyright And Disclaimer Notice
For: https://www.healing-crystals-for-you.com/
Any information that may be found anywhere on this site is not presented as a substitute, nor intended to be a substitute for medical advice, treatment or diagnosis.
Never disregard advice from your medical professional or delay seeking medical advice because of anything you may have read on Healing-Crystals-For-You.com.